This is an in depth look into Brother A150 Sewing Machine, which is on the high end of the innovis machine range. It is a lovely bright modern machine and comes with some fantastic features as you would expect from a high end machine and we'll look at them all of them in detail here.
Quick look at the Features of the Brother A150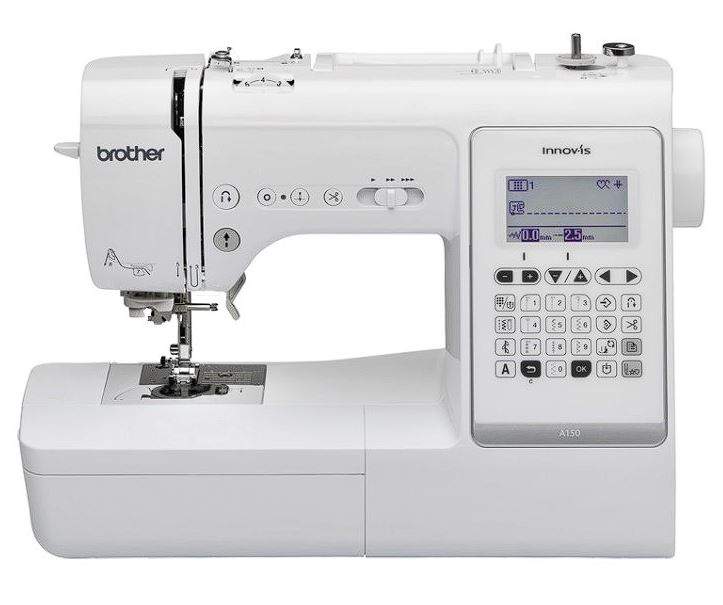 Some of the main highlights of this machine is the great, easy to read screen that can be adjusted and give recommendations on feet and stitch length. It has a horizontal spool holder, a very nice easy bobbin winding system. It comes with an easy to use speed control dial, a great automatic scissors function and automatic needle down function. Additional features are stay stitching, stitching reverse button and a start/stop button.
As you can see from this brief intro the Brother A150 comes with a ton of easy to use and useful features.
Brother Innovis A150 Sewing Machine
Last Amazon price update was: August 16, 2022 6:17 pm
The Stitches
The Brother Innovis A150 got a multitude of beautiful stitches a whole 150 decorative and also 4 lettering stitches. What's lovely about this machine is you've got some instant go-to buttons on the numbers zero to nine and these are the standard stitches that are use most of the time. So for instance you want a zig zag for you can just push number six but there are of of course a lot of other stitches displayed on the top card. Not only is then these large amount of stitches we've got three fonts of alphabet.
Something that's lovely about the Brother Innov-is A150 is it stops with the needle down. We don't have to tell it to stop down, which makes pivoting really easy. The Brother A150 also has triple stretch stitch for stretch, knitted fabrics and materials and also a two and three step elastic zigzag stitch. For stitch length and width, the Brother a150 has a maximum stitch length of 7mm and width of 5mm. This is average but should be sufficient for almost all sewists.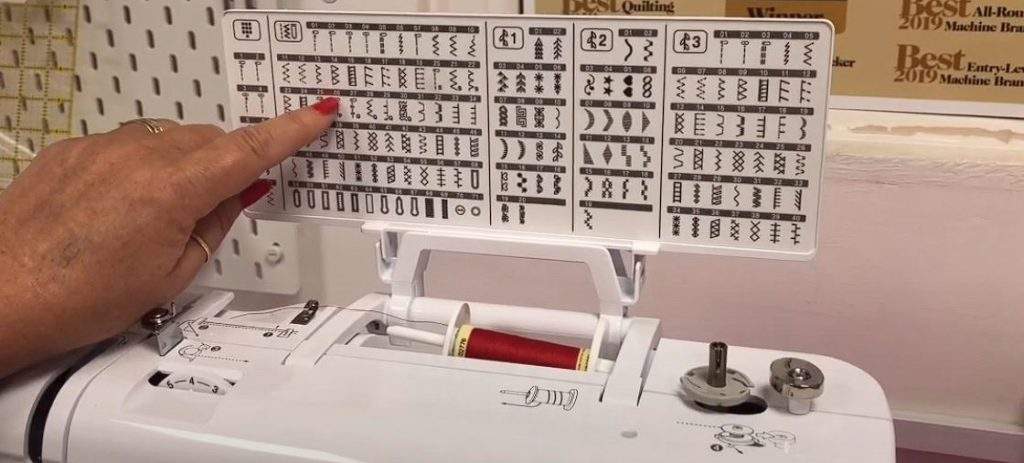 Key Features To Consider Before Buying The Brother FS40
Before buying a sewing machine you need to figure out if it has all the features and functions you will be using. If you are new to sewing and maybe getting your first or second sewing machine check out this simple guide How to choose the best sewing machine to determine if a machine is suitable for your sewing needs.
Brother Innovis A150 Sewing Machine
Last Amazon price update was: August 16, 2022 6:17 pm
Motor
The motor of the Brother A150 is not the strongest but the 46W motor will be enough for most sewists and materials and it will provide up to 850 stitches per minute. Use the correct needle and and a good branded thread this sewing machine will work fabulously on all types of materials.
Speed Control Settings
The A150 has a speed control slider so that you can sew at the speed that suits you the best. It also has a start/stop button and that can be used in place of your foot control for example when you're sewing a button hole or filling a bobbin you don't have to sit with your foot on the foot control as you can simply push the start/stop.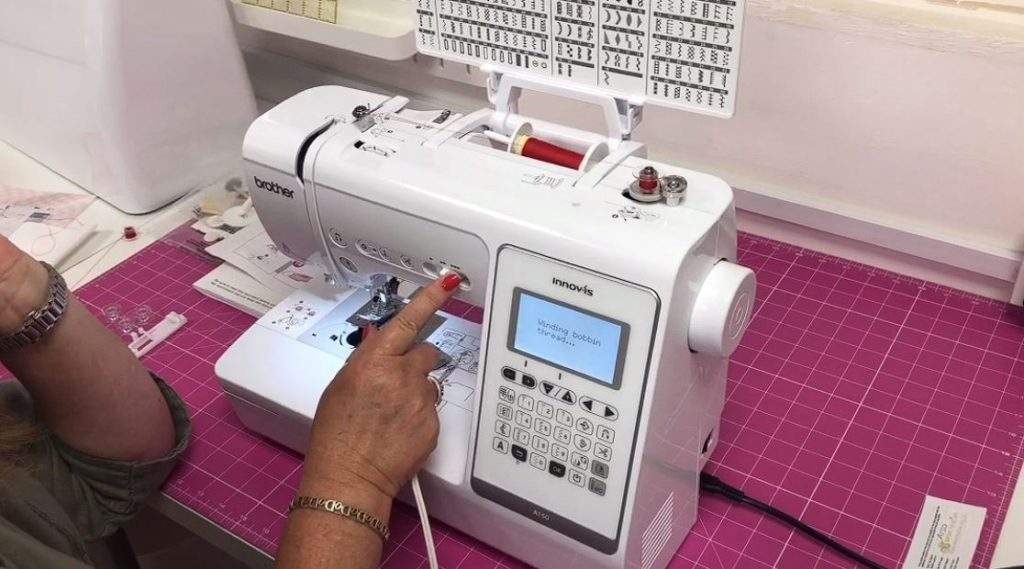 Bobbin System
For bobbin bobbin winding the Brother A150 has a lot of diagrams printed on it so it is very easy to follow set up our machine for bobbin winding. Here the start/stop button is great as you can wind the bobbin without having to use your foot pedal. There is also an easy convenient cutter to cut the thread once done winding.
It is very easy to to remove the bobbin on the A150 as it is a drop-in bobbin, it just pops open and requires no fiddling around underneath. The A150 sewing machine has a jam proof drop-in bobbin so we just drop the so to insert the bobbin it is as easy as just dropping the bobbin in and following the grooves and diagrams directly on the machine.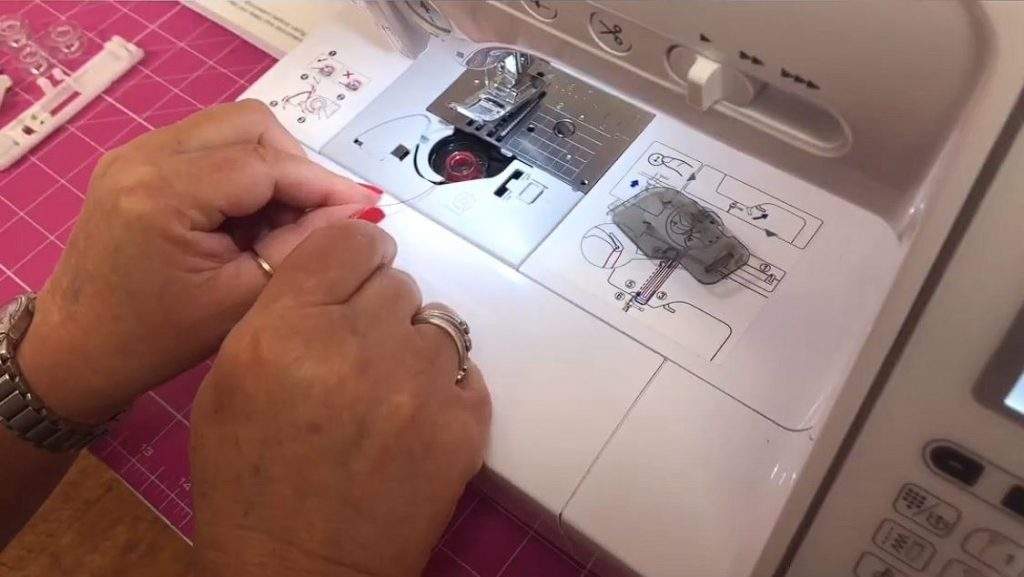 Brother Innovis A150 Sewing Machine
Last Amazon price update was: August 16, 2022 6:17 pm
LCD Screen
The Brother Innov-is A150 Sewing Machine sports a large 3,64″ LCD machine, that is easy to read. One of the best features of the a150 is that it will show you what presser foot you need for your selected stitch pattern and what's the recommended stitch length. You can of course set it yourself but this is super easy to follow if you are getting started but for for experienced sewists.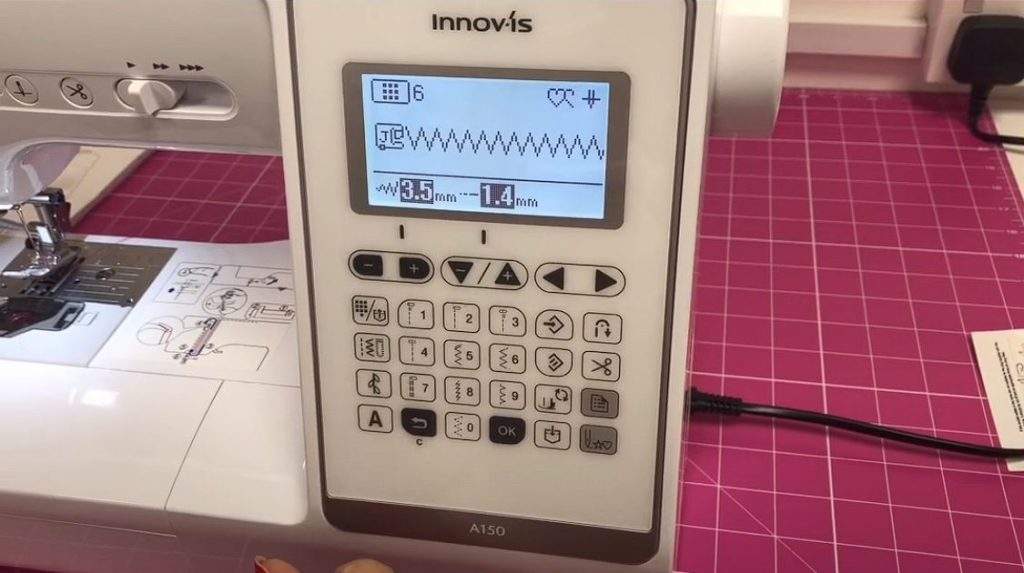 Presser Foot System
It is always nice to get a few new presser feet when you get a brand new sewing machine and the Brother A150 includes a few, it's got the standard a zigzag foot already on the machine and a monogram foot which is great for doing all types of fancy stitches. It also comes with an overedge foot, this is not an overlocker obviously but it will create a really nice overedge seam when you're wanting to finish off seams so it is a very handy foot. It also includes a standard zipper foot but not a concealed zipper foot, that would be an optional extra. 
It's got a blind hem foot and that's for doing trousers and the like, allowing you to do that without your stitches showing which is always rather nice. A button sewing foot which is lovely and obviously your automatic buttonhole foot.
Scissor and Automatic Needle Threading
A beautiful thing about this model is the scissors feature, that allows you to as soon as you are finished, you press the scissors button and the machine will automatically cut the thread.
The Brother Innov-is A150 Sewing Machine of course has automatic needle threader and threading, making it super simple to thread.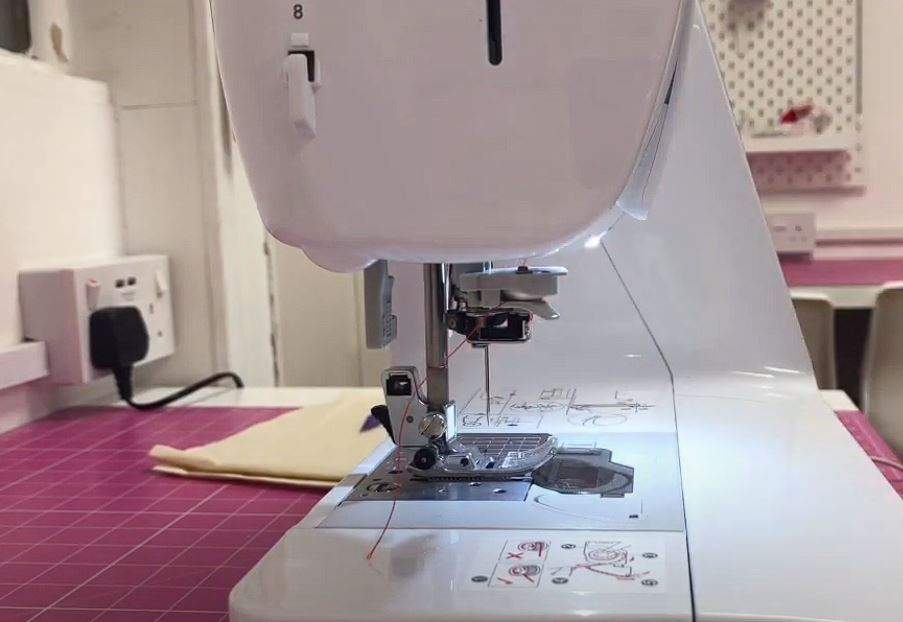 Overall Design
The overall machine dimensions are 419 x 196 x 307 and has a weight of 6.6kg. The Brother a150 machine bed length is 25cm and the width on the right of the needle is 15.5 cm. The hght from the bottom of the bed is 8 cm.
It is lightweight compared to many machines but still stable as it doesn't shake on high speeds and thicker materials. What's also great is that it comes with a hard cover case so you don't need to spend extra money on a case and it has a three year warranty.
Accessories
The A150 of course comes with a lot of accessories and included items. A few of the main ones are the presser feet, a hard case , 4 bobbins and a Bobbin case. A list of everything included can be found on the Brother homepage.
Manual and ease of use
And as with a lot of other Brother machines it comes with a fantastic manual, which is great as nobody is expected to know exactly everything about their machine. With a machine like this you can also keep growing and learn new things. It has some really good diagrams to help you progress and also a really easy quick guide to start with. If you follow the steps in the manual you will be sewing in no time.
Conclusion
There may be a few things you need to learn once starting with A150 but once you have familiarised yourself with all the functions it is a superb machine. The screen is great and the fact that it shows you what foot, stitch length and tension is a super useful feature. the stitches card on top that shows the stitches is very handy. Many easy to use e stitches are beautiful. The machine is advanced enough to tell you what presser foot to use and what tension, making it very user friendly. The automatic needle threader is a great feature, especially if you har some shaky hands and the one step buttonholes could not be simpler to use.
Overall the Brother A150 is a fantastic machine for both beginner and more advanced sewists. Sure, it may come at a cost compared to the other machines in the Innovis range but if you buy this sewing machine it will grow with you for many years to come and you will never feel it lacking.
Brother Innovis A150 Sewing Machine
Last Amazon price update was: August 16, 2022 6:17 pm