Choosing the best sewing machine
Selecting a sewing machine can be a difficult ask, since there is such a wide range of models available to choose from. If you are getting it for someone else, it makes it a little more difficult as you need to know what they will use the sewing machine for. However, this can be simpler by going through a few quick questions, to help guide you how to choose the best sewing machine for you.
Complete Beginner or advanced sewing machine user?
Is the sewing machine for a complete beginner or someone who has little more experience and maybe used a sewing machine before? A good rule of thumb is that a beginner should go for a machine with a few basic stitches and less advanced features that might be confusing while starting out. There is a large variety between the very basic mechanical machines and advanced computerised versions that come with LED screens and hundreds of stitches.
It may also be smart to choose the most basic machine as you may soon outgrow the sewing machine if it only has the most basic features if you are a fast learner. Our full guide on the best sewing machines for beginner is available to read through this link Best Sewing Machine For Beginners.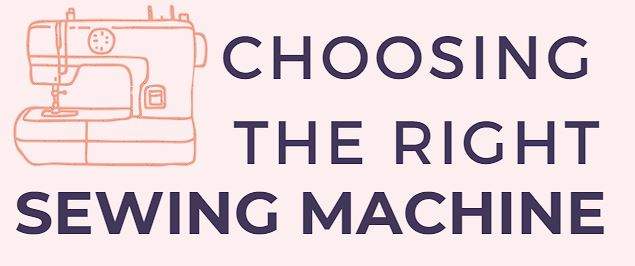 What will the sewing machine used for?
The choice of machine is also dependent on what the primary use will be, as all machines work and function differently. If you are looking to mainly do things like repairs and alterations for clothes or maybe creating your own dresses then you will want a machine that has a "free arm". This means that there is more space between the arm and the base of the machine. This is especially useful if you are working on big items as the big space and the longer arm will make it easier to move and sew around. So this would be something you want to look for if you are planning on working on sleeves, pant legs or for instance dresses. If you instead are interested in types of crafts and quilts you would want to look for a machine with more stitch patterns. If you are planning on doing upholstery work a machine that is labelled for heavy duty is most important to be able to handle the tough work. We have a post on The Best Heavy Duty Sewing Machines.
What type of machine (mechanical or computer)
Mechanical – Standard entry level sewing machines that are good starter options for beginners and moderate sewists.
Computerised – More advanced sewing machines with additional features and functions.
Embroidery – Sewing machines that can do automatic embroidery patterns. A Complete Guide To The Best Embroidery Machine UK.
Overlockers – Are sewing machines that are able to to several motions in on step. Sew a seam then complete the edge and also trim off all of the extra material. What Are The Best Overlockers.
Coverstitch – Sewing machines that can sew parallel rows of straight stitches on the fabric right side and cover the raw hem on the opposite side.
We have a more complete post on all the different types of machines that is worth a read.
How often will you sew?
If you're planning to just use it for very light work such as repairs, mending or small sewing projects a basic model might be what you need. For more frequent use and larger projects you should get a machine with more features and functions, that also includes a wider variety of accessories to be able to use for all types of work.
Should you get a heavy or light sewing machine?
This one doesn't seem too important but sewing machines can get very heavy. If you are planning on moving it or packing it away between uses this is definitely something to consider. If you are not planning on having a dedicated sewing corner you might want to get a lighter machine. However, if you get a very light machine it will be unstable at higher speeds.
What sewing machine brand has the best quality?
Since sewing machines can get very expensive it is important to pick one that will work for many many years. As with most things you often get what you pay for and sewing machines are no exception, the more expensive machines are often of better build quality. Of course this is not always the case and you should read the review for the sewing machine here on our site. We also have an in-depth rundown of all the different brands here.
Do sewing machines have a warranty?
It depends on the brand of the machines but if you buy from a certified reseller they come with a manufacturer warranty that covers issues from the factory. Most manufacturers also offer extended warranty that you can buy from an additional fee.
Janome usually comes with 2 years parts and labour warranty.
Brother mainly offers 3 years on their machines.
Singer offers a 2 year manufacturer's' warranty
Sewing machine selector tool
To help find the right sewing machine we have created a sewing machine finder tool that with the help of a few questions can provide you with suggestions on what machine is best for you.