What Is The Best Sewing Machine For Beginners?
If you have only recently taken up sewing as a hobby or are looking to buy a first time sewing machine for a friend or family member, then no doubt you will probably be interested in knowing what are the best beginner sewing machines.
Buying a sewing machine for the first time can be a daunting task as there are quite a lot of factors to consider before making the plunge and spending your hard-earned cash. Furthermore there are a lot of brands to choose from and some have models that are better suited to beginners than others.
In this guide I will be sharing all the information you need to know for when choosing a sewing machine as a beginner. Furthermore, I will be showcasing my top 5 recommendations and explaining exactly why, they are good for those new to sewing.
Beginner Sewing Machine Buyers Guide
What Type Of Projects Will You Be Working On
The first thing to think about is what type of projects will you be using your sewing machine for. Sewing machines can be used for all sorts of different projects and there are an awful lot of different fabric types that you could be working with. In addition some machines are better suited to certain types of fabrics than others.
Below you can find a list of the most common sewing projects and the type of machine that is best suited to it
Embroidery – If you are likely to be doing a lot of embroidery projects then a machine that allows you to lower the feed dogs is essential. Been able to lower the feed dogs also allows you to perform freehand stitching.
Quilting – If you intend on making quilts then you will need a quilting machine that is specifically designed for the task at hand.
Upholstery – These tend to involve heavier fabrics so you will need to invest in a good quality heavy-duty sewing machine.
If you are likely to be doing a lot of work on clothes be sure to check out my complete guide to choosing an overlocker.
Mechanical Or Computerised
Sewing machines can be either mechanical or computerised. Personally, i would recommend a beginner to buy a mechanical sewing machine as they are less technical, easier to use and far simpler to get to grips with. Mechanical sewing machines are powered by electric and are not as old fashioned as they may sound. The reason they are called mechanical sewing machines is due to them having internal gears, levers and switches.
On the other hand computerised sewing machines are far more technical and they also cost a lot more than a mechanical one.
How Many Stitches Do I Need?
The amount of stitches a sewing machine has is an important consideration when buying. However, the amount of stitches you need is mainly dependent on the work you will be doing. If you only intend taking on small and fairly basic sewing projects then you probably won't need a machine with more than 20 stitches. If you planning on tackling every sewing project imaginable, whether now or in the future, then you are going to need a machine that has a wide variety of stitches. Typically these cost quite a bit more to buy, but if you intend to stick at sewing it is sometimes better to invest in a so-called future proof sewing machine, as it saves you having to buy one again in the future.
1-Step or 4-Step Buttonhole
There are two different types of buttonhole press that a sewing machine may feature. These are the 1-step buttonhole and the 4-step buttonhole.
The 1-step buttonhole is more beginner friendly due to the fact it is an automatic function and pretty much stitches a buttonhole by itself once set up to go. This feature is perfect for those of a very basic skill level. The problem with wanting your machine to have this feature is that not that many budget models do. This is a feature usually associated with more expensive models such as the Janome 525S.
A 4-step buttonhole requires a bit more work on the human side than a 1-step. It is called a 4-step because it takes 4 steps to complete the buttonhole. Each of the 4 steps requires you to help a little. This usually involves turning the dial to raise the needle from the fabric at the end of each step. Although this is slightly more difficult than a 1 step buttonhole, having a machine with a 4-step buttonhole is nothing to worry about. It only takes a few attempts to master just make sure you practice on some old fabric first.
Bobbin Type – Front Or Top Loading
Bobbin types come in either one of two types these are front loading and top loading. Generally speaking most entry models come with a front loading bobbin, there are exceptions with the Brother LS14 been the most notable. The benefit of a top loading bobbin is that it is less likely to jam and the plastic ones allow you to see how much thread you have left at all times. I would recommend a top loading bobbin for newcomers for these reasons.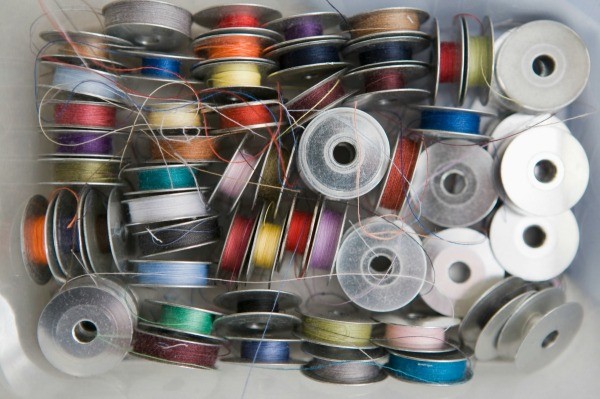 Do I Need A Needle Threader
When buying you may notice that some models come with a built-in needle threader. This feature eliminates having to thread the needle manually as it does it for you. If this is something you want in your sewing machine then be prepared to pay for it as it is a feature they usually comes with the more expensive models. With that been said sometimes a needle threader can be more hassle than its worth. The Janome 525S is a prime example, although it is a very good sewing machine it receives bad reviews on its needle threader mainly due to how complicated it is to use. In some cases the old-fashioned way is the best. The best entry model with a needle threader has to be the Singer Talent 3321.
Presser Feet
The presser feet are another very important thing to think about before buying. Presser feet are the changeable attachments that help to perform different sewing tasks. A presser foots main purpose though is to hold the fabric flat as it passes through the machine so as to avoid it puckering. There are many different types of presser feet available and the wide range of tasks they can perform is truly amazing. Generally speaking presser feet can be one of two types these are screwed on and snap on.
Screw on presser feet are the traditional presser feet. They require you to screw and unscrew them when changing. For some this can be a hassle as the screws are quite small and the task can be time-consuming.
Snap on presser feet are far easier to use and much more convenient. They simply lock on without the need to be screwed and they only take a second or so to change. These are by far the best option for both beginners and advanced users. Due to them been quicker to change it means more time for sewing!
Most entry models to sewing come with a handful of presser feet which is usually enough to get you going. When you become more skilled there is the option to purchase additional presser feet for different sewing projects.
Accessories
In addition to the presser feet accessories that come with a new sewing machine there may or may not be numerous others, it all depends on the model you choose. Some of these include extra bobbins, needles, spool holder, instructional DVD, dust cover/carry bag.
Top 5 Best Sewing Machines For Beginners 
Now that you are prepared with all the information for buying a beginner sewing machine its time to take a look at what i consider to be the best models for those new to sewing.
Singer Model 1507 Sewing Machine
The Singer 1507 is the first model in my top recommendations and also the most affordable. Due to it being the cheapest model, it is also the most basic in terms of features and specifications. If you are looking for a very basic introduction model to sewing, the 1507 is a good choice as it does have some very positive attributes.
It is an eight-stitch machine and therefore best suited to simple sewing projects. There is an auto 4-step buttonhole feature and it comes with a front loading bobbin.
The design is compact and very durable due to the metal chassis. For those that have taken up sewing classes the 6Kg overall weight is a good selling point, as is the carry handle for portability.
If you are wondering if this model can sew through leather or multiple layers, then you will be happy to know that it can. In addition the 1507 comes with an extra high presser foot lifter, for those that dont know this allows you to lift the presser foot higher allowing the stitching of thicker materials.
Another positive feature is the adjustable stitch length and width which is a feature normally found with more expensive models.
With excellent customer feedback and at a very affordable price the Singer 1507 makes the perfect choice for an affordable entry model.
Brother LS14 Sewing Machine
The Brother LS14 is the most popular sewing machine in the UK and it ranks highly in many sewing machine reviews. Similar in price to the Singer 1507 sewing machine it is another super affordable entry model.
In terms of features the Brother LS14 has a bit more to it than our previous model making it better value for money. In total there are 14 stitches with this machine and it also comes with a 4-step buttonhole.
The bobbin is top loading and it is also see through which allows you to see how much thread is left at all times.
Featuring a metal chassis for durability and a sturdy and robust design ensures it is built to last, unlike with plenty of other cheap sewing machines. It also has a 50W motor that has enough power to be able to stitch through at least 4 layers of denim.
In my opinion this is another very good model for beginners as it is very affordable and it has enough stitches and presser feet to introduce a newcomer without overwhelming them. With 4.5 stars on Amazon from over 1000 customer reviews, you can be pretty sure this is a top quality sewing machine. The full review of the Brother LS14 can be read here.
£118.00
in stock
5 new from £118.00
as of June 28, 2022 8:37 pm
Last updated on June 28, 2022 8:37 pm
Brother AE1700 Sewing Machine
Another model by the Brother brand and this time its the Brother AE1700, which i recommend as been the best value beginner model in the UK. In terms of price, it is in the same region as the first two models only it has more to offer.
With 17 stitches in total including straight, zigzag and decorative it offers a good variety for a newcomer. There is a 4-step buttonhole, which allows for the sewing of different size buttonholes.
It features a drop-in bobbin and for ease and convenience an automatic bobbin winder, which eliminates winding the bobbin by manually.
There is a built-in LED light as opposed to a traditional bulb. Traditional bulbs tend to make the thread look a different colour than it actually is, an LED light eliminates this minor problem
It also has a reverse sewing lever for locking off stitches and finally a twin needle and zipper foot.
If you are tempted by any of the sewing machines in my reviews so far, i hope it is this one. The AE1700 Sewing machine is the clear winner when it comes to the best sewing machines costing around £100. Durable, portable, highly functional, very practical and simple to use it is the perfect model for a beginner. Furthermore it comes with an instructional sewing DVD, which may come in handy if you are struggling. The manual is also available online here. We also have a more thorough review of the AE1700 here: Brother AE1700 Sewing Machine My Full In-Depth Review.
£125.00
£129.00
in stock
as of June 28, 2022 8:37 pm
Last updated on June 28, 2022 8:37 pm
Janome 2200XT Sewing Machine
Janome are one of my favourite brands their sewing machines are always very high quality, robust and built to last. The Janome 2200XT is one of their entry models and it comes highly recommended for both beginners and more experienced users of sewing machines.
Featuring 22 stitches  and with a good variety the 2200XT is ideal for more complex sewing projects than our previous featured models. It has a 4-step buttonhole function which is straightforward to use.
There is a maximum stitch width of 4mm and a maximum stitch length of 5mm.
In total it comes with 6 presser feet which are the standard foot, hemming foot, overcasting foot, satin stitch foot, sliding buttonhole foot and a zipper foot. All in all a good selection to get you going. In addition there is the option of course to buy additional presser feet. These can cost anything between £5 and £15. For roughly £15 you can get a full set of presser feet on Amazon which is the cheapest supplier I have managed to find in all my years sewing.
To sum up the Janome 2200XT provides excellent quality at a reasonable price. Like all the models in our reviews it comes with very good customer feedback which is always a very good sign. Our full review of the 2200XT can be found here: My Review Of The Janome 2200XT.
£169.00
in stock
as of June 28, 2022 8:37 pm
Last updated on June 28, 2022 8:37 pm
Singer Talent 3321 Sewing Machine
The Singer Talent 3321 is my top pick for a number of reasons. First of all it comes with the best customer reviews out of all beginner models in my reviews, a good sign for sure. Then there is the fact it is a Singer, which is another very good attribute. After all they do make some of the best sewing machines and have been doing so for a very long time.
In total it comes with 21 stitches, which is plenty for a first time sewing machine. There is the usual 4-step buttonhole that all entry models come with. Then there is also a built-in needle threader and it works a treat at taking the hassle out of threading needles. It also come with an adjustable stitch length and width which is another good feature to have.
£187.99
in stock
2 new from £187.99
1 used from £126.44
as of June 28, 2022 8:37 pm
Last updated on June 28, 2022 8:37 pm
Final Words
Hopefully with the help of my beginner's guide to the best sewing machine for beginner you have managed to learn a thing or two. If you have read the full guide then you will be far better prepared for when you do decide to buy a sewing machine. If you didn't manage to find a model for your needs or budget in my recommendations then be sure to check out my sewing machine reviews out. Here you can find out all the information you need to know about each individual model available in the UK.
If you think I have missed anything out in my beginner's guide then please leave a message in the comment section. Furthermore if you have any questions comment in the section below and i will do my best to help.
£118.00
in stock
5 new from £118.00
as of June 28, 2022 8:37 pm
£125.00
£129.00
in stock
as of June 28, 2022 8:37 pm
£169.00
in stock
as of June 28, 2022 8:37 pm
£187.99
in stock
2 new from £187.99
1 used from £126.44
as of June 28, 2022 8:37 pm