The Janome 2200XT is a sturdy and reliable 22 stitch sewing machine with a good set of features at an affordable price. It is a very popular mechanical sewing machine and is one of the best sellers on Amazon. Similar to the Janome 525S it comes with positive feedback from previous buyers.
In this review we will be taking a closer inspection at the individual features of the Janome 2200XT sewing machine. From the off set, I would recommend it as being a good sewing machine for beginners and ideal for the novice dressmaker, curtain making and alterations around the house. It comes with enough stitches and features to make it unlikely that you will feel limited by it's capabilities and is perfect for when you improve and move on to more complex sewing projects.
Let's take a look!
Janome 2200XT Overview
Main Features
22  stitches
4 step buttonhole
Front loading bobbin
Variable stitch length
Variable zig zag width
Drop feed facility
Stretch Stitches
£169.00
in stock
as of June 27, 2022 11:22 pm
Last updated on June 27, 2022 11:22 pm
Ease Of Use
In my opinion the Janome 2200XT is a very easy to use sewing machine. The fact it is a mechanical sewing machine and not a computerised model helps tremendously, especially if you are new to sewing. All of the buttons, controls and dials are within easy reach and they make changing the various settings a simple task.
When it comes to threading there is no colour coding, but that shouldn't be a problem as it is quite easy to thread. Overall operation is easy enough for beginners and in the unlikely event that you struggle to get to grips with operating the 2200XT there is a very clear and concise instruction manual that breaks down how to use it correctly. Furthermore there are plenty of Youtube video's for those that prefer a visual tutorial.
Stitches and Buttonholes
For many people one of the most important factors when buying a sewing machine is, the amount of stitches it has. In total the Janome 2200XT has 22 stitches, which is a decent amount considering the relatively low price. In comparison the 525S and the Janome 7025 both have 24 stitches and cost considerably more than this model.
The Janome 2200XT can sew straight stitch, zig zag,  blind hem as well as stretch stitches and overlock. There is an automatic 4 step buttonhole giving this machine the capabilities for straightforward sewing. In addition it has a maximum stitch width of 4mm and maximum stitch length of 5mm.
Below are the 22 different stitches that you can do with this model.
Key Features To Consider Before Buying
Stitch Quality and Speed
With a speed of 750 stitches per minute the Janome 2200XT isn't the fastest of sewing machines available. It does however offer very good stitch quality as long as you have the correct tension settings. The correct tension can easily be set with the turn of the numbered dial.
If customer reviews are anything to go by then the stitch quality of this machine is above the standard expected of a machine in this price bracket. This is hardly surprising as Janome sewing machines are well-known for their stitch quality.
Bobbin System 
The bobbin system on the Janome 2200XT is a front loading bobbin system. Personally, I have always preferred a top loading bobbin and this is my only qualm with this machine. Although this isn't a factor that would stop me from buying it, I would still like to have seen a top loading bobbin 🙁
Presser Feet
Foe ease of use the 2200XT comes with snap-on feet attachments. In total there are 6 presser feet that provide a wide array of sewing capabilities. The presser feet included are a standard foot, hemming foot, overcasting foot, satin stitch foot, sliding buttonhole foot and zipper foot.
The amount of presser feet you get with this sewing machine add extra value to the already very affordable price tag. If you are new to sewing it saves you from having to pay the additional cost of buying them separately. For the experienced sewer that probably already has all the presser feet that they need they make for great spares.
Needle Threader
Unfortunately there is no needle threader with this sewing machine. This could potentially be a problem for the less experienced sewer. That been said as mentioned earlier the Janome 2200XT sewing machine is relatively easy to thread.
The Feed Dogs
Those that like to partake in free hand embroidery will be glad to hear that the feed dogs can be lowered on the Janome 2200XT. This might not initially be of interest for beginners, but it is a great additional feature to have for when you have gained the confidence to acquire this skill.
Design
One thing that is certain when buying a Janome sewing machine is that the overall build quality will be up to standard. Janome machines have a very good reputation for been sturdy, robust and durable. The Janome 2200XT is no different and is designed for frequent use and has great functionality.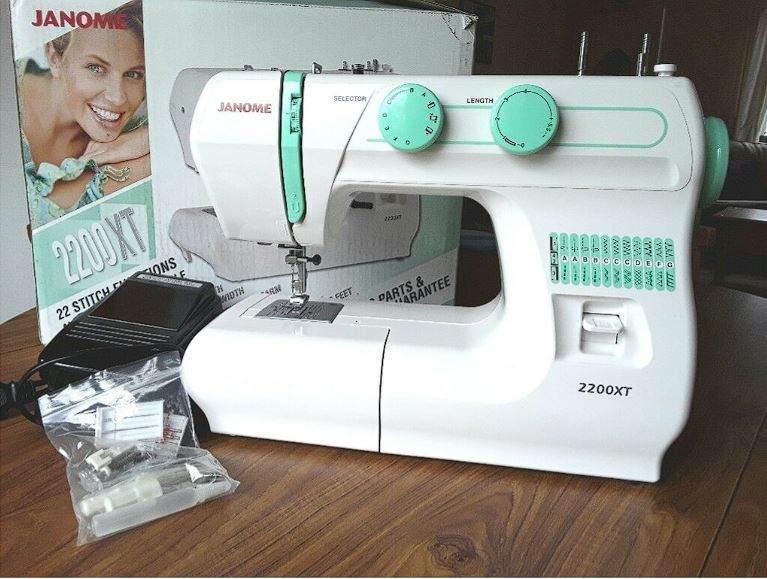 With this being a budget priced sewing machine there are a few plastic parts though, which is to be expected with a machine in this price bracket.
Portability
With a weight of 6 Kg the Janome 2200XT is heavy enough to be confident that it is a well-built sewing machine. It also remains light enough to be easily portable. This is great for taking it out and putting away and for those that go to sewing classes or sew at a friend's house.
Accessories
The Janome 2200XT comes equipped with a nice selection of basic accessories these include the following.
4 x Bobbins
Set of Needles
Hem guide
Seam Ripper
Oil
2 x screwdrivers
Soft cover
Janome 2200XT Sewing Machine
22 stiches plus a 4-step button hole
Maximum stitch width 4mm, maximum stitch length 5mm
Foot controller
Snap-on presser feet
Soft cover