The Brother LS14 sewing machine comes recommended in many sewing machine reviews as one of the best beginner models and I have to agree. For an affordable price it is a good entry model, offering reasonable quality and enough features for work on a decent amount of sewing projects. Furthermore, with good customer feedback, previous buyers seem to be very happy with it.
In our review of the Brother LS14 we will be taking a closer look at each of the individual features and seeing how they measures up in terms of quality and value for money.
As the Brother LS14 we instead recommend the Brother LS14S Metal Chassis Sewing Machine.
£85.00
£99.00
in stock
6 new from £85.00
4 used from £73.02
as of June 27, 2022 11:39 am
Last updated on June 27, 2022 11:39 am
Overview of the Brother LS14 Sewing Machine
Main Features
Below are the main features
14 different stitches
4 step buttonhole
50W motor
Weight 6.2 Kg
Ease Of Use
It would be hard to find a sewing machine that is as easy to use as the Brother LS14. Due to it been a budget sewing machine and therefore rather limited in terms of features, it is obviously going to be far easier to use than a computerised sewing machine. It is however, the limitations of the Brother LS14 that make it a good model for both beginners and kids. To select a stitch all that has to be done is to simply turn the dial to the required stitch, it couldn't be easier. For more information on how to operate the LS14, see the official manual from Brother.
Stitches and Buttonholes
In total there are 14 different stitches with the Brother LS14, which is by no means the most. In addition most of these stitches tend to be straight stitch variations with different stitch lengths. There are a few zigzag stitches each with a different width. Due to there not been a dial to control stitch length and width, potential buyers are stuck with a somewhat limited amount of stitches and stitch lengths. This is to be expected though, as this is still only an introductory/budget sewing machine. The following measurements are the fixed stitch lengths, 1.6mm, 1.8mm, 2.0mm, 2.5mm, 3.0mm and 4.0mm.
The buttonhole feature is a four step buttonhole, which isn't as newbie friendly as a 1 step auto-buttonhole. However, to get the 1 step auto-buttonhole feature you will have to spend a quite a bit more on a different model.
Below are the 14 different stitches that can be performed.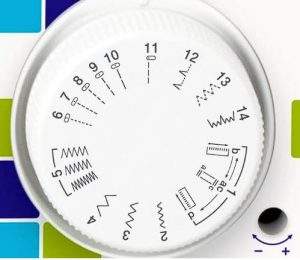 Motor
The motor is a 50W motor which isn't the most powerful for a beginner model, however, Brother are known for their reliable motors, so I wouldn't worry to much. The only trouble you may have is when sewing many layers together or when working with very thick fabric. It can easily go through three layers for the hem as long as you have the correct needle, thread and tension setting.
Stitch Quality and Speed
When it comes to stitch quality and speed the customer reviews speak for themselves on this one. With over 1000 customer reviews on Amazon, many of them saying how surprised they were with the stitch quality of this budget model, it goes without saying that the Brother LS14 is more than up to the job.
Bobbin System and Needle Plate
When it comes to setting up and threading the Brother LS14 sewing machine has been designed with beginners in mind. It features a top-loading bobbin which allows for quick threading. In addition it also means users can keep an eye on how much thread is left.
Another handy feature for beginners are the thread guides, these are arrows on the machine which basically guide you on how to thread the upper thread.
The bobbins are plastic on this model and in the user's manual it does say not to use metal ones as they could cause damage.
Presser Foot
All Purpose Foot
Buttonhole Foot
Zipper Foot
Needle Threader
Needle threading is done manually with the Brother LS14 as there is no built-in needle threader.
Freehand Stitching
If you want to do some freehand stitching then you are going to have to purchase a darning plate separately. The Brother LS14 feed dogs can't be lowered. Furthermore, it would also be a requirement that you buy an additional presser foot as the one that comes with the Brother LS14 sewing machine is not suitable for freehand embroidery.
Portability
Weighing in at 6.2 Kg the Brother LS14 sewing machine can easily be taken pretty much anywhere you want to take it. With beginners in mind, the portability of this model is great if you are new to sewing. Having a sewing machine that can easily be taken to sewing classes or a friend's home has its obvious benefits.
Included Accessories
In addition to the needles and bobbins, the Brother LS14 comes with the following accessories:
All Purpose Foot
Zipper Foot
Buttonhole Foot
Brother The Brand
Brother are well-known for all types of electrical appliances and their sewing machines are one of their biggest sellers. The brand has been around for a very long time and their sewing machines are considered very good, at least their entry/beginner models. Some of their more expensive models don't offer as good value for money in terms of features as their cheaper ones. For more about the Brother brand check out my sewing machine brand guide.