The Brother AE1700 is a traditional basic sewing machine with qualities that make it well-suited for those new to sewing. With 17 different stitches a four step button hole and automatic bobbin winder, it has the basics covered for a good beginner sewing machine. It comes with a number of accessories and presser feet. In addition it features a twin needle allowing you to get more creative with decorative stitches on a wide range of fabrics.
In this review I will be taking a closer look at the different features of the Brother AE1700 sewing machine. Hopefully, this will help you to decide if this is the sewing machine you have been looking for. Similar to the Brother LS14 the AE1700 is a very popular machine with a good mix of quality and affordability, it also receives very good feedback from previous buyers.
Brother AE1700 Sewing Machine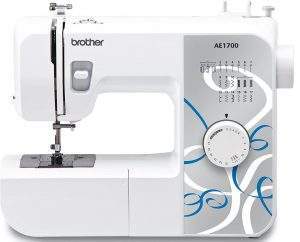 Last updated on June 28, 2022 8:23 pm
Ease Of Use
With a large majority of Brother Sewing Machines been targeted towards beginners, it should come as no surprise that the Brother AE1700 is designed with ease of use in mind. The automatic bobbin winder is one very newbie friendly feature, this saves you from having to wind the bobbin manually.
Due to this been a basic mechanical sewing machine it is by nature simple to use. For instance, there isn't a LCD screen like with a computerised sewing machine. From a beginners perspective this is a positive as LCD screens and their many functions can overwhelm those that are just starting to learn to sew.
If you're just starting out and you want a sewing machine you can grow into and continue to use as you progress the AE1700 is a good choice.
Stitches and Buttonholes
Compared to some other similar priced sewing machines the Brother AE1700 has a good selection of stitches. In total there are 17 stitches all of which can be found in the image below. If you are looking for even more stitches from your new sewing machine then the Brother AE2500 should be on your radar, it has 25 stitches and only costs a few quid more than the AE1700.
In addition to having a four step buttonhole, you also get a button sewing foot with this machine making this a good choice for dressmaking and those that like to make other clothing items.
Motor
The Brother AE1700 comes with a 51 watt motor. Compared to the similar priced Singer 1507, which has a 85 watt motor, the difference in power is noticeable. That been said, you will have no problems sewing through multiple layers with this machine. Brother are well-known for their high-quality motors and although they may be less powerful in terms of Wattage than similar priced machines, they are always capable of doing their job.
Stitch Quality and Speed
There isn't a Brother sewing machine that I have ever come across that I can say had bad stitch quality. Brother sewing machines have always had a good reputation for their outstanding stitch quality and their overlockers are exactly the same. The Brother AE1700 has a maximum speed of 1000 spm, which is a good amount and more than sufficient for someone who is only just getting started with sewing.
Bobbin System 
When it comes to bobbins I am a little bit biased as I have always preferred a top loading bobbin to a drop in bobbin. That been said, this model does have a drop in bobbin. This is by no means a big deal and is more a matter of personal preference. Another positive is the automatic bobbin winder that features on this machine. This saves you from having to manually wind the bobbin, a real time-saver!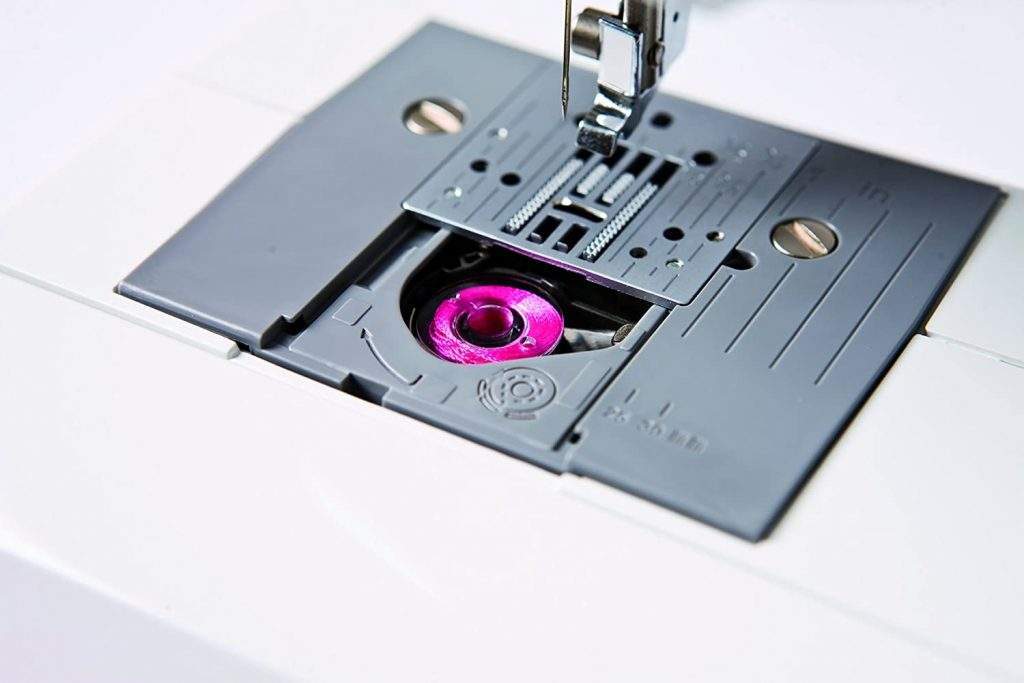 Last updated on June 28, 2022 8:23 pm
Presser Foot
In total there are four presser feet included when you buy the Brother AE1700. These are more geared towards making clothes, which is why I recommend this machine as a good choice for beginners and any budding fashionistas out there. It is also suitable for home furnishings and similar sewing projects and is a quite versatile machine. 
Zigzag foot
Buttonhole foot
Zipper foot
Button sewing foot
Needle Threading
There is no automatic needle threading capability with the Brother AE1700. This feature is usually reserved for more expensive sewing machines. Luckily, threading and rethreading this machine is a simple task. If you do manage to struggle with threading there are a number of YouTube videos that show you how to thread this machine.
Portability
Weighing in at 6.6kg, this sewing machine isn't the best choice for those that regularly go to sewing classes. This is a good indicator of a well-built sewing machine and is always a good sign that you aren't buying a cheap sewing machine made mainly of plastic components.
Included Accessories
The accessories included with this sewing machine are the standard ones that you get with most machines. However, there is a darning plate. Due to you not being able to drop the feed dogs on the Brother AE1700 sewing machine you can't do free motion sewing. The inclusion of the darning plate gives you the option of free motion sewing adding even more versatility to this already very versatile machine.
Darning plate
Set of needles
Spare bobbins
Screw driver disc
Instruction guide and instructional DVD
If you are looking for the manual, you can find it here.