Many sewing enthusiasts often wonder what it would be like to create their own embroidery. Unfortunately not all of them take that thought a step further and actually purchase an embroidery machine, which is understandable as embroidery machines are quite expensive to buy. If you are lucky enough to be able to afford an embroidery machine and are thinking about investing in one, then you are potentially in for hours of endless creative fun!
Embroidery is an excellent way to add additional creative flair to your sewing projects. The problem with buying a machine for this purpose is that there are many features you need to know about first, especially if you are to choose the best one for your needs. In this guide I will be sharing everything you need to know about choosing the best embroidery machine in the uk.
Whether you're looking for a machine that uses downloadable patterns or one for monogramming, our reviews and top recommendations have all the information you need for finding the correct choice.
Top 5 Best Embroidery Machine UK
£1,099.00
in stock
3 new from £1,099.00
as of June 28, 2022 7:56 pm
£2,299.00
in stock
5 new from £2,299.00
as of June 28, 2022 7:56 pm
£2,899.00
in stock
3 new from £2,899.00
as of June 28, 2022 7:56 pm
£1,799.00
in stock
6 new from £1,779.00
as of June 28, 2022 7:56 pm
Last updated on June 28, 2022 7:56 pm
What is an Embroidery Machine?
Different Types Of Embroidery Machines
Embroidery sewing machines fall in to one of two categories. These are free hand embroidery machines, otherwise known as free-motion embroidery machines and then there are embroidery machines. Below I explain the difference between these different types of sewing machines.
Free motion-embroidery – you will find that many modern sewing machines are capable of free hand embroidery. The main feature of a machine that allows you to perform free hand embroidery is being able to lower the feed dogs. This allows you to move your fabric in any direction which is essential for embroidery. You will also need a darning or embroidery foot as well as an embroidery hoop.
Embroidery Machines – This type of machine is capable of automatically embroidering through the use of pre-programmed embroidery designs. The design options available to you is determined by the type of embroidery machine you buy, as they fall in to three categories. These are embroidery machines that have built-in patterns with no downloadable options, embroidery machines that have built-in patterns and are able to be connected to the internet for more design options and machines that have built-in patterns with a USB port to let you transfer compatible files.
When choosing the best embroidery machine with cost in mind, the machines with built-in patterns and no downloadable options are the best value. These are best suited to those that have never done any embroidery work before.
If you have experience at doing embroidery work, you would be better off with a machine that connects to the internet and that allows you to customize downloaded patterns. This offers greater variety and versatility ensuring you will not be restricted to a limited number of patterns and designs.
Things to Consider When Choosing an Embroidery Machine
If you are looking to purchase a machine that will do the job you want it to do then it is worth bearing in mind the following.
Budget
This is the main purchasing consideration for most people and one that will definitely affect the results you get from your chosen model. If you are on a limited budget then you may have to consider some features that you can live without. If you are wanting to buy a high-quality embroidery machine, then you have to be prepared to spend quite a lot of money as they are expensive machines.
Hoop Size
The hoop size of an embroidery machine is another very important feature to consider when choosing your ideal machine. The larger the hoop size the easier it is to embroider larger designs. This is due to the fact that you don't have to change the fabric on the hoop as many times as you do with a smaller hoop size. The hoop size can vary quite a lot from model to model and the biggest factor that affects hoop size is price. The larger the hoop size is the more expensive the embroidery machine tends to be. Generally speaking hoop sizes range from 4″ x 4″ (10cm x 10cm) to 10″ x 14″ (25cm x 35cm).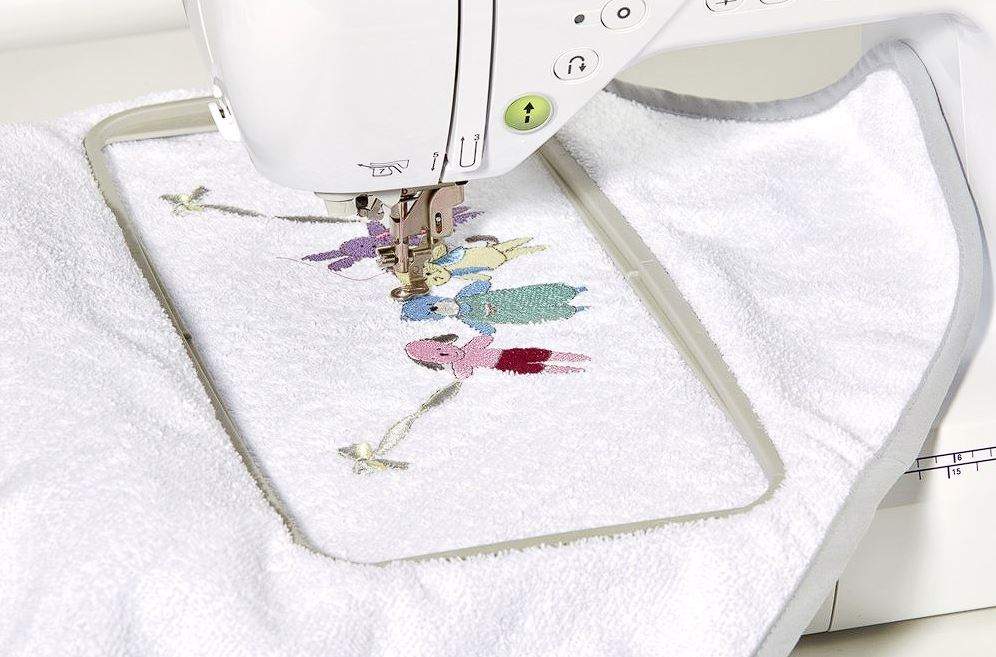 Remember the hoop size is one of the most important purchasing considerations when choosing the best machine for your needs. A machine with a large hoop size may typically cost more, but it will save you a lot of time. In addition it will save you the frustration of having to change the fabric more often. Many people who have years of experience with using an embroidery machine will advise on buying the largest hoop size that your budget will stretch to. This is sound advice as going to small with the hoop size will more than likely lead to you wanting to invest in a machine with a larger goop size in the future.
Embroidery Designs
As mentioned earlier all embroidery machines come with a number of pre-loaded designs for you to get to work with straight away. The amount of designs depends on the model and to be honest this is not something to be too worried about when buying. If you opt for a machine that connects to the internet you can download literally thousands of designs.
Another feature of some embroidery sewing machines is that they allow editing of designs or even allow you to create your very own unique designs. Creating your own designs is known as digitizing and this is done with the use of various software. Machines that come with this capability are among the most expensive models.
As a beginner I would only recommend investing in one of these machines if you are absolutely certain that you have the patience and desire to learn to embroider to a high standard. For many  people it is easier to start with a simple model and gradually work up to a computerised embroidery machine. The downside to this is that you have the added expense of buying more than one machine.
Stitch Speed
If you plan on doing many embroidery projects or large single projects, then you may want to invest in a machine with a high stitch speed. Some of the more complex and intricate embroidery designs can require stitches going in to the hundreds of thousands. The higher the stitch speed the quicker you will get through your projects.
LCD Screen
The majority of embroidery machines feature a built-in LCD display. This is where you control the settings for your embroidery designs among other functions. The LCD screen size is something to take notice of when buying. LCD screens are either landscape (horizontal)or portrait (vertical) in design with the portrait been the larger and more preferable of the two.
Number of Needles
Similar to the hoop size and stitch speed the number of your needles a machine has also has an effect on the amount of time it takes to complete an embroidery design/pattern. A machine with a single needle will require you to change the colour of the thread many more times than a machine with multiple needles. As with any feature on an embroidery sewing machine that saves time it is reflected in the price. Consequently machines with multiple needles cost significantly more than single needle machines.
My Top 5 Recommendations For Embroidery Machines
Brother Innov-Is F440E

The Brother Innov-Is F440E is the first of a number of models by the Brother brand to make it in to my top recommendations, it is also the most affordable.
To start us off this machine comes with an embroidery area of 5″ x 7″ (13cm x 18cm)  which is by no means the largest. 
That been said, the 5″ x 7″ hoop size is one of the most common used, consequently there are thousands of designs to be found for this model, making it a popular choice.
In total there are 138 built-in embroidery designs, 11 embroidery fonts and 140 border pattern variations with this machine. The maximum stitch speed of 650 stitches per minute is best suited to beginners and those with some experience of using an embroidery machine, more advanced users will probably desire a higher stitch speed than this model offers
The built-in USB port allows for PC connection and the transfer of designs. Another positive feature is the colour touch screen which allows for easy navigation.
£1,099.00
in stock
3 new from £1,099.00
as of June 28, 2022 7:56 pm
Last updated on June 28, 2022 7:56 pm
Brother Innov-Is 800E
The Brother Innov-Is 800E is another affordable option that costs slightly more than the F440E. In terms of features and specifications the two models are almost identical with the main difference between the two been the size of the embroidery area.
With an embroidery area of 6″ x 10″ (16cm x 26cm) compared to 5″ x 7″ (13cm x 18cm) of the F440, the Brother 800E is significantly larger. If you like everything about the previous model except the size of the embroidery area then this model is a good alternative.
It has 138 built-in patterns, 11 fonts and a maximum stitch speed of 850 spm. The LCD screen is also slightly larger than the one on the F440 which is good for ease of use.
Janome Memory Craft 500E
The Janome Memory Craft 500E is a very popular choice that falls in the mid-price range. With high-quality features a solid and sturdy design it offers extremely good value for money.
In total it comes with 160 pre-programmed designs and features 6 monogramming fonts. With a top speed of 860 spm, this is quite a fast machine.
The standout feature has to be the very large embroidery area of 8″ x 11″ (28cmm x 20cm). The large embroidery area and fast speed of this machine means you will whip through your embroidery projects in next to no time, that is once you a hand of how to use the 500E..
Another thing people tend to really like about this model is the large LCD screen. This makes the process of editing designs and patterns a far easier and less frustrating process.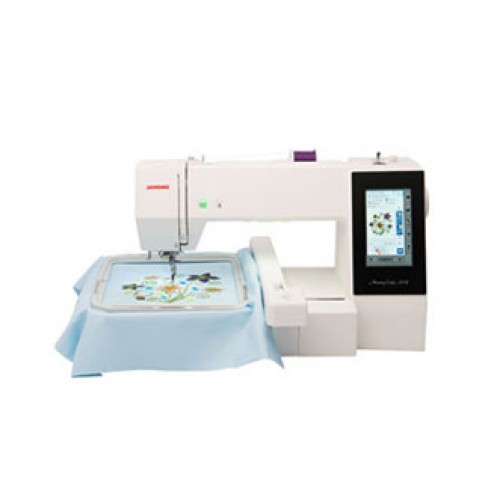 Woodseatssewingmachinesshop.co.uk
£1,799.00
in stock
6 new from £1,779.00
as of June 28, 2022 7:56 pm
Brother Innov-Is V3
The Brother Innov-is V3 is a step up in terms of  price and quality and has quite a lot to offer. For the added cost you get more for your money in terms of designs, speed, stitches and a larger embroidery area.
The embroidery area of 11.8″ x 7.1″ (300mm x 180mm) is very impressive and with a stitch speed of 1050 spm this machine makes light work of all but the largest and most intricate designs. Furthermore it comes with a hoop at 30cm x 18cm and a second smaller hoop of 10cm x 10cm
In total there are 224 built-in designs and an impressive 17 fonts. The USB port allows for downloading and the transfer of designs. If you are passionate about embroidery the large 9 cm x 15 cm LCD touchscreen will make you very happy. Due to the big screen editing designs isn't as fiddly as with a much smaller LCD screen, like the ones you find on cheaper models.
If you're budget can accommodate the expensive price tag then the V3 is definitely a worthwhile investment. For a full list of its features click the link below to see what else this machine can do.
£2,299.00
in stock
5 new from £2,299.00
as of June 28, 2022 7:56 pm
Last updated on June 28, 2022 7:56 pm
Janome Atelier 9
The Janome Atelier is one of a kind in my top 5 list, it is the only model that is a combined sewing and embroidery machine. This is a top of the range model with many features to make sewing more enjoyable. There is however one downside to the Atelier 9 and it's the embroidery area which is quite small.
The embroidery area of 6.7″ x 7.9″ (17cm x 20cm) isn't exactly tiny, but for the price you would expect something of a larger size.
Key features include 250 designs, 300 stitches, 10 monogramming fonts and an automatic one step buttonhole with 11 different styles to choose from. The maximum stitch speed of 1000 spm makes puts the Atelier 9 up there with the fastest embroidery machines.
A positive user-friendly feature is the choice of being able to use the presser foot or the stop/start buttons to control speed. Also helpful are the 3 LED lighting areas and the electronic knee lift for raising and lowering the presser foot hands free.
The Janome Atelier is expensive and in my opinion it is worth every penny. If you are looking to buy one of the best available embroidery machines for home use look no further.
£2,899.00
in stock
3 new from £2,899.00
as of June 28, 2022 7:56 pm
Last updated on June 28, 2022 7:56 pm
Final Words
Hope you have learned one or two things with the help of  guide to the best embroidery machine uk. After reading the complete guide, you will be much more ready when you decide to buy a Embroidery machine. If you can't find a model that fits your needs and budget with my recommendations, let me know in the comments below and i will look for the perfect machine for you.