It was a good number of years after I took up sewing before I plucked up the courage to tackle my first upholstery project. Since then I have adorned many pieces of old furniture with lavish fabrics as well as making many pairs of curtains from scratch. The first thing to know about taking up an upholstery project is that you have to have the right tools to do the job properly. This means investing in a heavy duty sewing machine and if you are to get the best results, a good one at that.
With one of the best heavy duty sewing sewing machines upholstery and dressmaking projects become a lot less intimidating. In addition owning one opens up new sewing doors, allowing for many new sewing adventures. Curtains, chairs, sofas and footstools are just a few projects of the projects you can tackle with a good sewing machine for upholstery.
In this article I will be guiding you through the process of choosing a heavy-duty sewing machine. Along the way I will also be explaining what it is you should be looking for and helping you avoid any pitfalls associated with buying.
Finally, I will be giving you my top 6 recommendations and reviews of the best heavy duty sewing machine available on the market.
Best Heavy Duty Sewing Machine Buyers Guide
Does It Have A Powerful Motor?
The first and most important feature to have in a sewing machine for upholstery is a powerful motor. You will probably have noticed that a standard sewing machine struggles to get through multiple layers of heavier fabrics. Even if you have a very good sewing machine, i would not recommend taking up a upholstery project with it. If you do you are at risk of causing permanent damage. This will only cost you money in repairs or even worse you may have to buy a new sewing machine altogether.
The powerful motor that comes with a heavy duty model is designed to handle the workload that comes with working with heavier and thicker upholstery fabrics. In addition they also have the benefit of been far less prone to overheating, which is again thanks to the increased motor power.
The importance of a powerful motor can't be stressed enough! It will make your project easier and more enjoyable. Try using a standard sewing machine for upholstery and see how much fun you have when you have broke a needle for the umpteenth time, not much at all.
Is It Sturdy & Robust?
When working with heavier fabrics having a sewing machine with a solid design and a good bit of weight to it helps a lot. With the added weight that comes with heavy duty machines it makes it much easier to feed the fabric through the machine without worrying that the increased weight of the fabric will shift your sewing machine about. This is a common problem associated with usina an ordinary sewing machine for upholstery.
Generally speaking a sewing machine will weigh around 5Kg. A good heavy duty sewing machine for upholstery will weigh anything between 6Kg and 8Kg. Remember to check the weight when buying! A lightweight plastic sewing machine should be avoided for upholstery sewing.
What Is The Stitch Quality Like?
Due to the cost of the fabrics used in upholstery projects undertaking one can be quite expensive. With that been said, it makes sense to ensure that your finished project looks as good as it possibly can. This means buying a machine that can provide consistent top quality stitching.
Another very useful feature in a upholstery sewing machine is an adjustable stitch length and width. Over the years from working with all different types of fabrics with varied thickness has taught me that different fabrics require different stitch lengths for achieving the best and most durable results. Consequently an adjustable stitch length and width is desirable.
Extra High Lift Presser Foot
Another essential feature of a sewing machine for upholstery is a presser foot with an extra high lift. This basically means you can adjust the height of the presser foot which allows thicker materials to be fed through. Due to upholstery fabrics been typically a lot thicker than most other fabrics, you will more than likely struggle if you buy a machine that lacks this feature.
What Accessories Will You Need?
Upholstery projects can vary in terms of the accessories needed to complete them and by accessories I mean presser feet. There are two presser feet that are used for most upholstery projects these are the cording foot and the walking foot.
Cording Foot – a large proportion of upholstery projects involve the process called welting. If you are not familiar with welting it is the process of making decorative cord that is commonly found on sofas, chairs or cushions. You may know welting by one of its other names, which are cording and piping, either way they are one in the same.
Walking Foot – another common occurrence of working with upholstery fabrics is that at times you will be stitching multiple layers. This can lead to the machine struggling to feed the fabric through. The answer to this problem is a walking foot which is designed to make the process of working with many layers much easier.
Take Your Time!
One of the most important things to remember when taking on a upholstery project is to take your time and always plan ahead. As already mentioned upholstery fabrics can get very expensive and mistakes can be very costly. We all get excited when starting a new sewing project and most of us just can't wait to crack on, however, rushing is not the way to go.
It is worth mentioning that heavy-duty sewing machines can sew at an incredibly fast pace with many reaching speeds of 1000+ stitches a minute. When sewing machines are sewing that fast it only takes a little pressure on the foot pedal to increase speed dramatically, which in turn can be very costly if you are not careful.
Top 6 Heavy Duty Sewing Machine Recommendations
Now that you are prepared with all the information you need to know for when choosing a heavy duty sewing machine it is time to take a look at my top recommendations.
Singer 4411 Heavy Duty Sewing Machine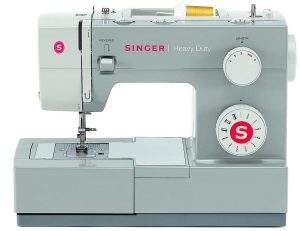 The Singer 4411 is one of the most popular heavy duty models in the UK. It represents excellent value for money comes with very good customer feedback and has just been given a big discount on Amazon.
It comes with a powerful 105W motor, which is more than capable of tackling almost anything you can chuck at it. In addition it can manage a very impressive 1100 stitches per minute.
In terms of stitches there are 11 in total these are 6 basic, 4 decorative and one buttonhole.
It features adjustable stitch length and width as well as extra high lift for when working with multiple layers.
A solid and very robust machine ideal for home decor upholstery projects and much more! For a more detailed analysis check out my full singer 4411 review.
Janome HD2200 Sewing Machine
The Janome HD2200 is another top contender for the best heavy duty sewing machine and is definitely worth considering. The machine features 23 stitches has a fully automatic one-step buttonhole and an auto-needle threader.
What I really like about this model is the built-in information window which guides you on which presser foot to use and correct stitch length and width for the pattern you are working with. This is a great feature for those that are new to dressmaking and upholstery projects.
Another positive feature is the jam proof top loading bobbin which also has a see through panel, allowing you to see if you are running low on thread.
With an overall weight of 10.8Kg you can be certain that the Janome HD2200 is very well made. With a heavy base, there is no jumping around like you get with less well made and lighter heavy duty sewing machines.
Singer 4423 Heavy Duty Model Sewing Machine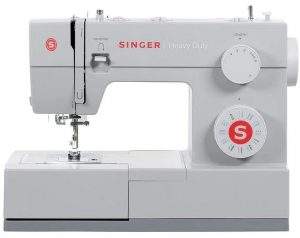 The Singer 4423 is a very well designed and versatile sewing machine. In many ways it is very similar to its sister model the Singer 4411, only the Singer 4423 is even better!
Where as the 4411 only has 11 stitches this model comes with 23 stitches. These include 6 basic, 12 decorative, 4 stretch and 1 buttonhole. In addition the buttonhole is a 1 step buttonhole compared to the 4 step buttonhole of the Singer 4411 model.
Another positive feature is the addition of an auto needle threader for convenience. With excellent customer feedback and reviews the Singer 4423 is definitely worth considering.
For more information on this model check out my full review of the Singer 4423 sewing machine.
Singer Heavy Duty 5523 Sewing Machine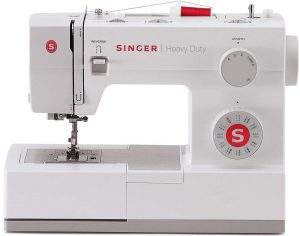 The Singer Heavy Duty 5523 is another great option for a heavy duty sewing machine. Some of the main features is a metal interior frame to make it stable and a extra-high sewing speed and a powerful motor. The motor is according to Singer 60% Stronger than regular sewing machines, this enables it to do a whopping 1,100 Stitches per Minute.
Other pros are The Singer Heavy Duty 5523  are automatic needle threader, automatic 1-step buttonhole and 97 Stitch Applications.
This machine is a great choice for beginners and advanced sewists alike. It's a very sturdy machine that makes thick seams feel also too easy. I would highly recommend the Singer Heavy Duty 5523 sewing machine, a machine that will last a long time for a keen hobbyist.
Brother HF27 Strong & Tough, Heavy Duty Electronic Sewing Machine

Brother HF27 Strong and Tough is a compact sewing machine suitable for beginners to more advanced users. It can be used for a wide range of fabrics such as stretch and denim. The Brother HF27 Strong and Tough features a total of 27 stitch options. Both utility and decorative stitches and also a 1-step buttonhole option for dressmaking projects.
One of the main selling points is the trong metal chassis and metal needle plate that the Brother HF27 is constructed with to increase stability. The free arm  allows to you alter trouser cuffs and the J foot with a levelling button to be used for types of thicker fabrics.
Bernette B35 Sewing Machine

The Bernette 35 sewing machine is a great heavy duty machine. It is simple in the fact that it does not have any computerised controls and is just controlled by dials. There is a of 23 stiches, some being utility and decorative stitches with excellent stitch quality.  The bernette 35 sewing machine has a very quick and easy to use to use  automatic 1-step buttonhole function.  A pro is that it comes with 35 includes seven snap-on presser feet.  A con would be that it does not come with a bag or a cover, but you can easily find find that fits on Amazon. The Bernette 35 sewing machine is a fairly basic machine but does buttonholes and the basic fancy stitches. It is a great option for anyone that wants a reliable easy to use heavy duty sewing machine.