With a 5 star rating, excellent previous customer reviews, as well as being Amazon's choice model it comes with some good recommendations. In our review of the 525S we will be taking a look at what it has to offer and deciding whether or not it provides good value for money.
Lets take a look!
Janome 525S Sewist Overview
Main Features
Below you can find the main features that you get with the Janome 525S sewing machine.
24 Built-in stitch choices,

Auto 1-step buttonhole,

Variable stitch width & length

Built-in needle threader

Jam proof drop in bobbin system

Drop feed for freehand embroidery

Freearm for circular sewing

Adjustable foot pressure
£249.00
in stock
1 used from £249.00
as of June 29, 2022 2:23 am
Last updated on June 29, 2022 2:23 am
Ease Of Use
In terms of useability the Janome 525S is best suited to beginners and intermediate users of sewing machines. The vastly experienced sewing enthusiasts out there will probably require more in terms of stitches and buttonholes etc.
With that been said, it is a simple enough model to get to grips with as it is not computerised. Stitch selection is by dial, just choose the letter which matches the corresponding stitch and away you go.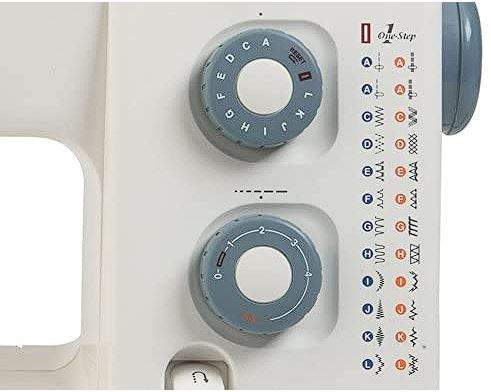 Stitches and Buttonholes
In total the Janome 525S has 24 stitches which is a good amount for a sewing machine in this price bracket. Furthermore, for the fashionistas reading this 16 of the stitches are decorative. There is also a 1-step automatic buttonhole which is surprising for a model of this price as this is a feature usually associated with more expensive sewing machines.
With a maximum stitch width of 5 mm and maximum stitch length of 4 mm the 525S is suitable for a wide range of sewing projects.
Here is the link to the manual for the Janome 525S:
Key Features To Consider Before Buying
Stitch Quality and Speed
The Janome 525S sewing machine is a very good quality model with stitch quality to match. In total it can do 820 stitches a minute, which is more than adequate for beginners. Those with a few years sewing behind them should also be happy with the speed at which it performs. For the very experienced if you are a patient person then you could make do with the 820 stitches a minute.
With variable speed it is easy to control the stitch rate via the foot pedal. In addition even at top speed the Janome 525S is well recognised for being one of the more quieter sewing machines.
In terms of the fabrics that you can work with it has no problem at all dealing with denim and even leather, ideally soft leather. Due to this not been a heavy-duty sewing machine you are quite limited with the number of layers you can stitch together, however, when using the 525S in the past I have found it can easily handle multiple layers.
Bobbin System and Needle Plate
Featuring a jam proof drop-in top loading bobbin system, ensuring smooth trouble-free stitching is another very good feature of the Janome 525S. For the beginners this handy feature will make sewing a more enjoyable experience, as it takes away one of the pains in the backside of sewing. I remember when i was new to sewing and it seems more often than not that i would get the thread/bobbin stuck. The jam proof feature of the 525S eliminates this small but annoying inconvenience.
In the image below you can see in detail the needle plate with the needle threader been pulled down.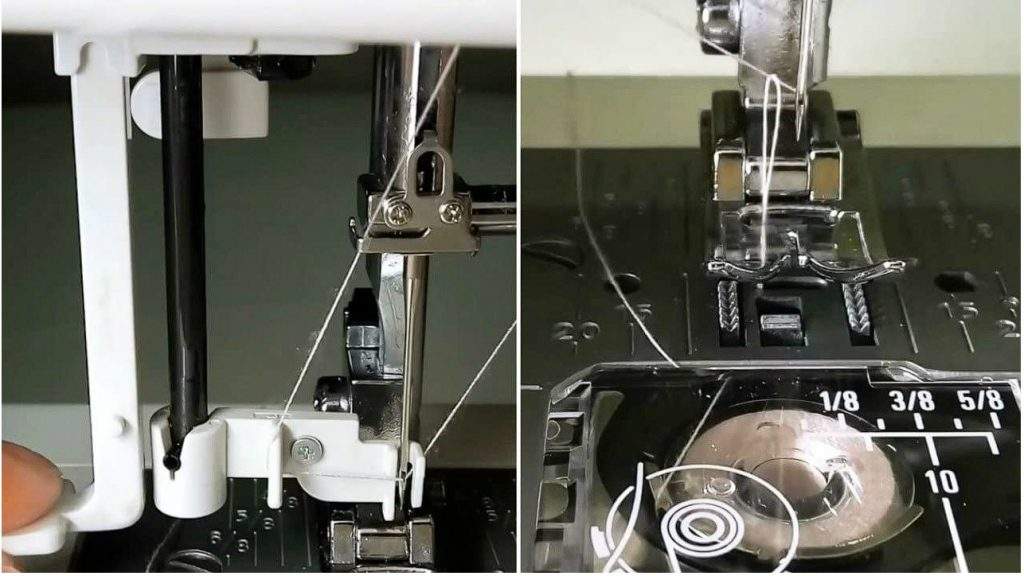 Presser Foot
Due to the standard clip-on feet that the 525S has the presser feet can be changed with little fuss. Controlling the pressure applied is done with the foot pressure dial, which features an "extra up". For those don't know an extra up raises the presser foot slightly more than usual. The benefit of this feature is that it allows you a bit more tolerance when the layers of fabric are getting to thick to sew together..
Needle Threader
It is quite rare for a sewing machine of this price to come with a needle threader. With that been said there are mixed reviews to be found on the Janome 525S needle threader. A good number of previous buyers mention how fiddly it actually is, with some even saying it would be quicker to thread the needle manually. Make what you will of that, in my opinion some people are just better suited to threading the needle by themselves and others are better off using a needle threader.
Personally, i have noticed that the needle threader isn't as practical as with some other models. However, not to the point where i would say Janome have made an error with it.
Janome 525S Sewing Machine
24 Built-in stitch choices, Auto 1-step buttonhole,
Variable stitch width & length, Built-in needle threader
Jam proof drop in bobbin system, Drop feed for freehand embroidery
Freearm for circular sewing, Convenient thread cutter
Adjustable foot pressure, Quick foot conversion
The Feed Dogs
Another positive feature of the Janome 525S is that the feed dogs can be dropped. Due to this it is also possible for those that are confident enough to do some freehand embroidery.
Design
Overall, it has to be said that the Janome 525S is a well designed sewing machine. The only concern is that there are a number of plastic parts, which obviously aren't as strong as metal. For the price though that is to be expected to no qualms there then.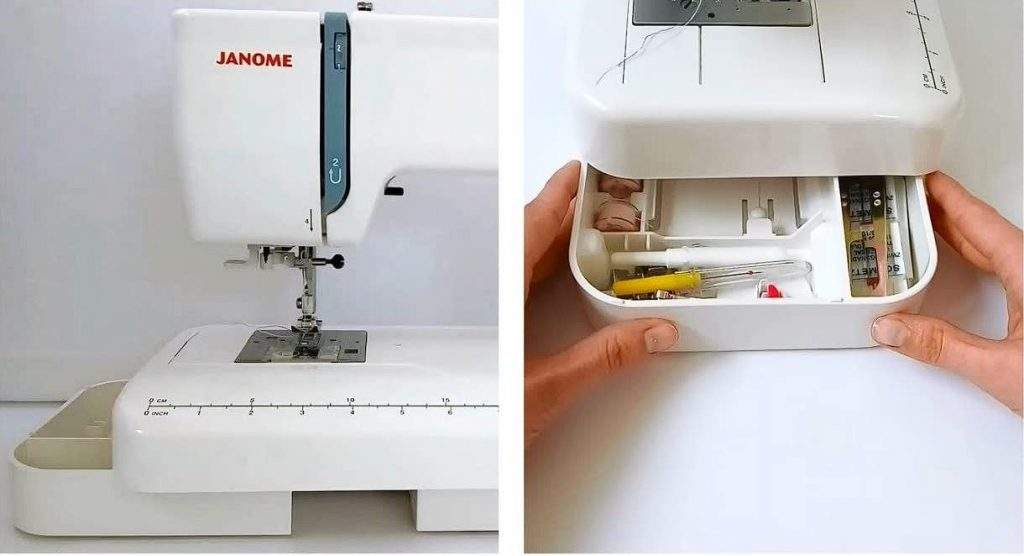 Portability
Weighing in at 6.8 Kg it isn't the heaviest of sewing machines there is, which is another reason this is a very good entry model. The lightweight makes it perfect for those that will be going to sewing classes or a friend's house to sew.
On the flipside the relatively lightweight does suggest that the 525S might not be that sturdy when in use, however, customer reviews and my own personal experience will tell you that this is a robust sewing machine.
Accessories
There are quite a few accessories that come free with every purchase of the Janome 525S Sewing Machine which is always a bonus. In terms of presser feet with every purchase there is a zipper foot, overedge foot, buttonhole foot, blind hem stitch foot and the all-purpose foot
In addition to presser feet other accessories include a spare spool pin, a large and small spool holder, lint brush, seam ripper, 3 bobbins and some needles.
Janome The Brand
Janome are a Japanese brand with a long history and reputation for well-built, solid and reliable sewing machines. They are considered one of the better brands and the large majority of their sewing machines are very good. To learn more about the Janome brand take a look at my full guide on what are the best brands for sewing machines.