If you are looking to invest in an affordable overlocker with high quality features then you should take a serious look at the Brother M343D Overlocker. This budget model is suitable for both beginners and those with plenty of experience using a overlocker. With features such as Brother's highly desirable F.A.S.T lower looper threading system, easy to follow lay-in threading and a simple to use differential feed, it's easy to see why the M343D is such a popular choice.
In this review I will be taking a closer look at the individual features of this overlocker machine and sharing any useful relevant information along the way. Hopefully, by the time we get to the end you will know if this is the right model for your sewing needs.
Let's take a look!
Brother M343D Overlocker
Specifications
Product Dimensions:

 

38.5 x 33 x 36.5 cm
Weight: 5.6 Kg
Stitches:
Speed:  1300 stitches per minute
Threads: 3-4
Color-Coded: Yes
LED Light: Yes
£239.00
in stock
7 used from £181.38
as of June 29, 2022 6:21 am
Last updated on June 29, 2022 6:21 am
Stitch Options – 3 or 4 Threading System
Like most Brother models the M343D is a 3 or 4 thread overlocker with very good stitch quality. With a top speed of 1300 stitches per minute it is quite a fast machine. When compared against the M1304D it has less to offer in terms of stitches, but then it is only half the price. It has both 3 and 4-thread sew-and-cut stitches, rolled hemming and narrow hemming options, there is the option of additional stitches, but of course this requires the use  and purchase of additional presser feet. With additional presser feet this model can also tape, gather and execute piping with a professional looking finish. The stitch width can be adjusted with this machine from between 5mm to 7mm and the stitch length from 2mm to 4mm.
In the image below you can see the stitches that can be performed with the M343D.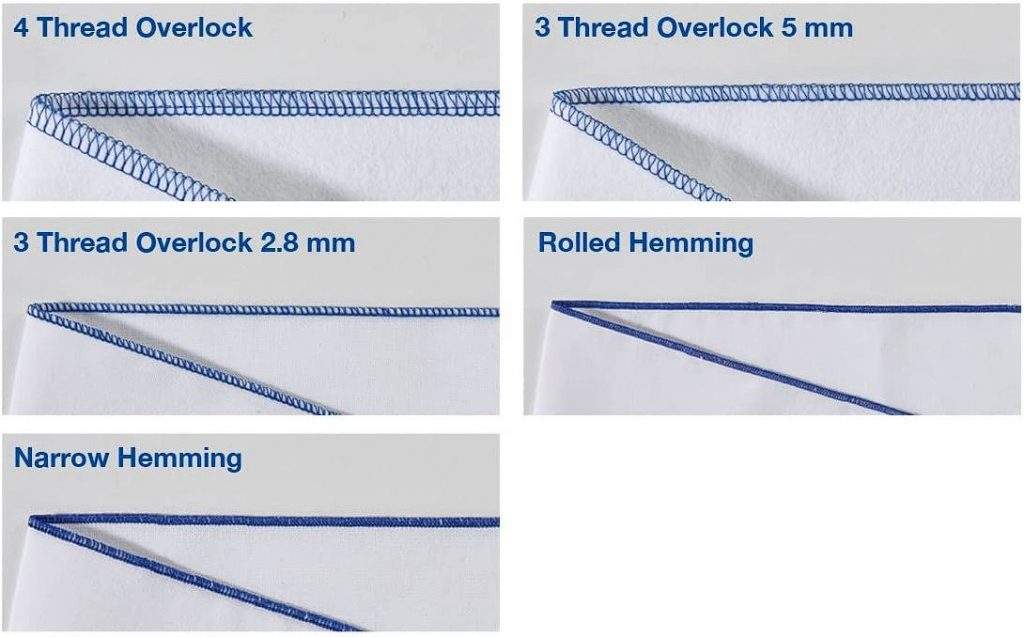 Differential Fabric Feed
Most will agree that one of the most important features to be aware of when buying a overlock machine is the differential feed. This function allows you to work with a wide variety of fabrics and produce high-quality seams. You can also use it in a creative manner to obtain different interesting effects, such as gathering. The differential feed on the Brother M343D works a treat and is easy to adjust to the required setting with the numbered dials.
£239.00
in stock
7 used from £181.38
as of June 29, 2022 6:21 am
Last updated on June 29, 2022 6:21 am
Free-Arm/ Flat-Bed
Converting to the free arm isn't a problem and working on cuffs and sleeves is a lot easier than some of the over overlocker I have used .
Thread Tension Control
There is a thread tension dial for each needle thread the lower looper thread and the upper looper thread.
Retractable Knife Blade
Not all overlocker machines give you the option of stitching while cutting the fabric edge, this model by Brother does. Due to the knife been retractable there is more versatility offered with this overlocker and it is a good feature to have. Personally, I couldn't do without a retractable knife on my overlocker.
LED Light
The M343D comes with a LED light and it has to be said, it is very bright. Strangely enough it is a lot brighter than the one on the Brother 1034D and I can't quite fathom out why?
Accessories
With every purchase the buyer gets the usual bunch of accessories that you get with all Brother sewing machines.
Comprehensive user manual and in-depth instructional DVD
Bag for accessories
Foot controller
Soft material cover
Set of needles
Tweezers
Thread nets x 4
Thread spool caps x 4
Hex screwdriver
Cleaning brush
Warranty
Comes with standard manufacturers warranty.
Conclusion
Out of the box the Brother M343D doesn't offer as many stitch options as some other models on the market. To get the most out of this machine you will have to purchase a few additional presser feet. However, it is still a good investment, it's easy to thread thanks to the colour coding, simple enough to use and doesn't take too long to set it up. All of these points make it a good overlocker for beginners , the fact it is very affordable is another positive for beginners.
£239.00
in stock
7 used from £181.38
as of June 29, 2022 6:21 am
Last updated on June 29, 2022 6:21 am