For many of us sewing is a hobby that starts off with using either the kitchen or dining room table to make our wonderful creations. It isn't until later on that you realise that sewing has become all encompassing and has literally taken over to the point where you actually need to have a dedicated workspace to keep everything organised, this is where the sewing table comes in. Sewing tables are specifically created for sewing machines, they usually have a drop-down platform so you an align your sewing machine base height to the best working height for you.
With so many accessories required for sewing your work space can actually start to look a bit of a mess and you end up forever misplacing them. This is when you realise that it  is probably time to invest in a sewing table or cabinet.
These purpose built workstations are perfect for keeping your thread, needles, scissors, measuring tape, spare bobbins and all the other accessories that you may have accumulated in a place where you can actually find them when needed.
So, which are the best sewing tables? What should you be looking for when buying? In this guide we will be sharing everything you need to know for when buying as well as bringing you my top 5 recommendations. If you are instead looking for a sewing Cabinet check out our favorites here:
Let's take a look!
PRODUCT
Sew Ready Folding Sewing & Craft Table
Sew Ready Comet Sewing Desk
TUFFIOM Sewing Craft Table
Dimensions
45.5" W x 23.5" D x 30" H
POPULAR CHOICE
PRODUCT
Sew Ready Folding Sewing & Craft Table
MOST POPULAR
PRODUCT
Sew Ready Comet Sewing Desk
Dimensions
45.5" W x 23.5" D x 30" H
Top 5 Best Sewing Tables
Comet Sewing Desk with Drawer and Shelf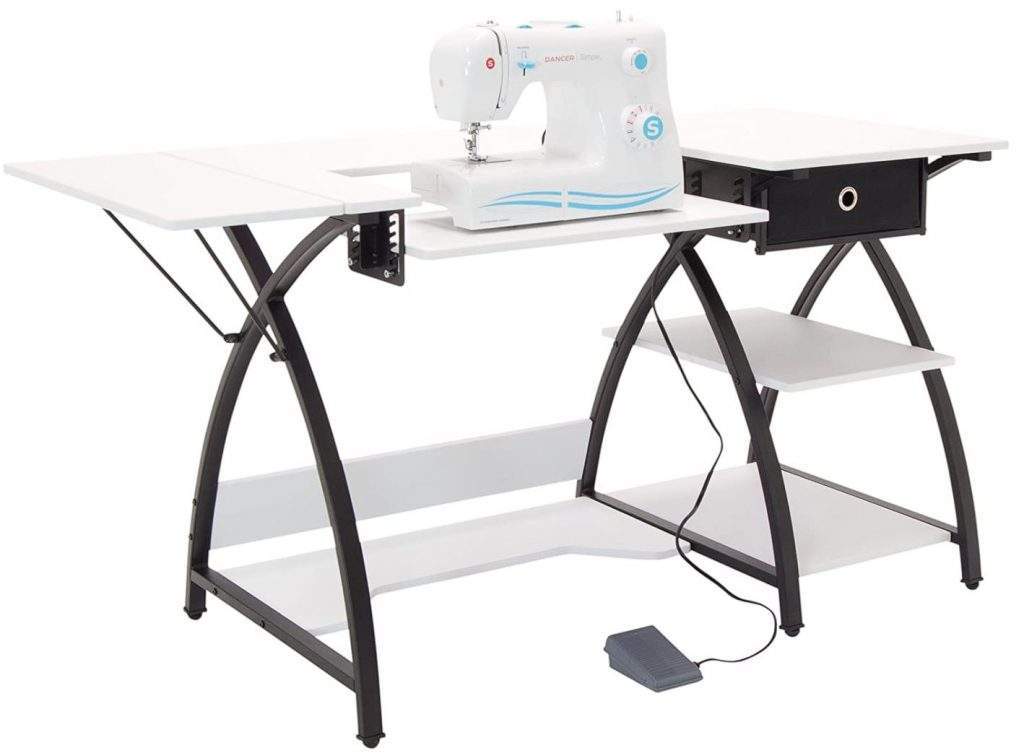 £299.99
in stock
as of June 29, 2022 3:37 am
Last updated on June 29, 2022 3:37 am
The Comet Sewing Desk is by far the most popular sewing machine table around. It features a very modern and sleek design and offers the user great convenience a durable build and plenty of working space.
It has a drop down platform which allows you to align your sewing machine to tabletop height. This is perfect as it allows your fabric to glide along the top without getting caught. Another positive feature is the drop leaf, which provides extra space for fabric when sewing.
The built-in shelves on the bottom are ideal for storing hold bins full of sewing accessories and supplies. The built-in drawer to the left is well situated for supplies that you need close to hand.
It has dimensions of 56.75W x 23.5D x 30H and can even be folded down when not in use. With a 10 year guarantee you can be safe in the knowledge that it is built to last and if anything does go wrong with it the manufacturer will replace free of charge.
If you like the look of the Comet Sewing Desk but don't think you really need the built-in drawer there is the option to buy it without. This is essentially just the actual sewing table and for some this may be all they need.
Sewing Online Eclipse Hobby/Sewing Table in Black/Maple 13368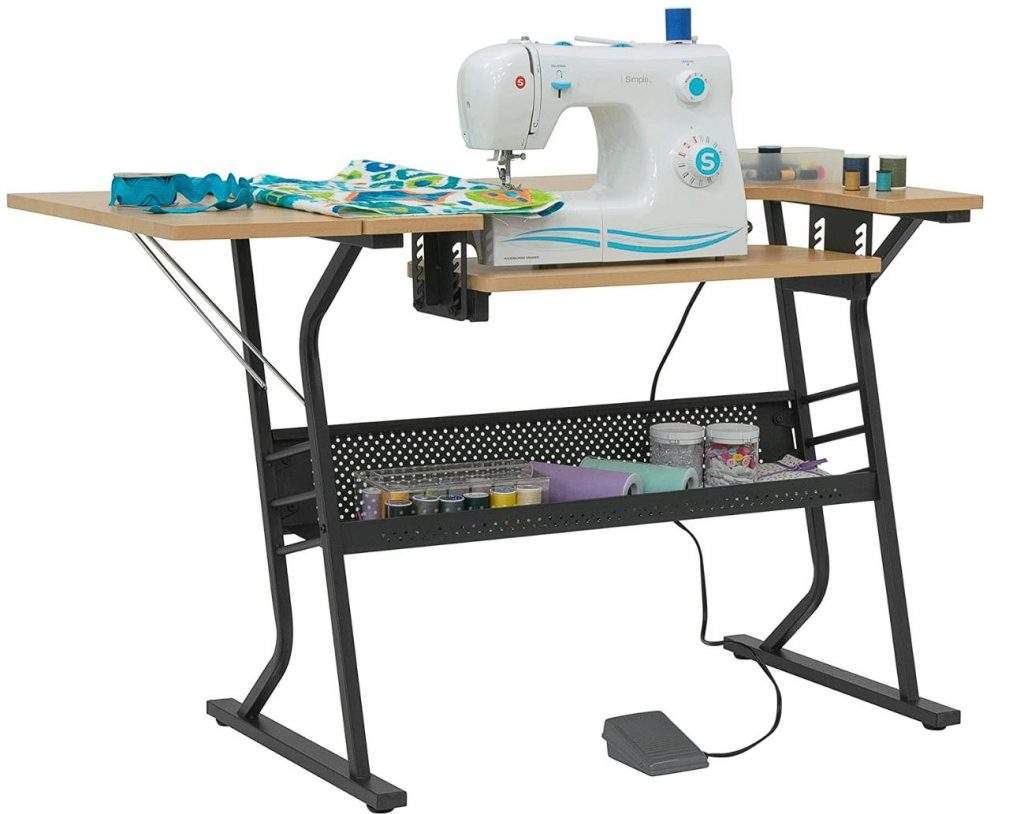 £169.99
in stock
as of June 29, 2022 3:37 am
Last updated on June 29, 2022 3:37 am
The Eclipse sewing table from 
Sewing Online is a great looking piece of furniture. It is made of heavy gauge steel so it is very durable, and won't shake when running your sewing machine at max speeds. It has a drop down platform so you can adjust the working height to best fit your sewing machine. The overall

dimensions are: 44.75in/113.67cm Wide x 23.5in/59.69cm Deep x 29.25in/74.30cm High.
If you don't have a lot of space, this is a great sewing table. It only takes about 45 min to and 1 hour to assemble and the instructions are easy to follow. However, we do recommend being two people for the assembly part. It has a storage shelf underneath that comes in handy. Overall this is a sturdy and great looking sewing table, that we highly recommend.
Sew Ready Folding Multipurpose/Sewing Table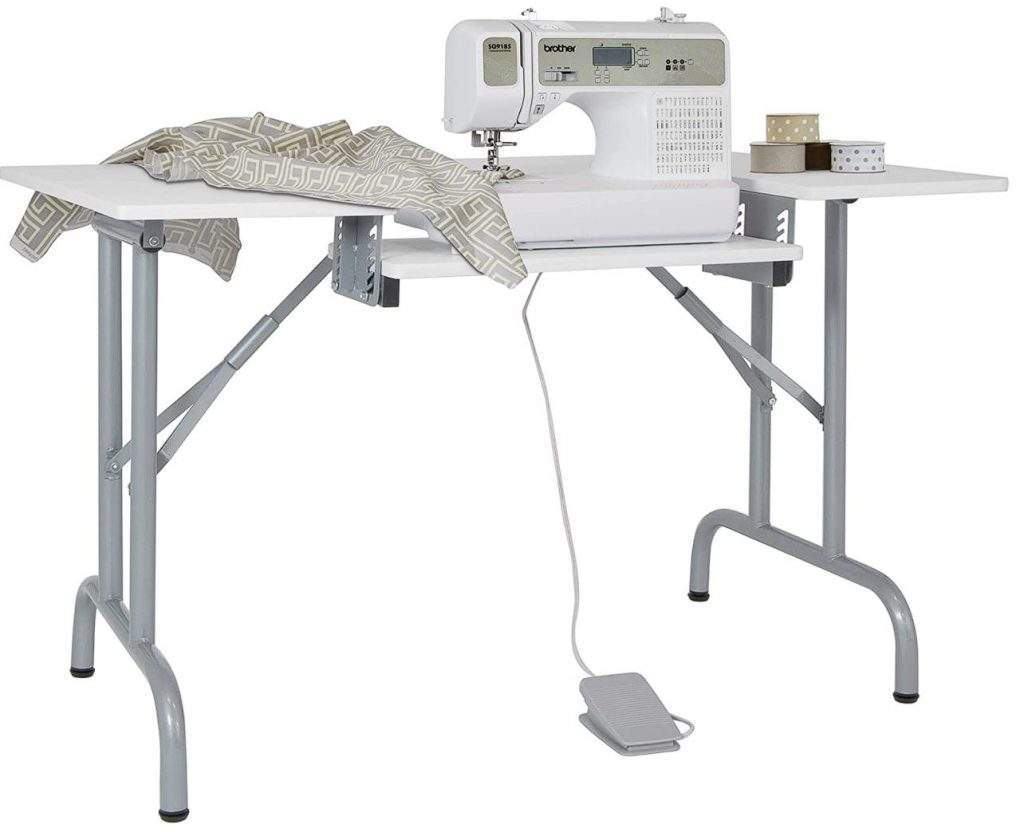 £189.99
in stock
2 new from £189.99
as of June 29, 2022 3:37 am
Last updated on June 29, 2022 3:37 am
Another popular choice for anyone that is looking to buy a solid and sturdy sewing table is the Sew Ready Foldable Sewing Table. This multi-purpose table can also be used as a computer table of for general arts and crafts but is best suited for sewing.
If space is limited the folding feature will definitely come in handy as it can be folded up and easily tucked away in a corner when not in use.
Like all the best sewing tables it features a drop-down platform, which can be adjusted to 6 different height positions. The overall dimensions are 47.5″ W x 28″ D x 30″ H and with 47.5 inch of work space there is plenty of room to work with.
If you are looking for somewhere to store your accessories this might not be the one for you as there are no shelves or storage space to speak of. However, if you are looking for a sturdy platform to work off it is more than up to the standard needed.
Sewingrite Foldable Sewing Craft Hobby Utility Table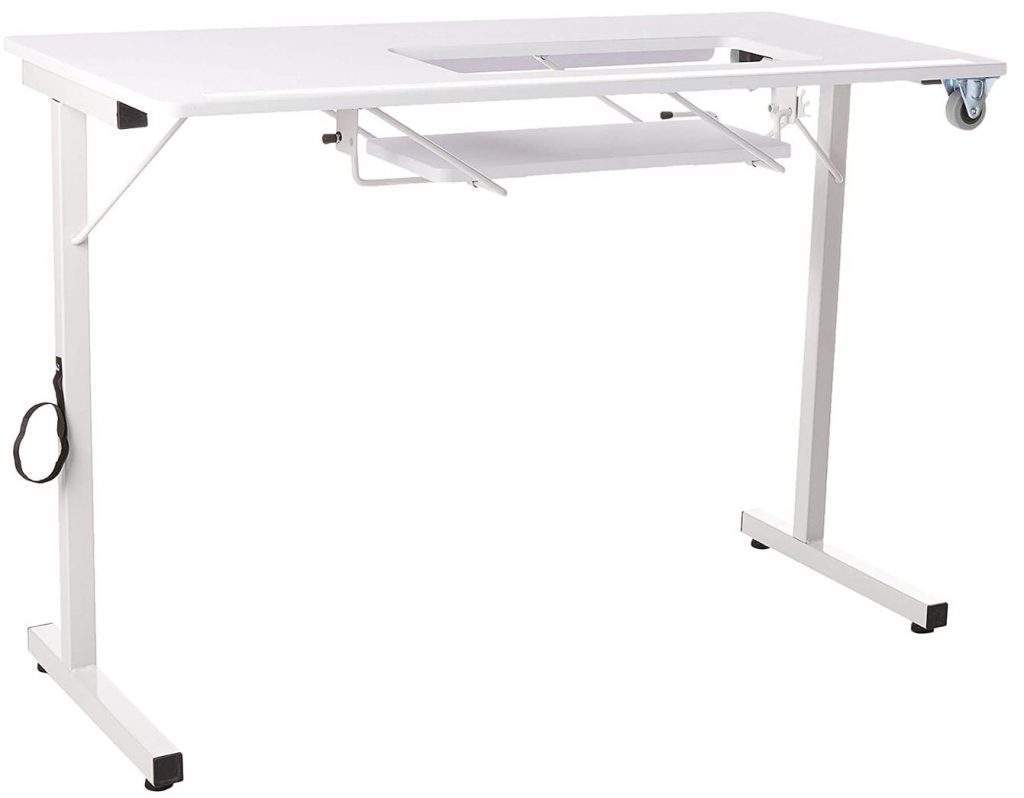 £183.87

in stock

as of June 29, 2022 3:37 am

Last updated on June 29, 2022 3:37 am


The sewing table from SewingRite is a great option for someone who wants to be able to move and store their sewing table. As it is foldable and fits in a closet or under a bed it will help you keep a tidy sewing space if you don't want to leave your sewing equipment out at all times.

It's perfect for smaller condos/living spaces where you might not have a dedicated place for your sewing machine. It is still very sturdy as it is made from alloy steel and will provide a secure sewing station, holding sewing machines up to 25 lbs.

It comes fully assembled, so you don't have to spend anytime putting the parts together. It has a drop-down shelf, so you can set it to the height position for your sewing machine. If left up, the table can also function as a cutting table or for other hobbies and crafts.

Also available in black here.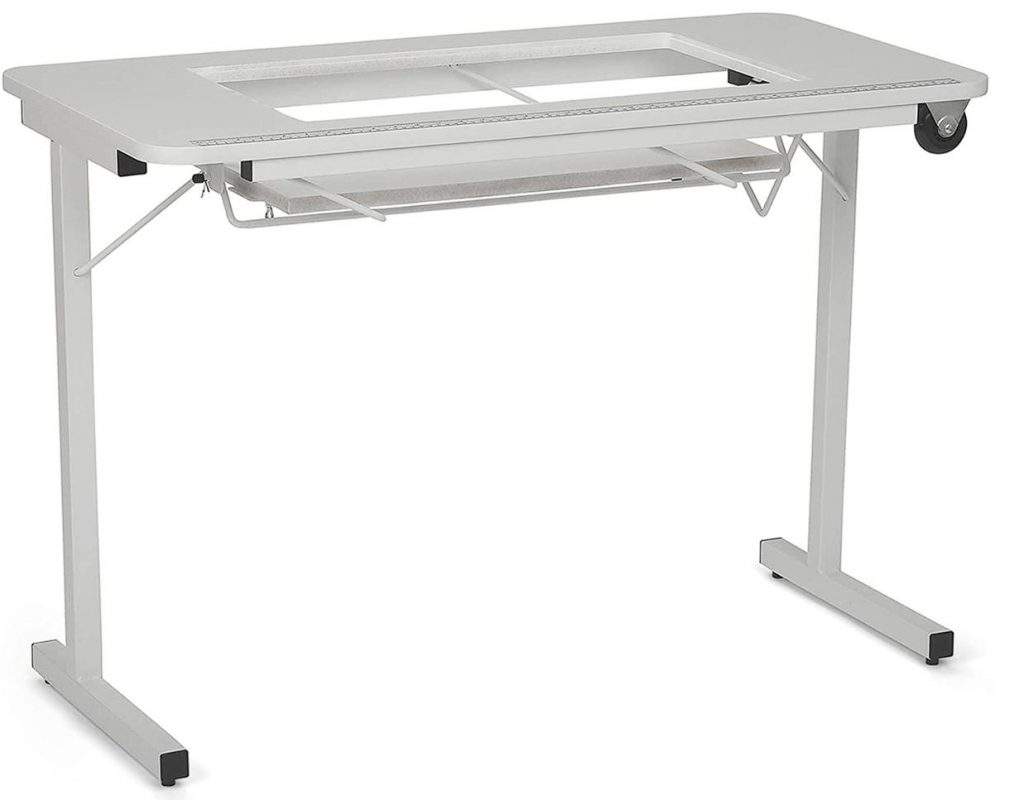 The Gidget II is one of the most affordable options to make it in my top list and it is well suited to those with limited space. The foldable design means it takes up very little storage space and gives it great portability meaning you can literally create your sewing space anywhere.
The simple design provides a solid yet sturdy work surface and the table offers both freearm and flatbed sewing. It can accommodate sewing machines with a weight up to 40lbs  and up to 59.7cm wide x 31.7cm deep .
Dimensions are 101cm H x 49.5 cm D x 72.3 cm and when folded 101.5cm W x 49.5cm D x 11.4cm H.
It features a melamine surface which is mar-resistant ensuring it will stay in top condition for many years.
£209.99
in stock
2 new from £209.99
as of June 29, 2022 3:37 am
Last updated on June 29, 2022 3:37 am
Final Thoughts
Once you finally invest in either a cabinet or sewing table you will realise just how practical they are and wonder how you went so long without one.
There are indeed many sewing cabinets and tables available to buy. In my list I have included only the ones which I think have the most to offer in terms of functionality and value for money.
£169.99
in stock
as of June 29, 2022 3:37 am
£182.88
in stock
as of June 29, 2022 3:37 am
£183.87
in stock
as of June 29, 2022 3:37 am
£189.99
in stock
2 new from £189.99
as of June 29, 2022 3:37 am
£209.99
in stock
2 new from £209.99
as of June 29, 2022 3:37 am
£299.99
in stock
as of June 29, 2022 3:37 am