Review of the Singer 3232
The Singer 3232 is just the perfect machine for beginners. It offers the basic functionality that any beginner would need when starting embarking on their sewing journey. The Singer 3232 comes with several features that would come in handy when sewing any fabric. Another reason why you may want to consider the 3232 is that it offers beginners the advanced features needed to grow their sewing skills.
Also, its affordability makes it a sewing machine to consider when you are on a budget.
Despite the sturdiness, this sewing machine is extremely lightweight, making it easy to carry around. You can use it at work or home and even alternate between both.
Regardless of how small the Singer 3232 looks, it sews up to 750 stitches per minute, so do not be deceived by the size.
Before you make your final decision, let's have an in-depth review of the Singer 3232. So you can determine whether or not the Singer 3232 sewing machine is the right fit for you.
Main Features
32 built-in stitches
1- step automatic buttonhole
Front-loading bobbin
Automatic needle threader
Adjustable foot presser
25-year limited warranty
£219.90
in stock
7 new from £182.32
as of June 27, 2022 9:59 pm
Last updated on June 27, 2022 9:59 pm
Ease of Use
Using the Singer 3232 is as easy as they come. You don't need any technical know-how to operate this machine carefully. Right from when you purchase it, it is almost entirely arranged in the box. So, you would spend a few minutes assembling it, and you can get started immediately. It comes with an instruction manual in case you encounter any difficulty while using it. Once set up, you need to use your foot pedal to guide you and sew.
Also, it has an extra high lift on the presser feet, which is an excellent feature, because it would be needed when sewing bulky fabrics.
To make the sew craft more enjoyable and less frustrating, the Singer 3232 has a built-in thread cutter to make it easy to sew consistently without having a full sewing kit. This machine is straightforward to use; you don't have to worry about ruining your projects.
Stitches and Buttonholes
The Singer 3232 comes with 32 built-in stitches (6 basic stitches, 6 stretch stitches, and 19 unique decorative stitches), which is more than enough for an array of projects. You can decide to get creative in your free time by trying out any of the stitches. That's to say, you definitely won't be bored with Singer 3232. The Singer 3232 features all the essential stitches you would need for your everyday projects. It might not be all you need if you want to advance in sewing. But for the basic and decorative stitches, the 3232 has got you fully covered.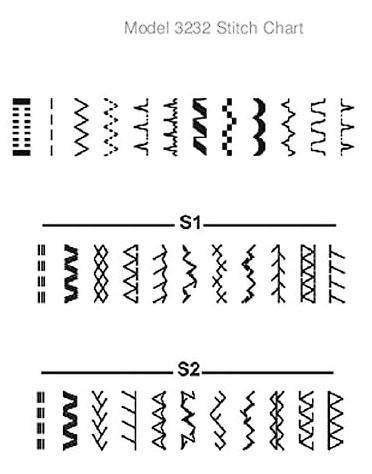 £219.90
in stock
7 new from £182.32
as of June 27, 2022 9:59 pm
Last updated on June 27, 2022 9:59 pm
Its one-step buttonhole stitch puts it at a rank above other affordable sewing machines. Now you can save more time when creating a buttonhole with just the touch of a button.
Automatic reverse
This is one of the most exciting features the Singer 3232 has. Whenever you need to reinforce your stitching, tap the reverse button. And automatically, your machine would sew in reverse. Easy right?
Heavy-Duty frame
Asides from the mouth-watering 25-year warranty that comes with the Singer 3232, its durability is second to none. It's a known fact that the Singer machines are built to last you for many years to come.
The frame of this machine is built for longevity and durability. Its heavy-duty aluminum frame is specifically designed to keep the machine and needles in place when sewing. The importance of this would be well noticed when it comes to embroidery.
Lighting
This feature makes the whole notion of sewing stress-free and enjoyable. Imagine having to worry about not being able to sew in the dark? Well, you can rest assured that you won't have to encounter such difficulties when using the Singer 3232. Included with the Singer 3232 is a light that you can use in poorly lit areas. When turned on, the light shines directly into the needle plate. This is so you don't strain your eyes when working, and to avoid making unnecessary mistakes when sewing.
Automatic needle threader
This is one of the key features to look out for as a beginner in any sewing machine. Luckily, the Singer 3232 has it, making it once again a top choice to consider. With the automatic needle threader feature, you don't have to strain your eyes to fix in the needle. The Singer 3232 does all the work for you.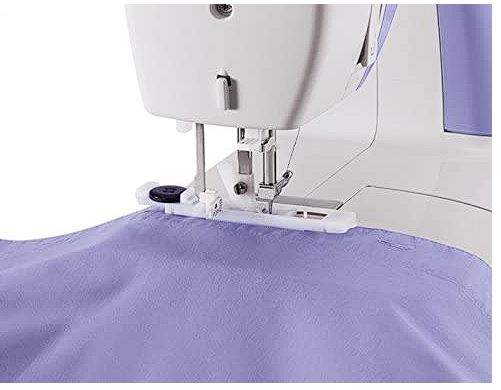 Reasons why you should consider the Singer 3232
Affordability
At under £100, the Singer 3232 has features almost equal to other high-end machines. So as a first-timer who wouldn't want to spend a whole lot of money getting their first machine, this is quite a steal. Even as an experienced sewist, this machine is an excellent investment as a backup plan machine. Considering the 25-year warranty, and also the compact nature of the Singer 3232, you would be getting a good deal for your buck.
Versatility
The 32-stitches feature is more than you can find on most cheap sewing machines. With all the stitches it packs, there is very little with which you cannot sew using the Singer 3232. It is perfect for hemming of pants, embroidery, and capable of sewing heavy and bulky fabrics.
Accessories
The accessories included in the Singer 3232 are;
Zipper foot
All-purpose foot
Seam ripper
Extra Needles
Thread spool caps
Bobbins (class 15)
Button sewing foot
Buttonhole foot
Screwdriver
Machine Intro DVD
Foot control
Instruction manual
Quilting Guide
Power cord
Soft dust cover
Conclusion
After going through the high-end features of this basic sewing machine, it's no doubt perfect for those who want to hone their sewing skills, or even take up sewing as a hobby. Singer 3232 is the ideal machine for any beginner, as it has everything you need to get started.
£219.90
in stock
7 new from £182.32
as of June 27, 2022 9:59 pm
Last updated on June 27, 2022 9:59 pm