---
BROTHER L14S Sewing Machine Review
The brother L14S is the perfect sewing machine for beginners as it is ideal for simple repairs and alterations. It is a very reliable, portable, and cost-effective machine. So, if you are looking to get a new sewing machine and you don't feel the need to spend a lot of money due to one reason or the other, you will need to opt for a sturdy, reliable, and easy to use machine with a fair amount of features. If you are a beginner, you will need to go for a sewing machine that is affordable to learn the fundamentals before you invest in something more costly.
There are other notable reasons as to why you would want an affordable sewing machine. You might need a sewing machine for simple tasks like alterations or repairs and don't feel the need to get a machine that does more than that. You might also be on a budget, and this is the model you can afford. It is without a doubt that most popular sewing machine brands have a hefty price attached to their products, but you can still get an efficient sewing machine at a budget price that would be very cost-effective.
Main Features
Despite being a budget sewing machine, the Brother L14S still manages to pack some fantastic features. These are the main features of the Brother L14S;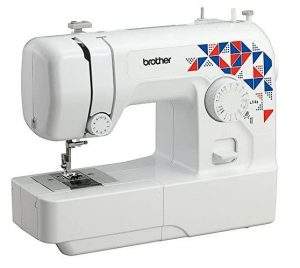 14 in-built stitches
Extra bright LED sewing light
4-step automatic buttonhole
Free arm conversion
Sturdy metal chassis
Top load drop-in bobbin
£85.00
£99.00
in stock
5 new from £85.00
4 used from £76.99
as of June 27, 2022 9:59 pm
Last updated on June 27, 2022 9:59 pm
Ease of Use
The Brother L14S was made with beginners in mind, which is why it is the ideal machine to help you learn the basics of sewing. It is one of the most comfortable machines to use. One of the major concern that users have with budget sewing machines is that they are always tricky to use and can be really noisy. If you are faced with any of these problems, you might end up being frustrated. Fortunately, the Brother L14S is easy to use and is astonishingly quiet when in use. If you want to pick a stitch style, all you need to do is turn the dial to the desired stitch; quick and easy.
Stitches and Buttonholes
A sewing machine can offer as low as ten stitches or as much as 200 stitches. There are some very important stitches that you probably won't be able to do without. While there are some rather specific ones, and even if you get a high-end machine, you may end up not making use of all the stitches. Given the fact that the Brother L14S is a budget sewing machine, it doesn't offer a whole lot of stitches. It comes with 14 different stitches, which is a moderate amount for a machine of this price. The stitch length and width cannot be altered using the dial on the Brother L14s, which means that you mostly get basic straight stitches with different needle positions and stitch lengths or zigzag stitches with varying widths. As a beginner, these 14 stitches should be enough for you to get your basic sewing work done without getting too worked up. If you are looking for a few more stitch options the Brother LX17 Sewing Machine may be a good option. For the buttonhole feature, you get a 4-step automatic buttonhole, but it is not as easy to use as a 1-step buttonhole.
Key Features to Consider Before Buying
These are some features you should look out for before opting to buy a sewing machine.
The Motor
The Brother L14S sewing machine has a 50W motor, which although is not the most powerful among beginner sewing machines, manages to pack enough power to ensure your basic sewing needs are met. It is not advisable to use this machine if you plan on sewing thick fabrics or numerous layers of fabrics. It might not be appropriate for upholstery projects. Make sure you are using the proper needle if you want to work on some thicker fabrics.
Bobbin System and Needle Plate
Many beginner sewing machines usually have their bobbin system as front-loading, but what makes the Brother L14S so unique is its top-loading bobbin system. Most times it is often a question of what the user prefers. But, most people opt for a sewing machine that has a top-loading bobbin system as it helps them keep an eye on the bobbin at all times. It also allows for quick threading.
Freehand Stitching
The Brother L14S features feed dogs that cannot be lowered. So, if you are planning on doing some freehand stitching, you will need to get a darning plate. It is also important that you get another presser foot because the one that the Brother L14S ships which is not fit for freehand embroidery.
£85.00
£99.00
in stock
5 new from £85.00
4 used from £76.99
as of June 27, 2022 9:59 pm
Last updated on June 27, 2022 9:59 pm
Portability
The Brother L14S has a weight of about 6kg, which makes it the ideal sewing machine for beginners. High-end sewing machines usually features a lot of internal metal parts, which make them quite heavy and also last longer. Well, the Brother L14S gives you the best of both worlds. It has a rigid metal chassis and still manages to be lightweight. If you plan on taking your sewing machine to classes, then the Brother L14S is ideal for you.
LED Light
One feature that is common in most high-end sewing machines is LED lighting. The Brother L14S features an extra bright sewing LED light. LED lights are a lot better for color precision, and they don't tend to discolor your threads, unlike a light bulb. LED lights will also save you a lot of money in the long run as they don't need to be often replaced like light bulbs.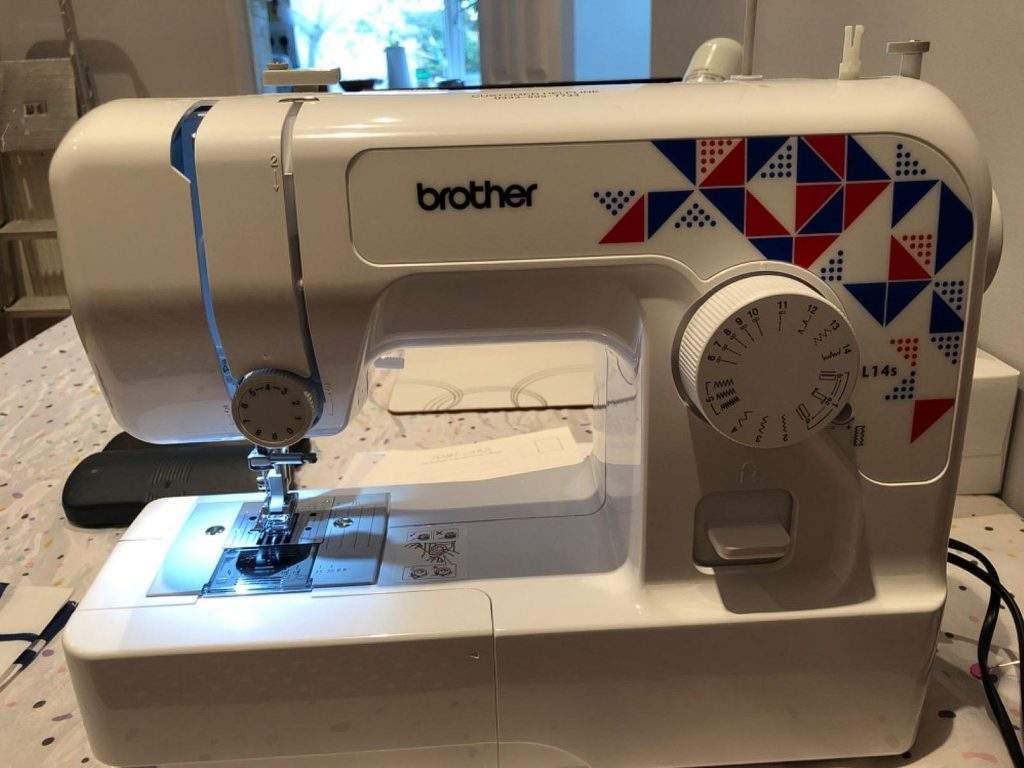 Accessories
These are the L14S included accessories;
Buttonhole foot
Zigzag presser foot
Zipper foot
Twin needle
Bobbins
Button sewing foot
Set of 3 standard needles
Instructional DVD
Summary
So, if you are thinking of taking up the art of sewing, the Brother L14S is the ideal sewing machine for you. It is a high-quality and affordable machine which is why it is one of the top-selling machines today. Portable, easy to use, and with a fair amount of stitches, the Brother L14S sewing machine has got you covered before you eventually think of an upgrade.
Sale