Top 10 Best Overlockers In 2022
If you are looking to buy a overlocker machine and have done some research you will have probably come to the realisation that there are an awful lot of brands and models to choose from. In addition the technical features and specifications can also differ vastly from model to model, confusing you even more. That been said with so many decisions to make it can be hard to decide which are the best overlockers.
In our overlocker reviews we will be bringing you the top 10 overlocker machines in 2022. In addition we will be explaining all the good and bad points of each model and any useful information that will help you to decide which is the best model for you and your needs.
If you are completely new to overlock machines I would recommend checking out our Overlocker Guide before purchasing. In there you can find all the information you need to know about the different features of overlockers.
£199.00
£239.00
in stock
5 used from £157.21
as of August 17, 2022 4:24 am
£329.00
in stock
10 new from £329.00
as of August 17, 2022 4:24 am
£379.00
in stock
2 new from £379.00
as of August 17, 2022 4:24 am
£439.00
in stock
12 new from £439.00
as of August 17, 2022 4:24 am
Best Overlocker Reviews
1. Brother M343D Overlocker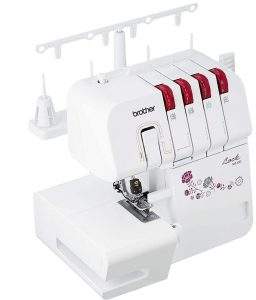 The Brother M343D overlocker is one of the most popular models in the UK. With very positive customer reviews and 5 stars on Amazon previous buyers seem to be very happy with its performance. This overlocker is already seen as representing great value for money and thanks to the recent reduction it now costs even less.
The Good
First of all this overlocker machine is packed with features that make it a very versatile model. The Brother F.A.S.T lower looper threading system and the tension release disks are two features that receive a lot of praise.
Another positive is the differential feed which executes perfect seaming and overlock stitches on pretty much all fabrics.
With a free arm/flat-bed convertible sewing overlocking cuffs or sleeves is also an easy process with the M343D.
The Not So Good
This is another top quality overlock machine from Brother with excellent feedback from previous customers, as you can imagine it is hard to find anything bad to say about it.
Our View
With good specifications a wide range of features and an affordable price it is easy to see why this overlocker is a best-seller. In terms of value for money it would be hard to find a overlocker that offers as much as this one does for the price.
£199.00
£239.00
in stock
5 used from £157.21
as of August 17, 2022 4:24 am
Last updated on August 17, 2022 4:24 am
2. Janome 9300DX Overlocker
The Janome 9300DX Overlocker is another very popular model that comes with high quality features and a bunch of accessories. It offers 3 or 4 thread overlocking and comes pre-threaded for ease of use. With 5 stars on Amazon and very good customer reviews, many regard it as the best overlocker to buy.
The Good
The differential feed provides precision stitching and has a ratio of 0.5mm to 2.2mm. The cutting width is adjustable from 2.0 to 5.7 mm. With a built-in rolled hem it guarantees the highest quality finish every time.
With a compact and very sturdy design this is a very durable overlocker that is built to last. When compared against other models the Janome 9300DX is said to be noticeably quieter when in use.
The Not So Good
If you check this model out on Amazon you will find that the lowest customer review it gets is an impressive four stars, says it all really.
Our View
There are some good overlockers in the Janome range of models and the 9300DX is up there with the best. If you are looking to invest in a brand and model with a reputation for high quality then this is the one for you.
£329.00
in stock
10 new from £329.00
as of August 17, 2022 4:24 am
Last updated on August 17, 2022 4:24 am
3.
Janome 8002D Basic Overlocker Serger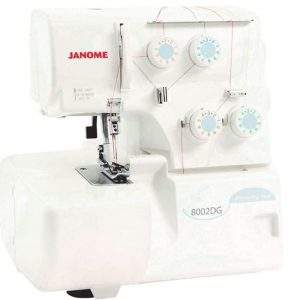 If you are on a budget then no doubt you are hoping to get as much as you can for your money. That been said the Janome 8002D Basic Overlocker is well worth taking a serious look at. With a combination of features usually only found only on more expensive models it represents excellent value for money.
The Good
Like most overlocker machines the Janome 8002D offers the choice of 3 or 4 thread options. For ease of use it comes with an easy to follow colour coded threading. This feature comes in handy, as overlockers as many of you will already know are notorious for been hard to thread.
Other positives include a 4mm stitch length the rolled hem conversion and the differential feed. The differential feed on this model is ideal for more demanding fabric and has other applications such as for gathering.
The Not So Good
Although this is a good introductory model there is the possibility to get more for your money with the Brother M343D.
Our View
Due to the low price and excellent features of this overlocker it comes highly recommended for those looking for an introduction model to overlockers. Another positive is the free instructional DVD which shows you how to operate the Janome 8002D overlocker to the best of its capabilities.
4. Brother M1034D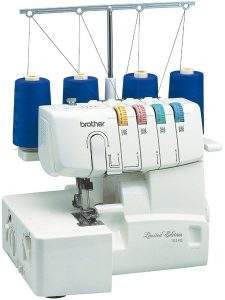 The Brother M1034D is a very popular model that is ideal for those looking for an introductory/beginner overlocker. With all the features you need to get going and at a very affordable price, it's easy to see why it is one of the best sellers in the UK.
The Good
As with most models in our reviews the M1034D is a 3 or 4 thread overlocker and it can be used on a free arm or flat-bed basis making it very flexible in terms of usage.
Like all Brother Overlockers it comes with their very own F.A.S.T lower looper threading system and easy to follow lay-in threading. Due to how easy it actually is to thread this model is considered one of the best for beginners. Coming with a complete instructional DVD that explains everything you need to know to get going is another positive for beginners.
In total there are 22 built-in stitch functions, which is very good considering this is a budget overlocker. From formal and bridalwear to home decor and crafts the M1034D has a wide range of applications.
The Not So Good
For the price and the quality it offers, it really is hard to find a bad thing to say about this overlocker machine.
Our View
Due to its popularity and the fact its hard to find a review with a negative word to say about this model, it comes  recommended as the best value overlocker on the market. With more to offer than some more expensive models it is well worth investing in if you aren't looking to spend too much.
5.
Jaguar Overlocker 2, 3 & 4 Thread
Jaguar Japan are one of the biggest manufacturers of sewing machines and overlockers in the world. In addition they make machines for many other brands such as Bernina and Singer to name a few. The Jaguar Advanced overlocker is a versatile machine with some notable positive features to it.
The Good
With a 2, 3, or 4 thread option there is a bit more to this machine when compared to the previous models in our reviews. When put up against the Jaguar Starter Overlocker additional features include a built-in rolled hem and rolled hem dial a thread cutter and a built-in needle.
When it comes to threading the colour coding does help, however, this model is relatively easy to thread and doesn't require the use of tweezers or special tools, which is a bonus. Another positive feature is the dual feed which is perfect for when working with difficult stretchy materials.
Included with every purchase are 5 extra presser feet these include a piping foot, gathering shirring foot, elastic tape foot and a 0.5mm and 1mm blind hems foot.
The Not So Good
May take a while to get the hang of all the functions, especially if this is your first overlocker sewing machine.
Our View
As you can see there are a lot of good things that come with purchasing the Jaguar Advanced Overlocker. With good reviews and the fact that they make overlockers for some of the best brands, it's obvious that they know how to make a very good overlocker.
6.
Husqvarna Viking Huskylock s15 Overlock Machine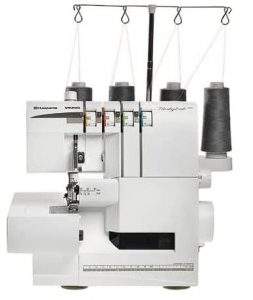 The Husqvarna Viking Huskylock s15 overlock machine is a great model that promises flawless results on all kinds of fabric. With a choice of 2, 3 or 4 threads and 3 and 4-thread capabilities for seaming and over-casting, it is very versatile model. In terms of price it is the most expensive overlocker in our reviews so far, however, it offers excellent quality and customer reviews speak very highly of its capabilities.
The Good
If there is one area where some less expensive overlocker machines struggle it's when working with very thick layers of fabric. The Husqvarna S15 has no problem in this area and the extra presser foot lift makes working with thick layers ever so easy. Another positive is the electronic speed control. This allows overlocking at any speed with full needle piercing power.
The differential feed is another notable feature and it eliminates any puckering. In addition if you do a lot of tubular projects then the slim design of the free arm will also be to your liking.
The Not So Good
With only 15 stitches more experienced users of overlockers may find this isn't enough for their needs.
Our View
The Husqvarna Huskylock S15 Overlocker is a top quality machine and well worth taking a look at if you are looking to buy a durable, well-built and highly practical home overlocker machine. With the extra price comes added quality and overall performance.
£379.00
in stock
2 new from £379.00
as of August 17, 2022 4:24 am
Last updated on August 17, 2022 4:24 am
7. Brother 4234D 
Overlocker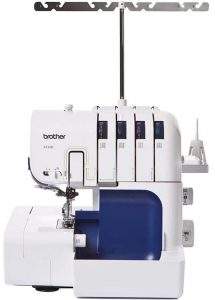 Another model by the Brother brand and this time it's the Brother 4234D. Like all Brother Overlockers it is very popular in the UK and comes with some very good feedback from previous buyers.
The Good
With 2, 3 or 4 threads it is slightly more versatile than most of the models we have reviewed up to now. It features a built-in needle threader and comes with the F.A.S.T lower looper threading system, which we just love.
Another welcome feature is the free arm/flat-bed which offers easy control for when overlocking cuffs and sleeves, etc.
One of the main positives of the 4234D is its ability to work on pretty much any fabric weight/type and deliver perfectly hemmed seams or decorative effects every time.
The Not So Good
There are a number of reviews saying the LED light isn't bright enough for when using at night.
Our View
Costing considerably more than the other Brother Overlockers we have featured in our reviews, the question to ask yourself before buying…is it worth the additional cost? When you look at the differences between the 4234D and the M343D, there isn't much that separates them, besides the fact the 4234D has a 2 thread overlock option and nearly costs twice as much as the M343D.
£439.00
in stock
12 new from £439.00
as of August 17, 2022 4:24 am
Last updated on August 17, 2022 4:24 am
8. Elna 664 PRO Overlocker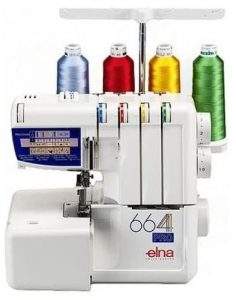 The Elna 664 Pro Overlocker sewing machine is a very versatile machine packed with a lot of useful features. It is the most expensive overlocker in our reviews and as you may expect with the additional cost comes a high quality and practical serger.
The Good
For those that panic when it comes to threading a overlocker the Elna Pro features a self-threading lower looper system. In addition it also comes with a colour-coded threading for ease of use. Consequently this is a relatively easy overlocker to thread.
Talking of threads the Elna 664 Pro is a 2, 3 and 4 thread overlocker with a good number of stitches for working on different types of sewing projects. These include a 2-thread overcast, 2/3-thread flatlock, 2/3-thread rolled hem, 3-thread overlock, 3-thread wide stitch, 3-thread narrow hem, 4-thread safety overlock, stretch knit, stretch wrap, and a 4-thread gathering stitch.
There is also a reference panel on the machine, which helps with selecting the correct tension setting for various stitches. This is a handy feature as it saves the need of having to serge-test seams on an old piece of fabric.
It comes with an adjustable stitch length of 1 mm to 5 mm and a cutting width of 3 mm to 7 mm. In terms of speed this is a fast machine with the ability to stitch 1300 stitches per minute.
The Not So Good
There are a few reviews stating that their model broke after 6 months or so. That been said these reviews went on to say they were swiftly issued a replacement.
Our View
The Elna brands reputation has taken a knock in recent years with many people saying you just don't get the Swiss craftmanship anymore, that you used to get with an Elna sewing machine or overlocker. That been said the Elna Pro is a top class model with some excellent features and specifications.
£529.00
in stock
5 new from £529.00
as of August 17, 2022 4:24 am
Last updated on August 17, 2022 4:24 am
9.
T
oyota SLR 4D serger with accessories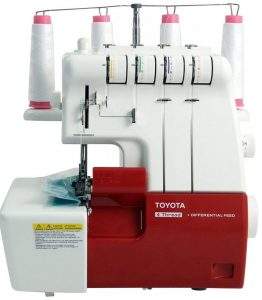 Although Toyota didn't make it into our top 10 list of the best sewing machines to buy, the Toyota SLR 4D is worthy of a place in our Top 10 best overlocker reviews. With a good reputation for producing quality overlockers customer feedback is generally positive. The only problem some people have had with this model is when rethreading, which to be honest should be expected with it been a overlocker.
The Good
Features include a 3 or 4 thread option, which is pretty much the standard with most overlockers. With a simple to use adjustable differential feed even beginners should have no trouble at all with getting to grips with gathering or working with stretch fabrics.
It comes with a double needle function and has flatlocking and decorative applications. In addition other capabilities include narrow hemming, pin tuck, picot edge and decorative edging.
The Not So Good
There are a handful of customer reviews that say the LED light could do with been a bit brighter.
Our View
For a relatively cheap price the Toyota SLR 4D has a lot to offer those that are on the lookout for a budget priced overlocker machine. It is by no means the best model available to buy, however, it is a good start for beginners and has some good features and specifications.
10. Janome CoverPro 2000 CPX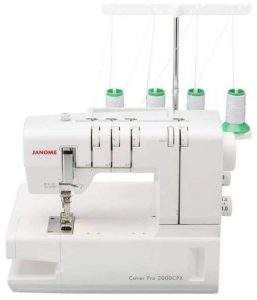 £643.90
in stock
10 new from £572.74
as of August 17, 2022 4:24 am
Last updated on August 17, 2022 4:24 am
Final Words
As you can see there are a good number of quality overlocker sewing machines to choose from. Hopefully with the help of our overlocker reviews you managed to find a model suitable for both your needs and budget.
If you think we have left a model out that is worthy of a place in our reviews then please leave a message in the comments below. In addition if you have any questions with regards to choosing a overlocker fire away and we will do our best to help you out.
Last updated on August 17, 2022 4:24 am