The Brother AE2500 has a bit more to offer than a basic beginner sewing machine and is perfect for dressmaking and home furnishings. With 25 stitches it has enough to keep the experienced sewer interested in its capabilities and the 12 stretch stitches it features are ideal for embellishment and working with stretch fabrics. You can also adjust the stitch length up to 4mm and the stitch width up to 5mm. It comes with a number of presser feet and some useful accessories, but is it the right sewing machine for you?
In this review we will be taking a closer look at the individual features of the Brother AE2500 and seeing if it lives up to the hype of being both suitable for beginners and experienced sewers alike. Hopefully, by the end of this review you will be able to decide if it is worth spending your hard earned money on.
Let's take a closer look!
Brother AE2500 Sewing Machine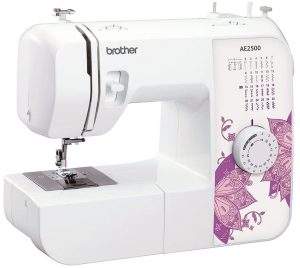 Main Features
25 Stitches
4 step buttonhole
Drop in bobbin
Automatic bobbin winder
£155.00
£169.00
in stock
2 used from £150.35
as of June 27, 2022 8:31 pm
Last updated on June 27, 2022 8:31 pm
Ease Of Use
Like most Brother sewing machines the AE2500 is designed with simplicity in mind and it shouldn't be a surprise to anyone that it is designed in a way that even a newcomer to sewing can get to grips with it in only a short amount of time. Similar to the Brother AE1700  It has a drop in bobbin and an automatic bobbin winder, so you no longer need to wind your bobbins manually.
Due to the fact that it is a mechanical sewing machine beginners shouldn't have any problem learning to use this sewing machine to its full potential. The fact that it doesn't have a LCD screen means it is by no means the most technical sewing machine available. It is however a machine capable of completing a wide range of sewing tasks which is why many experienced sewers are interested in it.
If you're new to sewing this is a great first time sewing machine as it has enough functions to keep you going before you will outgrow it and feel the need to invest in a more technical sewing machine. Overall it is very easy to use and is a great starting point. If you do struggle you can also watch the instructional DVD that comes with it which should help you overcome any obstacles with regards to how to use it and any problems that may occur.
Stitches and Buttonholes
When buying any sewing machine the amount of stitches it has and the variety of stitches are one of the main concerns for any potential buyer. Fortunately, the Brother AE2500 offers very good value for money as it has an impressive 25 stitches. This includes 12 stretch stitches and a bunch of utility stitches. It is a great machine for working with a wide variety of fabrics these include natural fibers like cotton, linen, or wool, fine fabrics like, silk, satin or velvet, knits, and synthetic fabrics like blends or polyester.
It also comes with a four step buttonhole as well as a button sewing foot making it perfect for making items of clothing. The 4 step buttonhole allows you to sew perfect button holes of different sizes. You can also adjust the stitch length up to 4mm and the stitch width up to 5mm.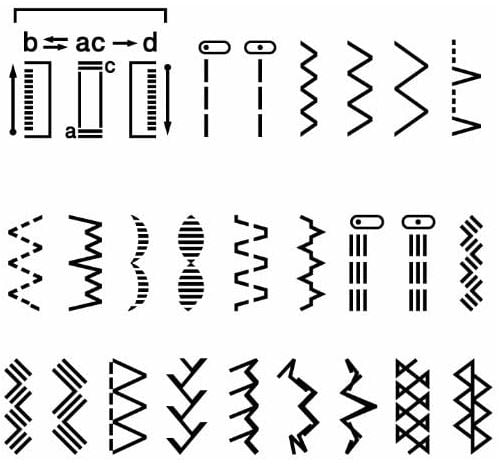 £155.00
£169.00
in stock
2 used from £150.35
as of June 27, 2022 8:31 pm
Last updated on June 27, 2022 8:31 pm
Motor
Similar to the Brother AE1700 the Brother AE2500  comes with a 51 watt motor. To some that might not seem like the most powerful motor but, as many of you will know Brother have a good reputation for their powerful and highly reliable sewing machine motors. This machine is more than capable of sewing through multiple layers of fabric.
Stitch Quality and Speed
To be honest I may be a bit biased when it comes to Brother sewing machines as they are one of my favourite brands. That been said, I don't think there are many people that will tell you that the stitch quality of the Brother AE2500 isn't up to standard. The Brother brand have a solid reputation for manufacturing affordable sewing machines that have excellent stitch quality. This has a lot to do with the high-quality motors that they have. the maximum speed of this machine is 1000 stitches per minute.
Bobbin System 
Time and time again I have  let it be known that I have personally always preferred a top loading bobbin than a drop in bobbin. That been said, this machine does have a drop in bobbin. This isn't a bad thing just a matter of personal preference.
On a positive note there is an automatic bobbin winder which saves you the hassle of having to do it manually.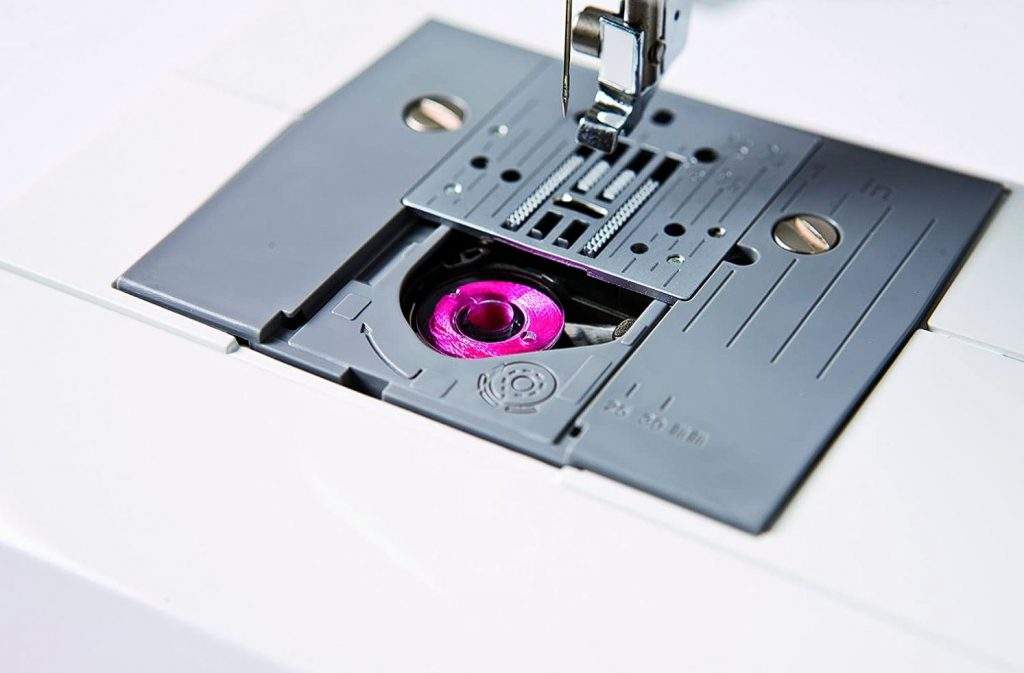 Presser Foot
In total there are four presser feet included with the Brother AE2500. In terms of usage they are more geared towards making clothes. This is one of the reasons why I have on numerous occasions recommended this sewing machine to those that are looking to take up sewing mainly for that reason. It can also be converted to free arm for the sewing of cuffs and sleeves.
1 x zigzag foot
1 x buttonhole foot
1 x zipper foot
1 x button sewing foot
Needle Threading
It doesn't matter whether you are new to sewing or have been doing it for years, threading the needle can be a hard task at times. Unfortunately, the Brother AE2500 doesn't comes with an automatic needle threader it is however a simple process to thread the needle. You can find full instructions on how to thread the needle on both the instructional DVD and in the users manual.
Portability
Weighing 6.7 Kg this is by no means considered a lightweight sewing machine. This is however a good indication that it has many parts made of metal rather than plastic, which is always a good sign as metal parts are far more durable. If you are thinking about taking it to sewing classes just be sure that you don't have to walk too far before you get to your class.
Included Accessories
The accessories that come with the Brother AE2500 aren't by any means anything to brag about. However, it does come with a darning plate which is a positive. Due to the fact that you cant drop the feed dogs on this machine the darning plate allows you to perform free motion sewing.
Below you can find a full list of the accessories that you get with every purchase.
1 x darning plate
1 x set of needles
1 x spare bobbins
1 x screw driver disc
1 x foot control
1 x instruction guide & instructional DVD
£155.00
£169.00
in stock
2 used from £150.35
as of June 27, 2022 8:31 pm