Quilting has always been one of my favourite aspects of sewing and it is an area I tend to gravitate towards. This very creative process of sewing three layers of fabric together to create a beautifully designed quilt/blanket is enjoyed by millions of people around the world daily. If you are looking to add quilting to your repertoire of sewing skills and are considering buying a quilting machine, you're in the right place.  In this guide I will be sharing all the information you need to know about choosing the best sewing machine for quilting. Along the way I will be sharing some useful tips that should help you to choose the best model for both your sewing needs and budget.
When buying a quilting machine there are plenty of models to choose from and the difference between budget and more expensive professional machines is significant. That been said there are a few good affordable options available, that is if you know what to look for. In my top 5 recommendations you will find models suitable for all budgets. After years of sewing and hours of researching the differences between all the models currently available I have compiled what I believe are the best sewing machines for quilting in terms of features, durability and overall value for money.
How To Choose The Best Sewing Machine For Quilting
There are a few features to be on the lookout for when choosing a quilting sewing machine. If you have previously owned one then you will more than likely already understand the importance of the following points and how they can make your quilting experience a more enjoyable and fun experience. For those who are looking to buy their very first sewing machine with a priority for quilting, it is worth bearing in mind the following points.
Powerful Motor
When sewing there are a few projects that are far easier if your sewing machine has a powerful motor, mainly upholstery and quilting. Generally speaking upholstery projects require a more powerful motor than quilting projects and are best performed on a heavy-duty sewing machine. Quilting does still require your machine to have a fairly powerful motor as you will be sewing through multiple layers. A good starting point is looking for a machine with at least a 50W motor such as the Brother FS100WT
Working Space/Long Arm Quilting Machine
When quilting it is imperative that you have plenty of room to manoeuvre the quilt and work with. If you only intend on making small blankets and similar items this isn't that much of a problem. If you are want to take on medium to large-sized quilting projects you will require enough room to work without getting frustrated. The easiest solution to this problem is to choose a sewing machine with an extension table.
Another important factor with regards to working space is the harp space or throat space as it is more commonly known. The harp space is the area to the right of the sewing machines needle (from the needle to the chassis). The larger the gap between the needle and the chassis (harp space/throat space) the easier it is to quilt in a continuous motion without having to pause. With a small harp space you will have to pause so that you can roll up the edge of the quilt so it fits through the machine.
Stitch Length
When quilting there is an awful lot of temporary stitching required. The correct term for this process is known as basting or tacking. The main purpose of this is to temporarily hold the quilt together before you finally stitch them all together. With a project such as quilting it is simply not feasible to use pins or clips and in my opinion anything that makes tacking less of a hassle is a bonus.
When basting you will obviously have to remove the stitches and there will be a lot of them. This is where a sewing machine with a large stitch length comes in handy. The larger the stitch length is the less basting stitches you will have to remove when you finally stitch your quilt together. Bernina sewing machines are well-known for their consistent stitch length, which is ideal for free motion sewing. This is due to the Bernina brands very own Bernina Stitch Regulator or BSR for short. This innovative feature ensures that there is a consistent stitch length.
Presser Feet For Quilting
When taking on any quilting project there are a number of presser feet and other accessories that can help you to achieve the best possible results. If you have all of the presser feet that you will need beforehand the whole process of quilting will be more fun and less frustration. You can trust me when I say that trying to make do without the correct presser feet is a recipe for a quilting disaster.
Walking Foot
Although using a walking foot isn't essential, they do have their advantages when quilting. A walking foot makes the quilting phase of your project far easier due to how it feeds the layers of your quilt through the machine in a neat and even way, ultimately leading to a more professional looking finish. Walking foots work by feeding fabric from the top at the same time as the feed dogs feed fabric from the bottom. In addition to an overall better finish they also decrease the chances of puckering occurring.
Edge Stitching/Quarter Inch Foot
This one depends on whether you plan to use patchwork on your quilting projects. If you do then you will benefit from using an edge stitching foot or quarter-inch presser foot. The purpose of these presser feet is to give a 1/4 inch seam allowance when stitching your patchwork together. They work by accurately guiding you along the edge of your fabric when you sew. If you are a beginner and intend on using patchwork I would recommend these presser feet as been very helpful.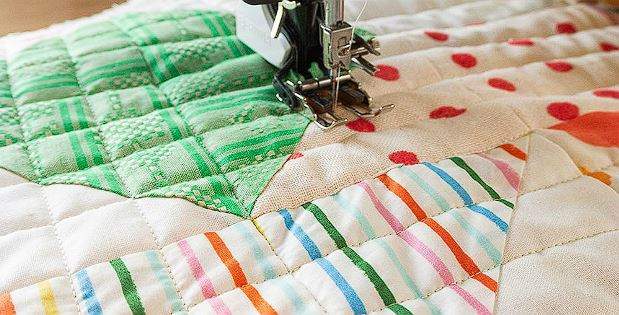 Free Motion Presser Foot
A free motion presser foot allows you to be super creative with your quilting designs and is an important presser foot to have in your arsenal. Also known as a darning foot or meandering foot, it gives you the option for adding stippling to your quilting design. If you are new to quilting you may not know that stippling is one of the easiest ways you can embellish your quilting projects. If you are a beginner to quilting I would recommend either buying a sewing machine with this type of presser foot or purchasing one separately.
Top 5 – Best Sewing Machine For Quilting
Now that you are fully prepared with the information you need to choose a sewing machine for quilting, it's time to take a look at my top 5 recommendations for quilting machines currently available in the UK.
Brother FS100WT
The first machine to make it in to my top list of quilting machines is the very popular FS100WT. This is a very popular model and for good reasons, it comes with 100 stitches, stop/start buttons a speed control slider and an automatic needle threader.  There is also a good-sized extension table which provides you with plenty of room to work with.
The LCD screen makes this an easy to use machine, due to it actually telling you which presser foot to use for the stitch you have selected. It also features a 55 character alphabet set for those who possibly want to add lettering to their quilting in some form. There are also 8 presser feet included with this sewing machine, unfortunately there isn't a walking foot.
All in all this is a reasonably priced computerised sewing machine with ideal attributes for quilting. With excellent reviews and customer feedback it comes highly recommended. If you like the look of this model but find it costs more than your budget will allow for, the FS70WT is a more affordable alternative with fewer features.
Frister+Rossman QE404
The Frister+Rossman QE404 is the least expensive sewing machine in my top 5 list and it represents excellent value for money.  Specifically designed for quilting it features 170 stitches and comes with a whole bunch of accessories as well as having a generous sized extension table.
Some of the many accessories you get with this machine include a very impressive 13 presser feet, 24 thread spools and 5 pairs of scissors. When you add the price up of all the included accessories it comes to around about £130, which most will agree is great value.
Additional features include a 6mm alphabet set, 13 one step buttonholes and stop/start buttons with speed control.
If you are looking for a great deal they don't get much better than this one. This is a great starter package thanks to all the included accessories and the machine itself is of good quality. Offering affordability and versatility there are plenty of options available with this model designed with quilting in mind.
Husqvarna Viking H Class 100 Q 
Costing slightly more than the previous models the H CLASS 100Q by Husqvarna Viking is another top choice for those looking to invest in a good quality quilting machine. The overall design is compact and relatively lightweight making it a favourite among those that attend sewing classes.
In terms of features it comes with 20 stitches all of which are solely for quilting. In addition it has stop/start button and a speed control slider giving the option to sew without using the presser foot. There is also an adjustable stitch length that tops out at 7mm, which is perfect for basting.
One of the main advantages of this sewing machine for quilting is its ease of use. This computerised sewing machine has the ability to automatically set the best stitch options making it very newbie friendly. Other positives include the extra-high presser foot lift that can accommodate multiple layers and thick fabrics with ease when set to the highest position.
I really like this model by Husqvarna Viking, but it is solely designed as a quilting machine. If you are looking for a quilting machine with more flexibility to it, I recommend my first choice the FS100WT. If you're looking to buy a sewing machine designed for quilting only then this is a good option with overall very positive customer feedback.
Pfaff Quilt Ambition 
The Pfaff Quilt Ambition is another very impressive sewing machine for quilting. It has everything you would expect a top quality model to have, from a very large 200mm throat space to 201 stitches it is a feature packed machine.
In total it comes with 8 presser feet with the open-toe and ¼ inch foot been the main ones for quilting. There are also a whole bunch of other accessories with every purchase
One very positive feature is the use of Pfaff's very own IDT system, which offers the same benefits as a walking foot. This in combination with the edge guide and open-toe free motion foot make quilting with this sewing machine a very enjoyable experience.
Bernina 570QE
The Bernina 570QE is the ultimate quilting machine packed with a plethora of features. The QE in the name stands for Quilters Edition, however, this machine is also designed with embroidery and sewing in mind. For many it will fulfill all of your sewing needs and could be the only machine you ever need. Unfortunately it comes with a very expensive price tag, but then it is one of the very best quilting and embroidery machines available.
In total there are a massive 1450 stitches with this machine and 73 of them are for quilting, which is a very good amount! There is also a very large throat space making it ideal for those bigger projects.
There are a few standout features that make this the ultimate sewing machine for quilting. The first is the FHS or free hand system which raises the presser foot at the same time as releasing thread tension and lowering the feed dogs. This frees up both hands giving you more control and is perfect for both beginners and the experienced. The second outstanding feature is the Bernina Stitch Regulator (BSR) which gives a consistent stitch length when free-motion sewing.
This is a great all round sewing machine with particular emphasis placed on quilting. If you are lucky enough to have a budget that can accommodate the expensive price tag and are thinking of buying this model, you won't be disappointed with its performance.