The Singer 1507 is a good entry-level basic sewing machine designed with simple sewing projects in mind. Due to this it is quite limited in terms of features and not well suited for advanced sewists, that will more than likely require more than it has to offer. If you are new to sewing though it comes highly recommended as a good sewing machine for both beginners and as a kids first sewing machine.
In this review I will be taking a closer look at the main features of the 1507 and explaining what sewing options it has to offer. With limited information available on this model many of you may have struggled to find out all that you need for making an informed decision as to whether or not it is the right sewing machine for your needs. By the end of this guide to the Singer 1507 you will know both the good and bad points about this popular sewing machine.
Singer 1507 Sewing Machine
Main Features
8 stitches
Four-step buttonhole
Adjustable stitch length and width
4 presser feet
Stitches and Buttonholes
Similar to the Singer Promise 1409, the Singer 1507 is limited in terms of the stitches it has to offer. In total there are 8 stitches as well as a four-step buttonhole. For experienced sewists this may net seem like a lot, but then this is a sewing machine aimed at beginners and it does have the fundamentals covered.
When buying a sewing machine for the first time you can either buy one packed full of advanced features or go for a basic machine that is capable of teaching you the basics of sewing. In my opinion the latter is the best option as many beginners or kids for that matter can be put off sewing forever by an advanced machine due to the abundance of features. This is one of the main attractions of the 1507 for beginners with this model.
You can see the full selection of stitches this model has in the image below.

Key Features To Consider Before Buying
Motor
I was surprised to learn, as many of you might be, that the Singer 1507 has an 85 Watt motor. This is very impressive for a budget sewing machine and even better than the 50W motor of the very popular entry model, the Brother LS14. With a motor as powerful of this you will have no problem sewing through multiple layers or some thick fabrics, provided you use the correct needle. This model definitely gains some plus points for the motor!
Adjustable Stitch Length and Width
The 1507 does come with adjustable stitch length and width, however, this option is reserved for use with the zigzag stitch. The maximum stitch width can be set to 5mm, which is a decent amount. In addition selecting which stitch you want to use is a simple process, all that you have to do is turn the dial to the required stitch.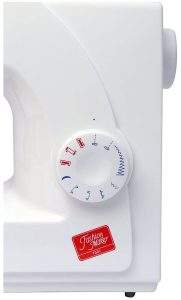 Needle Threader
Unfortunately there isn't an automatic needle threader with the 1507. That been said, threading the machine is relatively easy thanks to the numbered guides on the machine itself.
Bobbin
The bobbin for this machine is a front loading bobbin. These are a little bit more fiddly than the more desirable top loading bobbin, but easy enough to get the hang of after a few attempts.
Presser Feet
The Singer 1507 sewing machine comes with four presser feet these are as follows.
All Purpose Foot
Buttonhole Foot
Button Sewing Foot
Zipper Foot
These are basic presser feet and offer enough options to get you going. As a beginner you should really learn to master the use of these presser feet before purchasing additional ones.
Design
The Singer 1507 is pleasing to the eye and looks far more stylish than some other starter sewing machines on the market. Overall the design is quite solid and robust which is of course a plus. The weight of this machine is 6 kg which is a fair amount and ensures it remains still when in use. It is also reassuring to know that the inside is made of metal giving it good durability and strength.
There is also an on-board storage section  that holds extra needles, feet and other accessories and is so easy to remove and put back, it slides off and clicks back in with ease.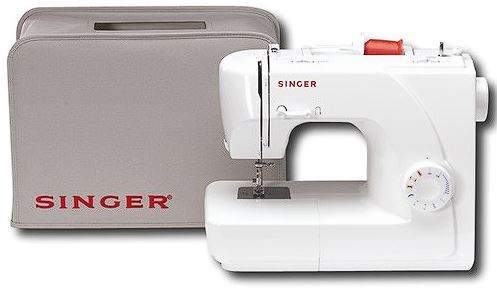 Accessories
There aren't many brands that give away a shed load of accessories with their more affordable sewing machines and Singer are no different. The fact you get a darning plate though is a positive as you can't drop the feed dogs on this machine.
Below is a full list of the included accessories with this machine.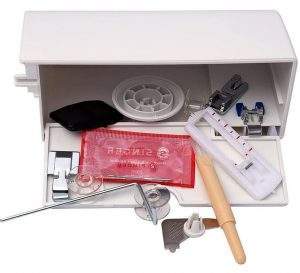 Seam Ripper
Seam Guide
Darning Plate
Needles
Bobbins
Small and Large Spool Caps
Screwdriver
Dust Cover
Warranty
There is a 12 month warranty with this model which is by no means the best, but pretty much standard for a basic beginners sewing machine.
Conclusion
The Singer 1507 is a good choice for those looking to test the waters with sewing for a hobby. It is best suited for both children (with supervision) and beginners. It comes with enough features to learn the basics without getting too complicated and is affordable for most. If you like the look of this machine but desire a bit more in terms of features a good alternative is the Singer 2273. It comes with more stitches and an automatic needle threader.
Singer Model 1507 Sewing Machine
Buy any new Singer sewing machine between 15th February to 31st May 2019 and you can enter...
7 built-in stitches with 4 step buttonhole
Adjustable stitch length & width. Volts: 110 V, Frequency: 60 Hz
Heavy duty metal frame with built-in accessory storage
Carry handle and soft dust cover