The Janome 230DC is designed to be an easy to use computerised sewing machine that is great for those sewing tasks that require more needle penetration power than a basic sewing machine has to offer. Capable of sewing multiple layers of denim and leather as well as being packed full of quality features it makes a good choice for beginners looking to buy a machine they can grow with as their skill set develops. In addition there is enough to the Janome 230 DC for experienced sewers to be able to make very good use of it.
In this review we will be going over each of the individual features of the Janome 230DC with the aim of seeing if it represents good value for money. One thing that is for certain about this computerised model is that it is very popular in the UK.
Let's take a look!
Janome 230DC Sewing Machine Overview
Main Features
30 Stitches
3 Buttonholes
Automatic needle threader
Drop feed facility
Adjustable stitch length and width
Slide speed control
Thread cutter
Extension table
£379.00
£399.00
in stock
10 new from £379.00
as of June 27, 2022 10:58 pm
Last updated on June 27, 2022 10:58 pm
Ease Of Use
With the Janome 230DC being a computerised sewing machine you would be forgiven for thinking that it is a tricky beast to get to grips with and master the various functions and settings. This couldn't be further from the truth as a lot of care and attention has been put in to the design ensuring it remains as user friendly as possible. With simple touch button operation stitch selection as well as stitch length and width adjustment are a breeze. In addition the large LCD display clearly shows the stitch you have selected and the stitch length and width, which is reassuring.
If you are thinking of buying your first computerised sewing machine you shouldn't overlook the simple operation of the Janome 230DC. It is a well-balanced machine suitable for beginners and experienced sewers alike.
Stitches and Buttonholes
A good selection of stitches is a must in the eyes of most and with 30 to choose from, the 230DC should meet the requirements of most. If you feel that your sewing projects require more than this then I suggest you take a look at the GD8100 which is more affordable and has a 100 built-in stitches to choose from. In addition to 30 stitches there are also 3 auto 1 step buttonholes with the Janome230DC sewing machine. Any dressmakers reading this will love the keyhole buttonhole and the quilters out there may have noticed there are some nice quilting stitches.
The image below shows the full range of stitches that are on offer with this model.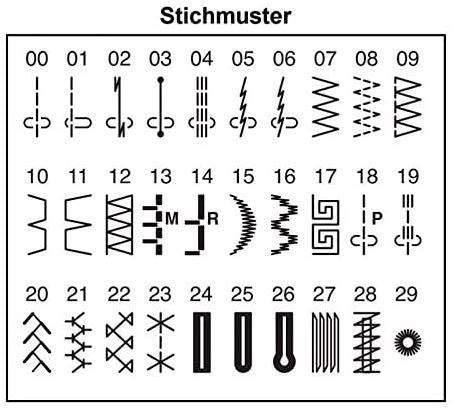 Design and Build Quality
As with all electrical products anything could go wrong at a moments notice and you will be more than likely none the wiser as to what the problem is. When buying a computerized sewing machine it is a wise decision to invest in a model/brand that has a reputation for quality. Janome are one of a handful of brands that consistently produce both high-quality mechanical and computerised sewing machines.
With a weight of 5.8 Kg the Janome 230DC is quite a lightweight sewing machine and that is great for portability. Despite the relatively lightweight it is very sturdy when in use and is made from high quality metal parts and components.
£379.00
£399.00
in stock
10 new from £379.00
as of June 27, 2022 10:58 pm
Last updated on June 27, 2022 10:58 pm
Presser Feet
In total there are seven presser feet included when you buy the 230DC these are as follows.
Standard Foot
Zipper Foot
Ribbon/Sequin Foot
Overedge Foot
Satin Stitch Foot
Automatic Buttonhole Foot
Blind Hem Stitch Foot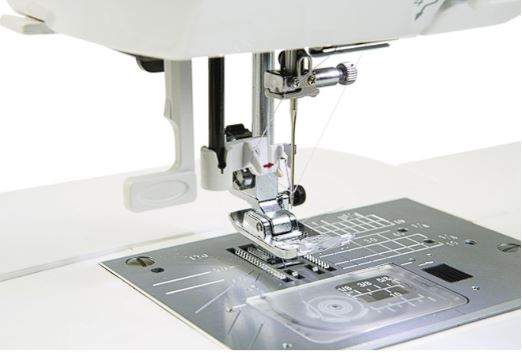 Speed Control
When working on a tricky part of a sewing task we all like to have full control over speed. At top speed the Janome 230DC runs at 850 s.p.m, which is quite fast. Fortunately the slider control and foot pedal work in conjunction to give the user enough control to sew with confidence when using this machine. The built-in speed control slider allows you to limit the speed which is a handy feature to have. Simply flick the slider/switch to the left to slow the speed down and to the right to speed things up a bit.
Bobbin System
If there is one feature that I always like to see on a sewing machine it's a top loading bobbin. Luckily, the Janome 230DC has a jam-proof, magnetic, top-loading bobbin. This is far more convenient a front-loading bobbin system and a feature that is usually reserved for better quality machines, like this one!
There is also an automatic bobbin winder another convenient and time-saving feature. A quick tip for when winding the bobbin is to make sure the speed control slider is as far to the right as it will go. For more a more detailed guide on the best use of this machine the instruction manual makes for good reading.
Automatic Needle Threader
You will be glad to hear that there is an automatic needle threader with this machine.
LCD Screen
The LCD screen on this machine is a good size and clearly shows your stitch selection, stitch length and width. In addition the recommended presser foot for your stitch selection is also displayed. One thing that you will find with Janome computerised sewing machines is that they all tend to have a good size LCD screen.
Accessories
There are plenty of accessories included with every purchase of the Janome 230DC sewing machine these include an extension table, hard cover, lint brush, screwdriver, seam ripper, spool base, spool cap both large and small, spool felt, spare spool pin, bobbins, needles, foot control.
Warranty
When buying any computerised sewing machine I would advise on checking the warranty that comes with it. The main reason for this being that computerised models tend to be quite expensive. Covering your back with a good warranty is always a good idea. The Janome 230DC sewing machine comes with a 2 year full manufacturer's warranty. This is the standard length of time with a machine in this price range. You will find that sewing machines costing £200 and under tend to have a 1 year warranty.
Conclusion
For a mid-price sewing machine the Janome 230DC has a lot to offer for sewers of all levels. The user friendly features ensure it is easy enough for beginners to use and the overall quality and versatility of this machine gives it strong appeal to experienced sewers. The superior feed system and 7 piece feed dogs as well as the up/down needle feature are great for quilting and when working with heavy fabrics. When compared to models of a similar price I wouldn't hesitate in saying that it represents good value for money.
Sale
Janome decor computer, 230 DC.
30 stitches including 3 button holes, 3 automatic one step buttonholes.
Sewing even tough materials such as jeans.
Single-needle threader, stitching button, start + stop button,
LCD display, stick-free Janome-grip tool, free arm.
Computer controlled,