With a good mix of both affordability and quality the Brother 2104D Overlocker is one of the most popular budget overlockers in the UK. It can be used as either a 3 or 4 thread machine and features Brother's F.A.S.T lower loop threading system. With the ability to trim, edge and neaten it leaves a professional finish that won't fray like with some other budget models. With many features that you get with far more expensive overlock machines it is easy to see why it is so popular.
In this review we will be taking a look at the main features with the aim of helping you to decide if it is the right machine for you and your sewing needs. Off the cuff I would say it is best suited for beginners that are looking for a machine for dressmaking and home decor projects. For other overlocker options check out our post on the Best Overlockers.
Let's take a look!
Brother 2104D Overlocker
Specifications
Product Dimensions:

25 x 28 x 30 cm

 cm
Weight: 5.6 Kg
Speed:  1300 stitches per minute
Threads: 3-4
Color-Coded: Yes
LED Light: Yes
£249.00
in stock
12 new from £249.00
as of June 27, 2022 8:30 pm
Last updated on June 27, 2022 8:30 pm
Stitch Options – 3 or 4 Threading System
Similar to the vast majority of overlockers the Brother 2104D is a 3 or 4 thread machine and as you would expect from a Brother overlocker it has very good stitch quality. There is the option of both 3 or 4 thread continuous stitching as well  making this a versatile overlocker machine for the price.  There are several stitch options including 4 thread overlock, 3 thread overlock, narrow hem, rolled hem, and ribbon lock stitches. The rolled hem can be performed at either 2.8 or 5mm, which is another positive. You can also sew blind hem pin tuck and flatlock stitches by purchasing optional presser feet The stitch width can be adjusted with this machine from between 5mm to 7mm and the stitch length from 2mm to 4mm. At 1300spm you can be certain that you can complete your projects in good time.
In the image below you can see the stitches that can be performed with the Brother 2104D Overlocker.
Differential Fabric Feed
I think that most will agree that along with good stitch quality the differential feed is by far one of the most important features of an overlocker machine. This feature allows you to work with a wide variety of fabrics and to produce high-quality seams. The differential feed on the Brother 2104D overlocker is simple adjust thanks to the easy to use numbered dials. When used in the correct manner you can be sure that your creations won't suffer from the puckering or snagging that you get with some budget overlockers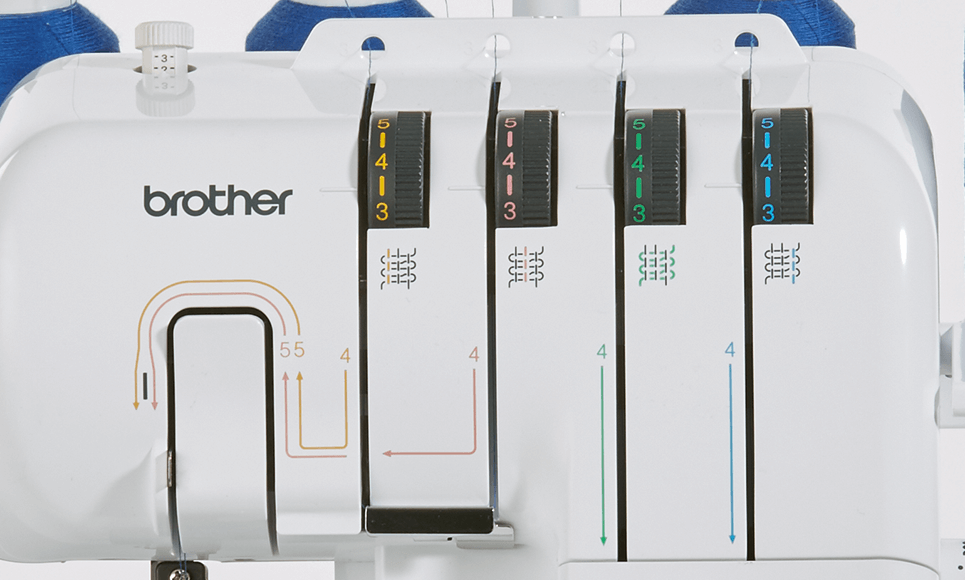 £249.00
in stock
12 new from £249.00
as of June 27, 2022 8:30 pm
Last updated on June 27, 2022 8:30 pm
Easy Threading System
Like most sewing machines and overlockers once you get the hang of it there really isn't a problem with threading this machine. To be honest, the Brother 2104D overlocker is actually very easy to thread. It has easy to follow color-coded, lay-in threading with clear pictures in the instruction manual for every step. If you do struggle with threading it you can either refer to the DVD that comes with it or one of the many videos on Youtube.
Free-Arm/ Flat-Bed
When wanting to work on cuffs and sleeves the free arm capabilities of the Brother 2104D are just what you need. Fortunately changing to the free arm only takes a matter of seconds and even those new to overlockers won't have a problem.
Converting to the free arm isn't a problem and working on cuffs and sleeves is a lot easier than some of the over overlocker I have used .
Thread Tension Control
To adjust the thread tension there is a thread tension dial for each needle thread, the lower looper thread and the upper looper thread.
Retractable Knife Blade
I really like the fact that this model comes with a retractable knife blade allowing you to trim the fabric edge while stitching. This feature is usually reserved for more expensive overlock machines so bonus points there. Of course there is the option to turn off the retractable blade when it isn't needed.
LED Light
The Brother M1034D Overlocker features a bright LED light and unlike traditional bulbs it won't fade the colour of your fabric which is a plus.
Accessories
Like all Brother overlockers there are a decent amount of accessories included with every purchase. These include the following:
Soft Machine Cover
Tweezers
Thread Nets
Spool Caps
Lint Brush
Hexagonal Driver
Needle Set
Accessories Bag
Instructional DVD and manual. The manual can also be found online here.
Warranty
With every purchase you can be safe in the knowledge that you are covered with a 3 year manufacturer's warranty in the event of a fault or complete breakdown.
Conclusion
To sum up the Brother 2104D is the perfect overlocker for a beginner. Due to its affordable price, easy threading and versatile usage it makes a great starting point for anyone looking to get to grips with using an overlock machine. To get the most of it you will of course have to purchase a few additional presser feet. With superb stitch quality and features that you normally expect to get with more expensive models it is in my opinion a sound investment.