The Singer Quantum Stylist 9960 is regarded by many as being one of the best machines the Singer brand have come out with in a long time. This computerised sewing machine is jam packed with features and has a vast array of capabilities meaning you can perform an awful lot of sewing tasks with it. It can be used for quilting, embroidery, home decor and general sewing tasks.
With 600 stitches, 13 automatic one-step buttonholes, 5 alphabet fonts, needle threader, thread trimmer button, start/stop and needle up/down buttons as well as a whole bunch of accessories and presser feet you do get a lot for your money.
In this review we will be taking a closer look at the individual features of this popular Singer sewing machine with the hope of ascertaining whether or not it is the right machine for you and your sewing needs.
Let's take a closer look!
Singer Quantum Stylist 9960
Main Features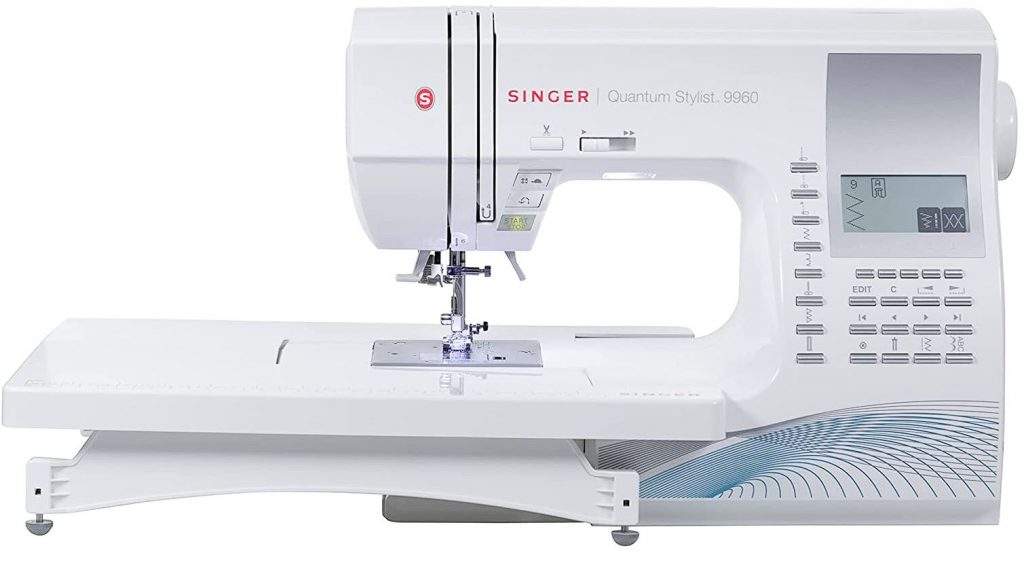 600 Stitches
13 styles of fully automatic one-step buttonhole
Drop in bobbin
Built-in needle threader
5 alphabet fonts
Thread trimmer button
Wide extension table
Ease Of Use
When it comes to computerised sewing machines I know that many people are a bit worried that they are going to be tricky to get to grips with. The great thing about the Singer Quantum Stylist 9960 is that it is perfect for beginners and experienced sewers alike.
Easy to set up and featuring many automatic features such as the auto thread trimmer, auto needle threader, auto stitch width and length adjustments and more a beginner should have no trouble with learning to use it to its full potential. Granted this may take a bit of time for a complete novice but then the instruction manual (that you can find here) is clear and the LCD screen is very intuitive.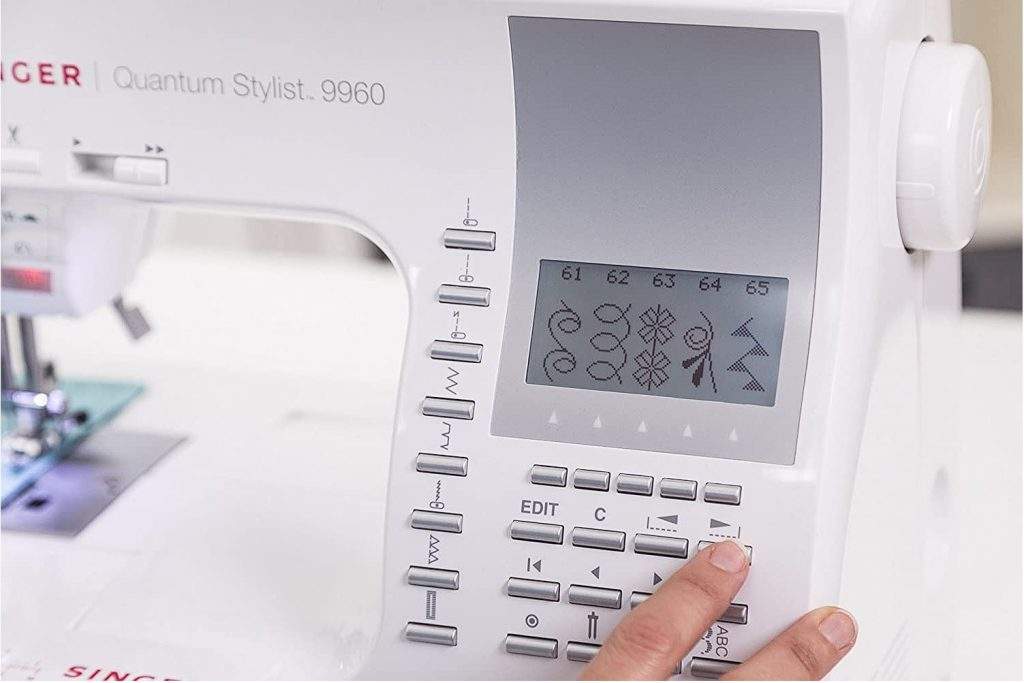 If you are a beginner it will grow with you as your sewing skills develop over time. Experienced sewers will love the automatic features as they simply allow you to concentrate on sewing.
Stitches and Buttonholes
In total the Singer Quantum Stylist 9960 has a very impressive 600 stitches. This I think many of you will agree is far more than you are ever likely to use. That being said, after using the Singer 9960 for some time it is good to have the option to experiment with some of these other stitches.
The stitches include 12 utility stitches, 91 sewing stitches such as scrolls and cross stitches, 34 decorative stitches including flowers and birds to name a few, 13 buttonhole stitches and 450 letter, number and character stitches. You can also elongate many of these stitches up to five times their default size
With 5 different alphabet fonts this is a very versatile machine giving you plenty of options to embellish your creations. The 5 alphabets are Gothic, Italic, Outline, Script and Russian. What I really like about the fonts is the option to sew in both uppercase and lowercase, which is something you don't get with all machines that have alphabet fonts.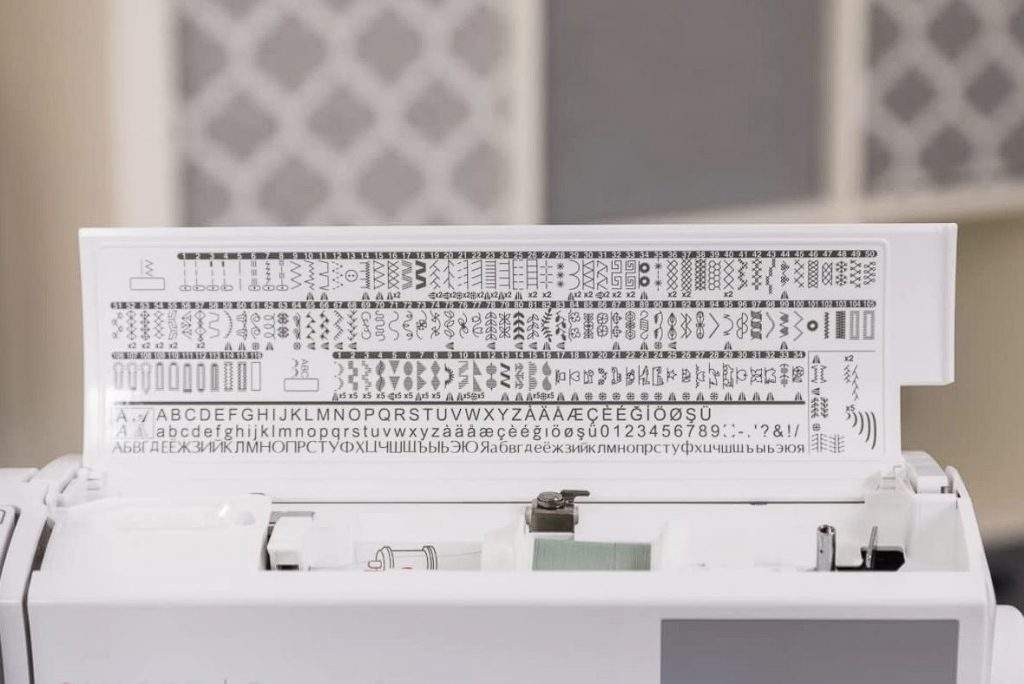 Another positive is the mirror/reverse feature which allows you to flip stitches both horizontally and vertically further increasing the versatility of the Singer 9960.
Key Features To Consider Before Buying
Motor
With a powerful DC motor you can be certain that the Singer Quantum Stylist 9960 can deal with multiple layers of thick fabric without any hassle. When it comes to handling humps in the fabric the fact you can lock the hinge on the presser foot means it won't lose contact with the fabric when you are sewing over the hump. This combined With the powerful motor ensures you get great results when working with heavier fabric types such as denim.
Bobbin System
As expected when you are buying a sewing machine that is as costly as the Singer Quantum Stylist 9960 it can only come with the much preferable top loading "drop-in" bobbin system with a transparent cover. The clear cover of course makes it easy to monitor the bobbin thread supply.
Automatic Thread Cutter
What I really like about this feature is the amount of time it saves you from not having to trim any excess thread. The thread cutter button will cut your bobbin and your needle threads leaving a professional finish every time. this really is an excellent feature of this machine and one that I wish was more of a standard feature with sewing machines in general.
Speed and Speed Control
The Singer 9960 has a stitch speed of 850 stitches per minute, which is quite fast. Fortunately, it also has start/stop and speed button controls giving you more control. To change the speed simply use the slider bar to choose your desired stitch speed.
Presser Feet
Unbelievably there are a very impressive 18 presser feet included with every purchase. These comfortably fit within the free arm storage area.
Below you can find a list of the 18 presser feet.
All-purpose foot
Zipper foot
Buttonhole foot
Narrow hemming foot
Satin foot
Adjustable bias binder foot
Single welt cording foot
Open toe foot
Cording foot
Braiding foot
Clear piping foot
Button sewing foot
Blind hem foot
Stitch in the ditch foot
Darning and embroidery foot
Walking foot
Overcasting foot
Patch quilt foot
Needle and Needle Threading
Another very positive feature of the Singer Quantum Stylist 9960 is the fact that you can sew with two needles. It comes with a separate spool attachment allowing you to use two spools of thread. This is perfect for reinforcing seams on clothing.
As mentioned at the start there is a needle up/down button with this machine which is great for lowering and raising the needle when needed. A word of warning the needle will always finish sewing being down which I know a few of you will find a bit annoying.
In terms of threading there is an automatic needle threader and threading the machine is so easy that you can have the entire machine threaded, from the spool to the needle's eye in a matter of seconds.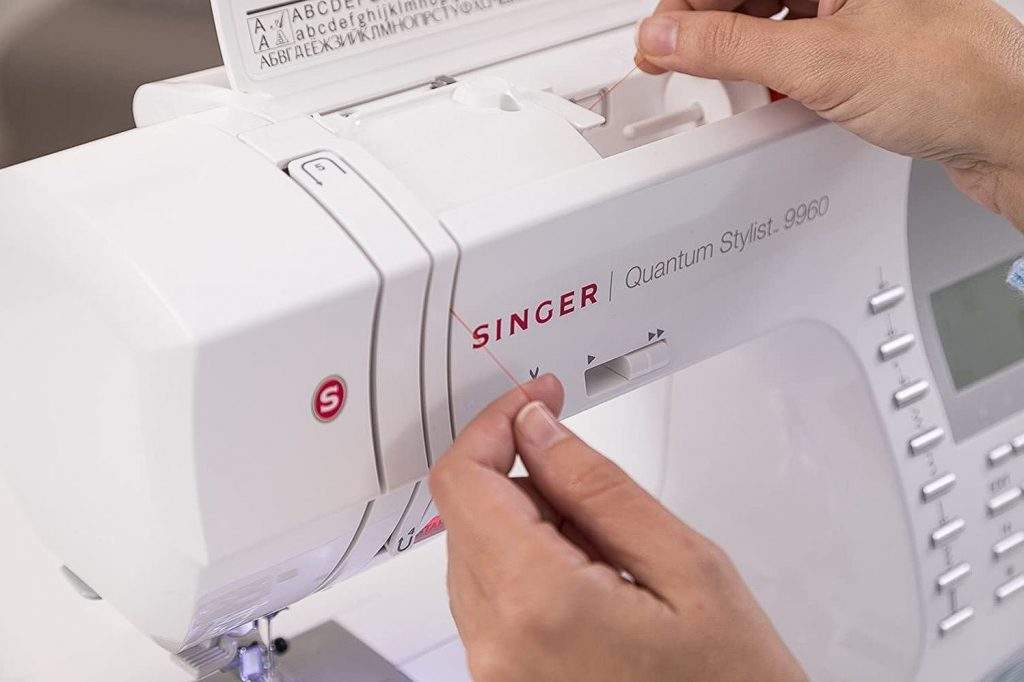 Portability
Weighing in at just over 9Kg the Singer Quantum Stylist 9960 isn't the lightest sewing machine, which is often a good thing with regards to build quality. Due to the heavy weight it might be a little too cumbersome to take to sewing classes. But then of course you could always get the husband to carry it for you.
Included Accessories
When spending a decent amount of money on a sewing machine I always like to get a few accessories to sweeten the deal. The Singer Quantum Stylist 9960 comes with quite a few accessories with the most notable ones being the wide extension table and the dust cover.
Below you can find a full list of the included accessories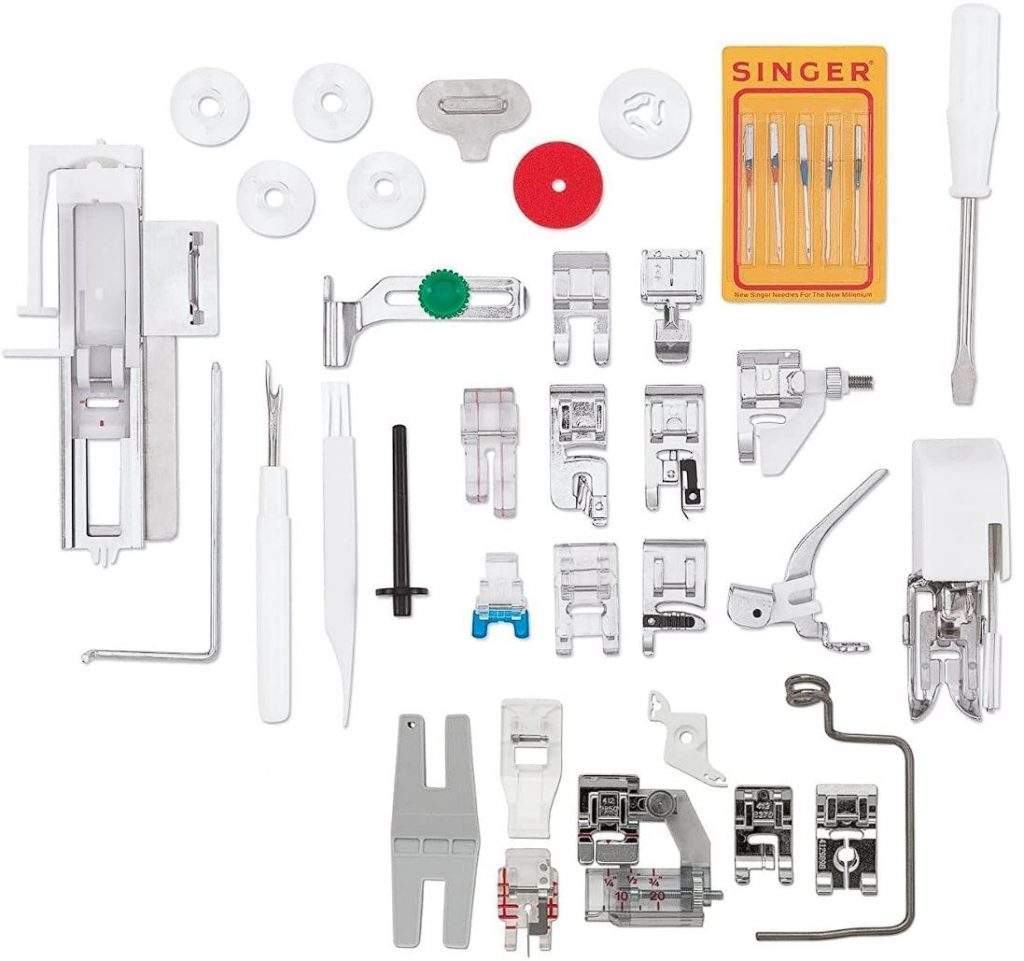 Wide extension table
Dust cover
Pack of needles
Bobbin
Seam ripper
Lint brush
Auxiliary spool pin
Screwdrivers
Spool Cap
Seam Guide
Quilting Bar
Clearance Plate
Shank for Presser Feet
Summary
For the price the Singer Quantum Stylist 9960 offers excellent value for money. What you get for your money is a machine packed full of features and a truly amazing amount of stitches. With 600 stitches, 13 buttonholes, automatic thread cutter, needle up/down button and 18 presser feet you really do get an awful lot. When compared to other machines of a similar price you would struggle to get better value for money.