The Singer Promise 1409 is one of a number of Singer sewing machines aimed specifically at beginners. It is an entry-level machine with rather limited features, which is reflected in the very affordable price tag.  However, it is a good choice for those looking to get to grips with the basics of sewing and comes recommended as a good starter model for both beginners and children.
In this review I will be going over each of the individual features of this machine and seeing how they compare to other beginner machines of a similar price. With all this information you should be able to determine whether or not the Singer Promise 1409 is the right sewing machine for you.
Singer Promise 1409
Main Features
9 Stitches
4-Step Buttonhole
Front Loading Bobbin
70 W Motor
£189.00
in stock
as of June 28, 2022 10:04 pm
Last updated on June 28, 2022 10:04 pm
Ease Of Use
Due to the Singer Promise 1409 been a beginner sewing machine it is designed to be very easy to use. It comes with an easy to follow instruction manual that explains how to operate each individual feature of the machine. If you do somehow manage to struggle with using this machine, there are many videos on YouTube showing how to use it correctly and get the most out of it.
Stitches and Buttonholes
As mentioned earlier, the Promise 1409 is limited in terms of stitches. This is to be expected though due to the price of the machine and the fact it is designed for those new to sewing. In total there are 9 stitches these include 6 basic stitches, 2 decorative stitches and a 4-step buttonhole. This is adequate enough to learn the fundamentals of sewing without been overwhelmed by too much at once.
Key Features To Consider Before Buying
Motor
The Promise 1409 sewing machine comes with a 70 W motor which is surprising. Considering it costs almost twice as much as the Singer 1507 sewing machine, which has an 85 W motor, you would think that it would have a motor with a bit more power to it. That been said it is still capable of tackling multiple layers and heavier fabrics. The top sewing speed of this machine is 750 stitches per minute, which is average.
£189.00
in stock
as of June 28, 2022 10:04 pm
Last updated on June 28, 2022 10:04 pm
Adjustable Stitch Length and Width
The Stitch length and width can be adjusted by simply turning the dial next to the stitch selection dial. The maximum is 5mm which is a good for a budget sewing machine.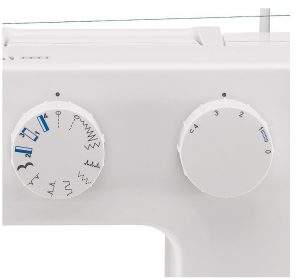 Needle Threader
Unfortunately there is no automatic needle threader with the Singer 1409 .
Bobbin
The Bobbin is a front loading bobbin which is a little bit more fiddly than a top loading bobbin. One positive though is that there is no problems when winding the bobbin.
Presser Feet
In total there are 4 presser feet that come with the Singer Promise 1409. Another positive is that you are able to adjust the pressure on the presser foot by simply turning the dial on top of the machine. This gives the added benefit of more control when working with both thick and thin fabrics.
All Purpose Foot
Buttonhole Foot
Zipper Foot
Button Sewing Foot
Design
In terms of aesthetics there is no denying that this is a stylish looking sewing machine. In my opinion it is one of the better looking models that is suitable for beginners. Furthermore it is also made to a high standard with mostly metal components, which is always a good sign of a long-lasting machine.
Accessories
Seam Ripper
Edge/Quilting Guide
Darning Plate
Warranty
The Singer Promise 1409 comes with a standard 24 month warranty. There is always the option of parts and repair or an extended warranty, depending on where you purchase from.
Conclusion
The Singer Promise 1409 is a good choice for those looking to take up sewing as a hobby. It has all the features you need for a good introduction to sewing machines. Designed to be easy to use it is one of a handful of very good beginner sewing machines. One feature that stands out is the ability to adjust the pressure on the presser foot, this is something that even the very popular Brother LS14 lacks.