Next to your sewing machine and overlocker, the dressmakers dummy is a necessary element in costume making. 
Also known as a dressmakers mannequin, a dressmakers dummy is a model of the human body, complete with a defined height, length, and width. It's almost impossible to visit a professional designer's studio and not notice the different sizes and shapes of these dress forms for women, men, and children. 
Product
Sewing Online Adjustable Dressmakers Dummy
Beautify Female Dressmaking Dummy
The Shopfitting Shop Female Dressmaking Mannequin
What Is A Dressmakers Dummy Used For?
Designing and sewing a garment is satisfying but quite demanding. Add repeated wrong body measurement or irregular hemming on clothing and you are bound to choke yourself with tears of frustration. Most often, what you think is the right pattern cut out on a flat surface, could end up miserable after you've sewn and worn or your client wears it. 
More so, enduring the merciless pricking from several pins while fitting an ordinary attire on your body, isn't the most dignifying sacrifice to make. That's why, from time immemorial, skilled tailors and seamstresses have relied on a dressmakers dummy for the following:
To drape a toile, which is a representation of the clothing still in the process of being sewn or designed. The toile or muslin is usually fitted onto a dummy that mimics a client's body size. Then, the sewer goes ahead to take the needed measurements of the toile and transfers them to a paper. This process provides the correct measurement for the cutting of patterns from the client's fabrics.

To have a realistic, visual idea of how a piece of apparel will look on a client. This enables them to adjust and alter measurements to match accurately with that of the wearer, with little or no post-clothe-testing modifications. 

To create exquisite hemlines on dresses and skirts.

To display garments for photographing sessions or as evidence of their expertise.
Types of Dressmakers Dummy
A dressmakers dummy consists of polystyrene and then covered with a fabric. The materials on a dummy are easy to pierce with pins when draping and fitting. Also, dressmakers mannequins come in standard proportions of a real human shape, unlike many boutique mannequins whose body measurements are unrealistic. 
That said, there are three types of a dressmakers dummy according to their structure and purpose:
Fixed-Shape or Display Dressmakers Dummy
This is more like an entry-level dummy for beginners and fashion students. As the name suggests, you can't adjust any part of the fixed-shape dummy, either to expand or compress as a fitting demands. Additionally, the measurements are fairly industry-standard, so you might have to keep felt strips or foam pads handy to wad the dummy's waist, hip, or bust size as the case may be. 
Apart from using it to drape or fit clothing, the fixed-shape dressmakers dummy is useful in displaying ready-made clothes in your studio for people's viewing pleasure, for photoshoots, and for fashion blogging.
Adjustable Dressmakers Dummy
This type goes a step higher in structure and benefit than the fixed dressmakers dummy. Altering the dummy's size is possible, by turning the dial or adjustment points in order to adapt to fluctuating body weight or shape. So, if you lose or add weight easily and need a dummy that accommodates such changes, the adjustable dressmakers dummy is for you.
Professional Dressmakers Dummy
This is the most expensive of the three and for some good reasons. First off, the professional dressmaker's dummy is manufactured for high fashion designers, whose tasking job requires their utmost attention to details and perfect finishing on apparels, as found in the haute couture world. 
Though not adjustable like the adjustable dressmakers dummy, professional dress dummies are pinnable and also come with detachable arms and legs for finer, more flawless fittings.
Recommended Dressmakers Dummies
Sewing Online Adjustable Dressmakers Dummy

The Sewing Online Adjustable Dressmakers Dummy is adaptable with flexible dials on the bust, waist, and hip areas. Besides, there's a button to press on the neck when you want to expand it for a wider measurement. 
With this dummy, it feels as though you're working with a woman's natural body shape, because it is elegantly padded and curved. That's not all about its attraction; the dummy's fabric is decorated with beautiful rose flowers that can light up your mood anytime, any day. No fears about its suitability for your sewing project as it comes in the right proportions as per your specification. It's so easy and fast to set up that no extra hand is required to assist you. 
This sturdy mannequin stands balanced on a four-legged stand, and with a body weight of 4.46kg, is light enough to move from one point to another. Another great feature on the Sewing Online Adjustable Dummy is its alterable height that could be reduced to match with that of someone shorter. 
Your pins for fitting/draping are within reach on the pin cushion placed on the dummy's neck stump. Its pin grip hem-maker feature is a comfortable tool to accurately mark out boundaries and hems on your garment. 
Overall, this is a modestly priced dummy essential for fitting and draping purposes. 
£104.99
£124.99
in stock
2 new from £104.99
as of August 17, 2022 4:57 pm
Last updated on August 17, 2022 4:57 pm
Female Tailors Dummy (Black)

This fixed-shaped bust is in a cream shade likened to a human's skin tone, for a natural impression on your clothes. Inasmuch as you can't modify its width size, the height of the Female Tailors Dummy is adjustable between 140cm and 170cm from bottom to top. 
This mannequin is pinnable since it's made of polystyrene and covered with a fabric, and is great for draping, fitting, and the display of apparels for sale or exhibitions. The Female Tailors Dummy is a piece of cake to assemble, likewise disassembling it. It is stable on a tripod and thistle, and effortlessly portable at 3.5kg bodyweight. 
Padding this dummy is only necessary if you want to increase the size for larger body measurement. That notwithstanding, ensure that the manufacturer's measurement tallies with your specification before you place your order so as to avoid a wrong buy. 
£32.00
in stock
2 new from £32.00
as of August 17, 2022 4:57 pm
Last updated on August 17, 2022 4:57 pm
Beautify Female Tailors Dressmaking Mannequin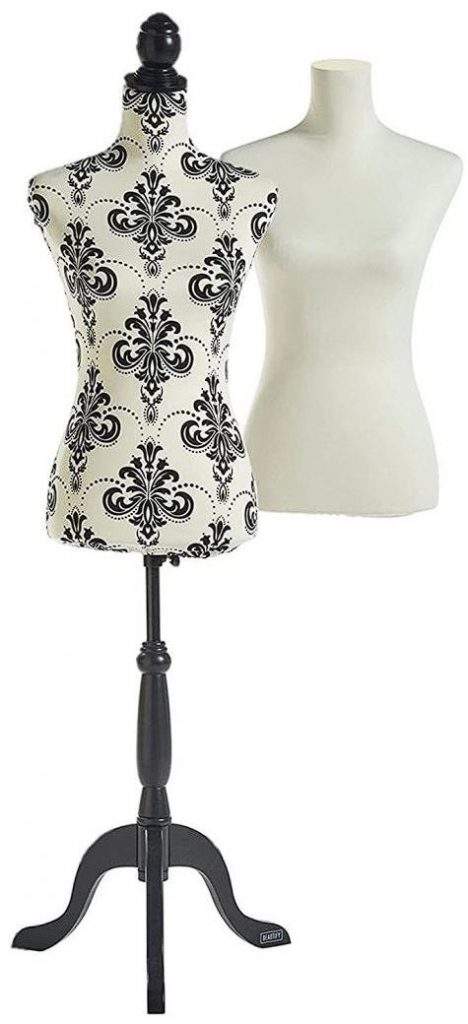 As a fixed-shaped, pinnable dummy, you can use the Beautiful Female Tailors Dressmaking Mannequin for the fitting, draping, and the display of garments for sale. Leaving the dummy bare without clothes in your fashion studio won't look offensive, for it is covered in a lovely white floral patterned fabric. 
With a modifiable height of between 140cm and 170cm, it's never a problem decreasing or increasing the dummy when you have to. Setting it up is painless and fast to do, thereby saving you the energy and time for styling your clothing. 
Furthermore, this mannequin is suspended on a wooden tripod stand so that it doesn't fall to the ground when touched. Moving it across a significant distance isn't difficult because it weighs light. 
This is an incredible item to own as a beginner, if you want an expensive-looking but affordable dummy.
£69.99
in stock
2 new from £69.99
as of August 17, 2022 4:57 pm
Last updated on August 17, 2022 4:57 pm
SONGMICS Female Mannequin

If you are looking for a superb human-sized female mannequin, 5ft 8 inches tall, 
for the full display of clothes in your shop and for demonstration purposes, you won't be disappointed with the SONGMICS Female Mannequin. 
You'll love that it has a natural skin tone and a mildly enhanced face, complete with long eyelashes and red lips. This means that no matter the colour of garment you showcase on the mannequin, it will never look exaggerated.
No part of this model is adjustable and pinnable. However, the head, arms, and legs are detachable, especially for a stress-free dressing up. Additionally, you are at the liberty of facing the head to any direction of your choice because it can make a full circle rotation, and moves up and down within 60°. 
Voluminous clothing will hang perfectly on this mannequin once it has been padded. Even shoes and stockings look good on this model. The SONGMICS Female Mannequin is secured on a glass base, giving it a fashionable, as well as a robust touch. 
The imaginative designer might want to go the extra mile to wet-sand or paint this mannequin, and that's completely acceptable.
The Shopfitting Shop Female Dressmaking Mannequin

Slinky garments are for a sleek mannequin like the Shopfitting Shop Female Dressmaking Mannequin; the dummy's proportions run true to the size stated. Typically, the size 16 measures 38 29 40 (inches). 
Since the material is of polystyrene, it's important in dress fittings and draping with pins. Stuffing the dummy with felt strips or foam pads is recommended if you want it expanded. Since it's a fixed-shape torso, you can't alter or compress any of its parts.
With this mannequin, outlining your dress hems is a cakewalk, and that's the same tune you'd be singing when you are lifting it from place to place. Don't say we told you, but buying this dummy is a first-class bargain.
£39.99
in stock
as of August 17, 2022 4:57 pm
Last updated on August 17, 2022 4:57 pm
Final Words
Remember, dressmakers dummies are made to represent the human form in different shapes and sizes. Whether you are petite, big or medium-sized, you'll find one that suits you. 
To make the best choice, we suggest that before you buy any dressmakers dummy, you should measure your body wearing your regular undergarment. Then, check the outcome against a manufacturer's measurement chart. 
Often, no two manufacturers use the same measurement chart. Therefore, always make your choice of a mannequin in line with its manufacturer's guide.