Once you have invested a decent amount of money into a good quality sewing machine it makes perfect sense to try and keep it in the best condition possible. One of the easiest ways to do this is by using a sewing machine bag to store it in when not in use.
In addition to been an ideal storage option, sewing machine bags are an essential accessory for those that attend sewing classes or take their sewing machine with them when visiting friend's or family.
In this guide we will be going over everything you need to know about choosing the best sewing machine bag for your sewing needs. Once armed with this information, the list I have put together for you to take a look at should make choosing the perfect sewing machine carry bag an easy decision.
Sewing Machine Bag Buyer's Guide
Room for accessories
Be sure that there are plenty of compartments and pockets on your chosen bag, as we all know, sewing requires a lot of accessories.
Durable materials
A good sewing machine bag will last a long time if constructed from durable materials and taken care of properly. You will tend to find that most of them are made from either polyester, nylon or a combination of the two. These materials can be easily cleaned and are long lasting.
Easy to carry
When it comes to portability not all sewing bags are made equal. When buying you will find that a sewing bag can come with up to three different methods of carrying it. First there is an ordinary handle that you will find with every bag. Some bags also come with a shoulder strap and a back luggage band for use with a suitcase's pull up handle.
Top 5 Best Sewing Machine Bags
ProCase Sewing Machine Bag Case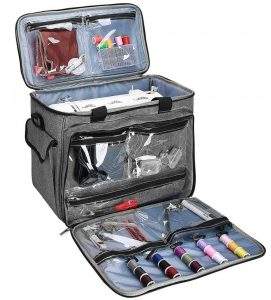 The ProCase sewing machine bag may very well be the only sewing bag you may ever need. This lightweight, durable and very popular bag has dimensions of  L40.6 x W33.6 x H26 cm, making it compatible with most standard sewing machines including brands such as Singer, Brother, Janome, etc.
Made from a durable polyester fabric with reinforced stitches as well as having reinforced sides and bottom ensures long term durability and adequate protection for your sewing machine.
It comes with an abundance of compartments and clear pockets for all your sewing accessories. There are even drawstrings for organizing your thread neatly and making them easily accessible.
For portability there is a comfortable handle and a padded shoulder strap.
All in all, this is a great little sewing machine carry bag that is perfectly designed for easy access to your accessories. It also comes in a nice light purple colour, I do prefer the grey though.
Luxja Sewing Machine Bag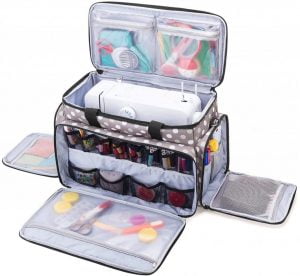 Here we have another very well thought out sewing machine carry bag, this time from the very popular Luxja brand. Both stylish and practical this bag is made from heavy-duty nylon is scratch-resistant and very durable.
With inner dimensions of L42  x W19 x H28 cm it can accommodate most standard sewing machines from most brands.
It features a wide open design making it a simple process getting your sewing machine in and out, after all nobody likes wresting with a sewing machine and a carry bag!
In terms of storage for accessories there are two good sized side pockets a large front pocket that has many smaller pouches and two pockets in the lid. In addition there is a nice and thick removeable padded pad in the bottom for protection from bumps.
There are three different methods of carrying this bag these include the standard handle, a padded shoulder strap and finally a vertical strap on the back which allows you to slide it over a trolley handle.
With a choice of four different colours it shouldn't be too hard to find one that matches your taste and decor.
Yarwo Sewing Machine Carrying Case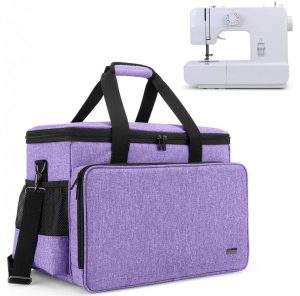 Yarwo are another popular brand and one that have plenty of sewing machine bags to choose from. This large capacity option has internal dimensions of L42cm x W19cm x H30cm and is compatible with Singer, Brother, Janome and most standard sewing machines. 
Storage options include a front zip pocket that allows you to easily store all of your sewing accessories, like sewing thread, needles, scissors, tape measure, seam ripper, bobbins. Then there are two mesh side pockets for larger items. There is also a zip pocket on the lid that comes in useful for sewing patterns.
What I really like about this bag is the wooden board pad on the bottom, where many brands choose to go solely with a padded bottom, Yarwo have gone a step further and ensured the bottom of this bag offers plenty of protection when on the go.
Carrying options include a padded handle, adjustable shoulder straps and back luggage sleeve  for use with a suitcase's pull up handle.
Teamoy Sewing Machine Bag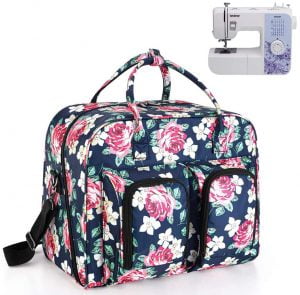 This stylish dandelion patterned sewing machine tote bag by Teamoy can accommodate sewing machines with dimensions up to L41 x W21 x H33cm. This means it is compatible with Brother, Singer, Janome, and most standard machines.
On the inside of this bag there is a built-in transparent zipped pocket and an inside pocket. Both of these are useful for storing items such as scissors, rulers, etc. On the outside of the bag you will find two pockets for storing thread, needles, spools, thimbles, tape, bobbins or other smaller sewing accessories.
To reduce damage during transit there is a wooden board pad in the bottom, this is also thickly padded for extra shock absorption giving your machine plenty of protection.
With multiple ways to carry including a sturdy handle, adjustable shoulder straps and a back luggage band for use with a suitcase's pull up handle, carrying your sewing machine everywhere couldn't be easier.
Hobby Gift Sewing Machine Storage and Travel Bag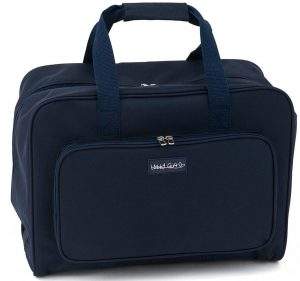 The Hobby Gift sewing machine bag comes in a choice of three stylish colours and has been designed to fit most sewing machines.
The dimensions of L47 x W20 x H34cm make this one of the most spacious options available. However, this bag is designed primarily as a carry and storage bag, therefore there isn't much room in terms of storage for sewing accessories.
The generous large front pocket provides spaces for your machines pedal, cables and a few other smaller accessories you may want to store. There is also a flat front pocket with long length zip for storing patterns, rulers, templates etc
Made from a waterproof heavy-duty fabric and having a solid fully secured base makes it great for transportation and storage/protection whilst your sewing machine is not in use around the home.
£17.07
£19.99
in stock
8 new from £17.07
as of August 17, 2022 2:33 pm
Last updated on August 17, 2022 2:33 pm