If you are interested in arts and crafts or have being sewing for some time then you will already understand just how useful a handheld sewing machine can be. These very affordable and convenient sewing machines are designed to provide a quick fix for a number of sewing problems.
The best handheld sewing machine is easy to use, durable and has good stitch quality. The Singer Stitch Quick and SINGER Stitch Sew tick all these boxes making them my top picks.
PRODUCT
Luatuer Handheld Sewing Machine
BEST BUDGET OPTION
PRODUCT
Luatuer Handheld Sewing Machine
In addition to be a must have for the experienced sewer they are also great for those that lack the space that a normal sewing machine requires. Easily fitting into the palm of your hand and able to be stored away in a small drawer they give you the capability to make small sewing fixes without having to invest in a full size sewing machine.
The problem with choosing one is that they all look so similar and the difference in quality between different brands is a matter of concern. If you are looking to buy one of the best handheld sewing machines we have you covered. In this guide to choosing a handheld sewing machine we will be taking a look at the best models currently available. We will be looking at factors such as as cost, overall quality and customer reviews.
But first!
What Fabrics Can You Sew With A Handheld Sewing Machine
As already mentioned the difference in quality between handheld stitch machines is something to be aware of. Although many models look almost exactly the same there is a noticeable difference in the stitch quality they offer and the fabrics they can be used on. In my reviews I have included only the models that have the most to offer. This means they are among the most powerful of handheld machines and able to work on fairly thick fabrics. You will find that most mini handheld sewing machines can be used on lightweight fabrics like silk all the way through to the more thicker leather fabrics. This doesn't mean you should expect to be able to work on super thick fabrics at the best you are talking 2mm with leather.
Benefits Of Handheld Sewing Machines
We have already covered a number of the advantages to owning a hand held sewing machine but there are quite a few more benefits to these little wonders. The most obvious to some is the convenience they offer, especially when you are only looking to repair a stitch or two. A good example is that you can do some quick repairs that a desk sewing machine doesn't allow you to do, such as being able to hem curtains while still on the rail. In addition to being highly convenient they are also super affordable and in my opinion they are a must have for both beginners and experienced sewers alike.
Best Handheld Sewing Machines
Without further ado, its time to take a look at the best available options on the market.
1. Singer Stitch Quick + Handheld Sewing Machine
 – Best Overall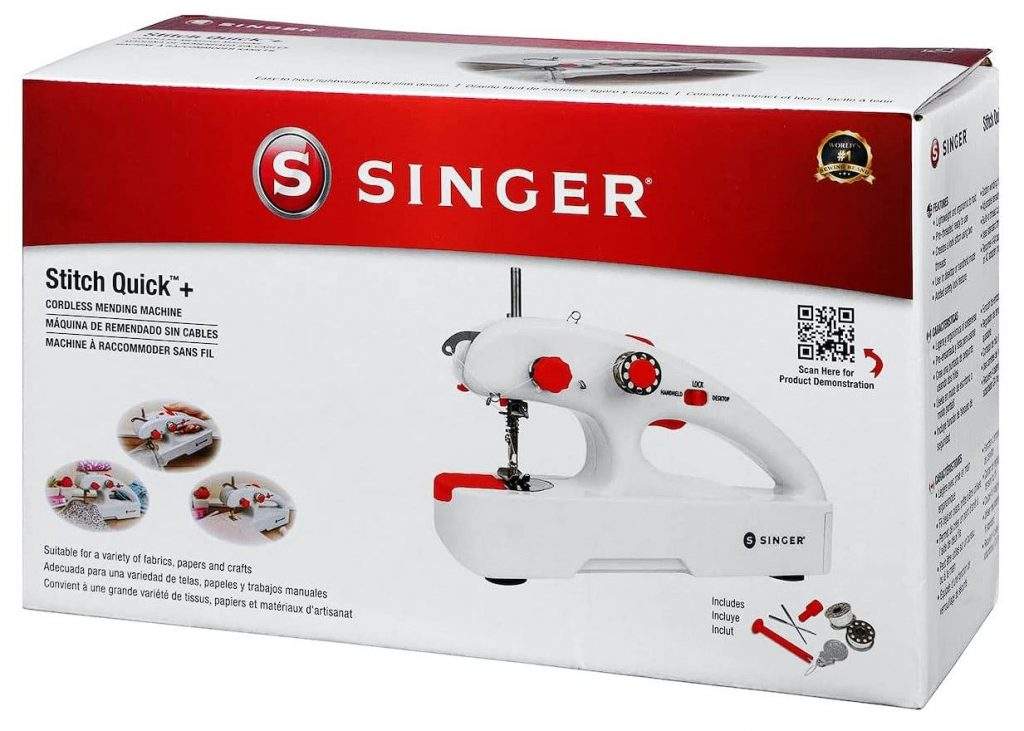 The Singer Stitch Quick + is the latest handheld sewing machine to be released on the sewing world and I have to say, I do like it a lot.
In addition to being a handheld sewing machine, with the flick of a switch it can also be used in tabletop mode, meaning you can place it on a table in the same way as you do with a full-size sewing machine. It is worth mentioning, that with the flick of a safety switch you can perform continuous stitching.
The ergonomic design of the Singer 01774 is another positive, as it can be used for extended periods of time without your hand cramping up. This is thanks to the new design, which is a vast improvement.
Like many handheld sewing machines it comes with a bunch of accessories including threaded bobbins, needle, needle threader, and spindle, all of which can be stored in the built-in storage compartment.
Cordless or battery operated with a slim ergonomic design and very good stitch quality makes the Singer 01774 my top choice.
£34.58
in stock
as of August 17, 2022 6:25 pm
Last updated on August 17, 2022 6:25 pm
2. Singer Stitch Sew Quick – Popular Choice

The Singer Stitch Sew Quick is one handheld sewing machine that won't leave you worrying if it is up to the job of making quick repairs with good stitch quality. When compared to other options it isone of the most robust and reliable handheld stitch machines on the market.
Weighing only 300g it is portable and very easy to use. Suitable for quick repairs on upholstery, curtains and clothes it is also a very versatile and functional device. To power the Stitch Sew Quick you can either use 4 AA batteries or if preferred a power adaptor. The battery operation makes this portable handheld sewing machine one that can literally be taken anywhere.
Lightweight, powerful and providing good stitch quality the Singer Sew Stitch Quick comes recommended as the best handheld sewing machine in the UK. It allows you to make quick repairs on a wide range of fabrics from silks to the much thicker denim, leather and wool. It also comes with a number of accessories including bobbins, needles a thread spindle and three sewing threads.
£28.50
£29.90
in stock
2 new from £25.99
as of August 17, 2022 6:25 pm
Last updated on August 17, 2022 6:25 pm
3. Lauther Portable Handheld Sewing Machine – BEST BUDGET OPTION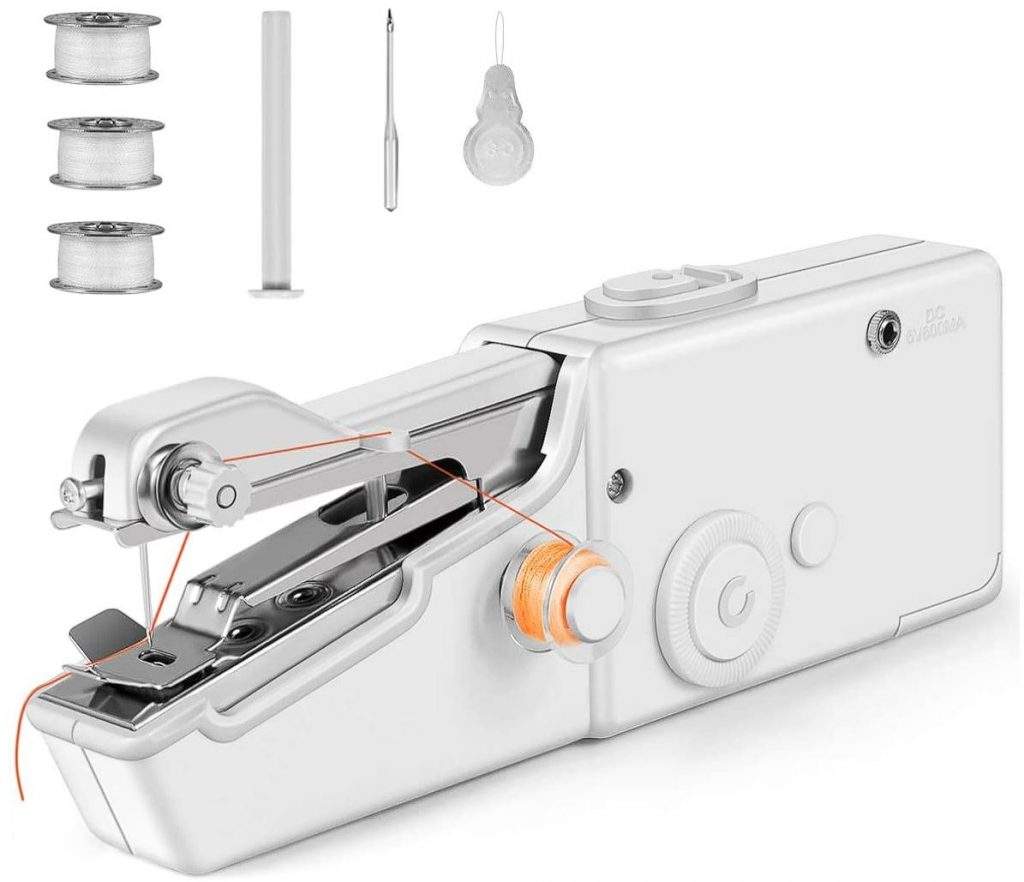 If you are searching for an affordable sewing machine for tackling basic sewing tasks around the home then you should consider the Lauther Portable Handheld Sewing Machine. What I really like about this machine, aside from the overall quality, is that it comes with a bunch of basic sewing accessories, so you can get to work right away with this model.
The compact, lightweight and portable design makes this household stitch tool excellent for on-the-spot repairs and the emergency needs of stitching. Suitable for all types of fabric and materials up to a thickness of 1.8mm, it is capable of handling most tasks around the home.
Like most good quality models there are two power modes which are 4 x AA Batteries or a DC 6v Power Adaptor. It is worth mentioning that these are not included in the purchase price.
To sum up, the Lauther Portable Hand Stitch Machine is an affordable choice that offers good stitch quality. With a  range of sewing accessories it offers extremely good value for money.
£11.99
£12.69
in stock
4 new from £11.99
5 used from £10.95
as of August 17, 2022 6:25 pm
Last updated on August 17, 2022 6:25 pm
4.
Singer Stitch Sew Quick 2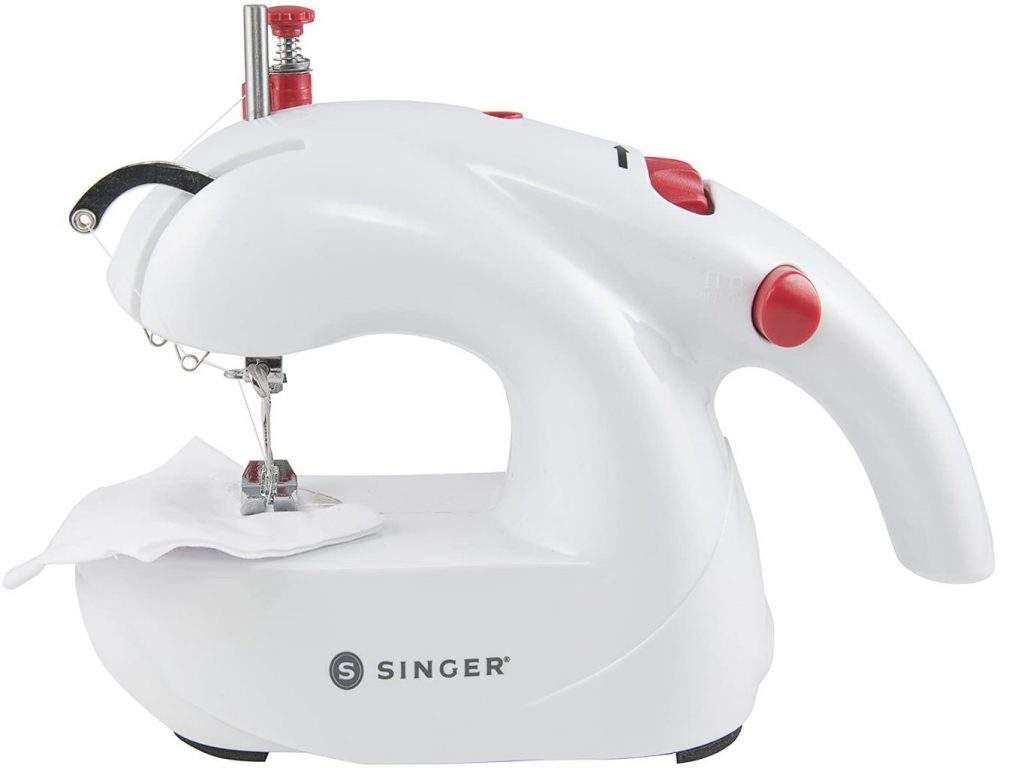 The SINGER Stitch Sew Quick 2 is another variation of the traditional handheld sewing machine. Featuring an ergonomic handle it can be used as both a handheld or tabletop sewing machine.
From bedding to curtains, this battery operated mini portable sewing machine works on all household fabrics.
With dimensions of 8.9 x 21.6 x 17.8cm it is slightly bulkier than most handheld stitch machines, but still small enough to not be a problem.
With an automatic winding function and dual speed control it is easy to use. Its cordless capability allows the user to move freely around one or multiple projects, and its built-in power switch allows for safe management.
£52.00
in stock
as of August 17, 2022 6:25 pm
Last updated on August 17, 2022 6:25 pm
5. Handy Stitch Mini Handheld Sewing Machine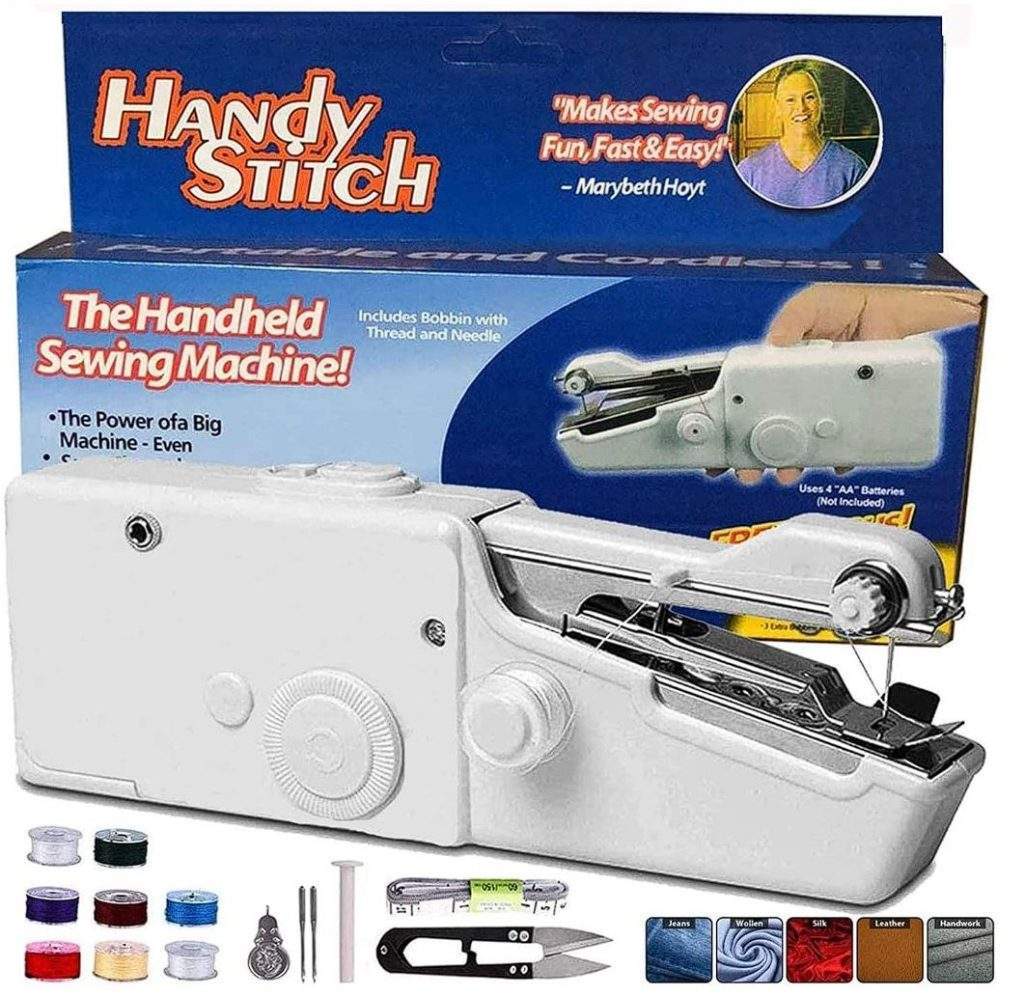 The  Handy Stitch Handheld Sewing Machine is the most affordable choice in our top list and is a good option for those not looking to spend too much. Despite the low price it is capable of producing good quality, neat and tidy stitches. Durability isn't a problem either as it is made from high quality ABS and comes with a 1 year warranty.
Perfect for performing repairs on clothes or for craft projects the Handy Stitch is a great all rounder. With a maximum working thickness of 1.8mm it is on par with our best pick the Singer Stitch and Sew.
One thing worth mentioning is that the threader of this model is a bit tricky to get to grips with at first, so keep in mind that threading might be a bit of a problem for a short time.
For those that love getting a bunch of sewing accessories when purchasing a sewing machine you are in luck. The Handy Stitch comes with an extension spindle, 9 sewing threads, needle threader, spare needles, 10 safety pins a pair of scissors and a soft tape measure.
All in all, this is another very good value for money handheld sewing machine.
£14.98
in stock
as of August 17, 2022 6:25 pm
Last updated on August 17, 2022 6:25 pm
Final Words
For performing simple sewing tasks and for arts and crafts handheld sewing machines are a great little device. As mentioned earlier there are numerous different models to choose from but in my reviews I have included what I think are the best available options currently available.
For overall quality the Stinger Stitch Quick + is my top pick this is mainly due to the neatness and stitch quality, as well as the high quality materials used in its construction. For a more affordable choice the Lauther is the best choice. If you have and questions about choosing the best handheld sewing machine leave a message in the comments section.
Last updated on August 17, 2022 6:25 pm