Singer Heavy Duty 4411
The Singer Heavy Duty 4411 is one of the best heavy-duty sewing machines you can find out there on the market, capable of sewing hard and sturdy materials. Where other sewing machines will find it difficult in hard sewing materials like leather and denim, the Singer 4411 does it effortlessly.
You may have wondered why you should pick this sewing machine ahead of others, and one thing I will guarantee is that it is the best you can get for this price. The sewing machine is relatively affordable, and for the excellent features it offers, it is a bargain.
Let's go through some of the advantages this machine has over other machines, and the cons include:
Sew effortlessly through hard and tough materials.
With this machine, you are sure of up to 1100 stitches in a minute.
It is cheap and affordable for its great features.
Well, not all machines are 100% perfect, and the Singer 4411 has some minor drawbacks or cons which include:
It has just 11 built-in stitches as you can find more in other machines.
There are issues raised about the poor quality of the foot pedal.
Overview – Singer Heavy Duty 4411
The singer heavy duty 4411 sewing machine is a popular model as it bridges the gap between the lighter duties of a home sewing machine and the industrial machine. It is suitable for those that do much sewing and work on heavy material. You can find it common among those that do embroidery, sew leather, denim and upholstery fabrics.
Although it was launched in 2012, the Singer 4411 has become very popular with its great features which we shall discuss on further in this article. The popularity of the machine may also be attributed to its ease in operating and its low-cost which make it affordable for almost all households.
£229.00
in stock
6 new from £211.00
2 used from £179.99
as of June 28, 2022 8:42 am
Last updated on June 28, 2022 8:42 am
Features
The Singer 4411 heavy duty sewing machine has the following features:
It comes with a drop in bobbin.
Powered by a 105W motor.
It has a 4 step buttonhole.
11 stitches
The Motor
The motor of the machine is the selling point with a 105W motor powering the machine. The power of this machine is higher than most machines you can find in the same price range, so why go for another when at the same price, you can get more power. You will find that most machine of this same price range having a motor of about 65W while some more advanced machines at a slightly higher price with an 80W motor.
So it is easy for you to make a choice based on the power the machine can operate when you are on a budget. You will experience less heating up with the power of the Singer 4411, giving you a pleasurable experience while sewing.
Quality of the Stitches and Speed
Speed and accuracy are one of the qualities you will look for in choosing a sewing machine, and the Singer 4411 will guarantee you top speed with neat stitches. This is because the sewing machine is capable of sewing 1100 stitches in a minute and you will get the best quality stitches. So with this machine, you can carry out your work faster with much accuracy and a neat result.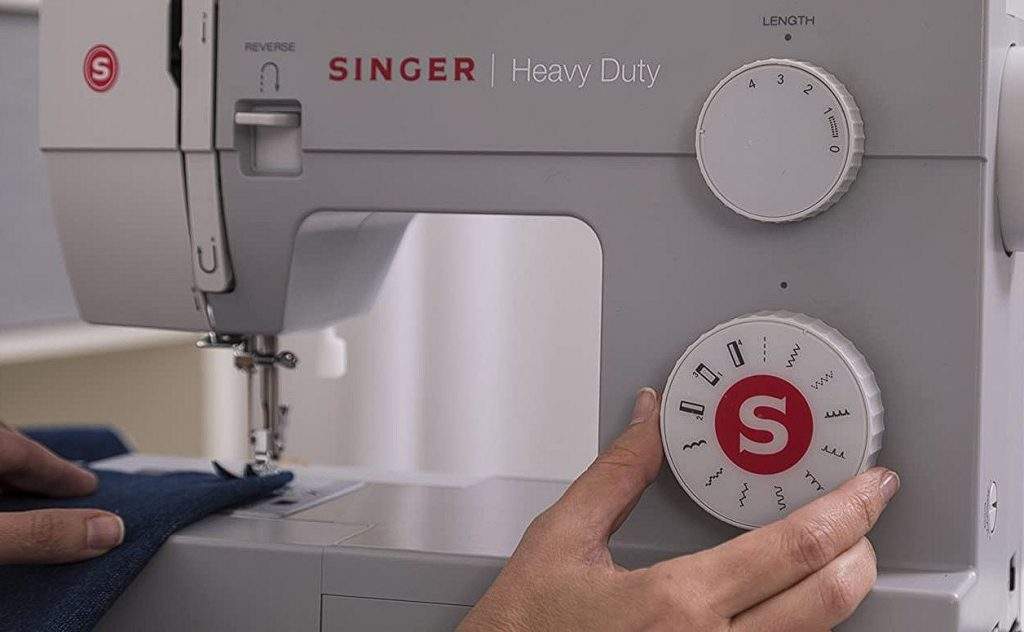 LED
The Singer 4411 heavy duty sewing has a single LED light and although you will need a much natural lightning to get much work done. As the LED is quite small and light up just a small area placed around the needle. This feature will not help you carry out much work done without much extra lightning.
Threading, Bobbin System and Needle Plate
One of the best features of the sewing machine is that it provides transparent cover that enables you to keep an eye on the bobbin and observe properly.  It is easy to thread the needle and get the machine ready with its drop-in/top loading system. Unlike some of its other products, such as the Singer 4423 and Singer 4432 machine, it does not support an auto needle threader.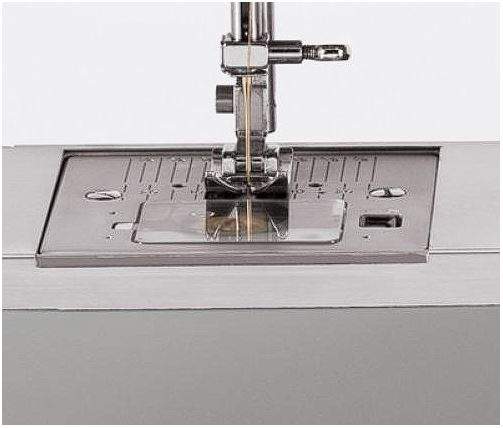 What to Know About the Design
The Singer heavy duty 4411 sewing machine had a blocky appearance and is built with a sturdiness that enables it to perform effortlessly. The color of the machine is in contrast with the popular red logo of the singer brand as it comes with three shades of grey which makes it very obvious.
The sewing machine is very stable when working with and most of the parts are made of top quality material. The sewing machine is a well designed machine and an upgrade of the design of previous singer machine.
Accessories
One of the factors to consider when choosing a sewing machine is the accessories that come along with the sewing machine. You get lots of extra bits of stuff that will become handy when making use of the machine, and yes, the Singer 4411 comes with lots of accessories.
Here are some of the accessories that come with the Singer 4411 sewing machine:
Dust cover
Buttonhole foot
Zipper foot
Button sewing foot
All-purpose foot
The manual for the Singer 4411 can be found here.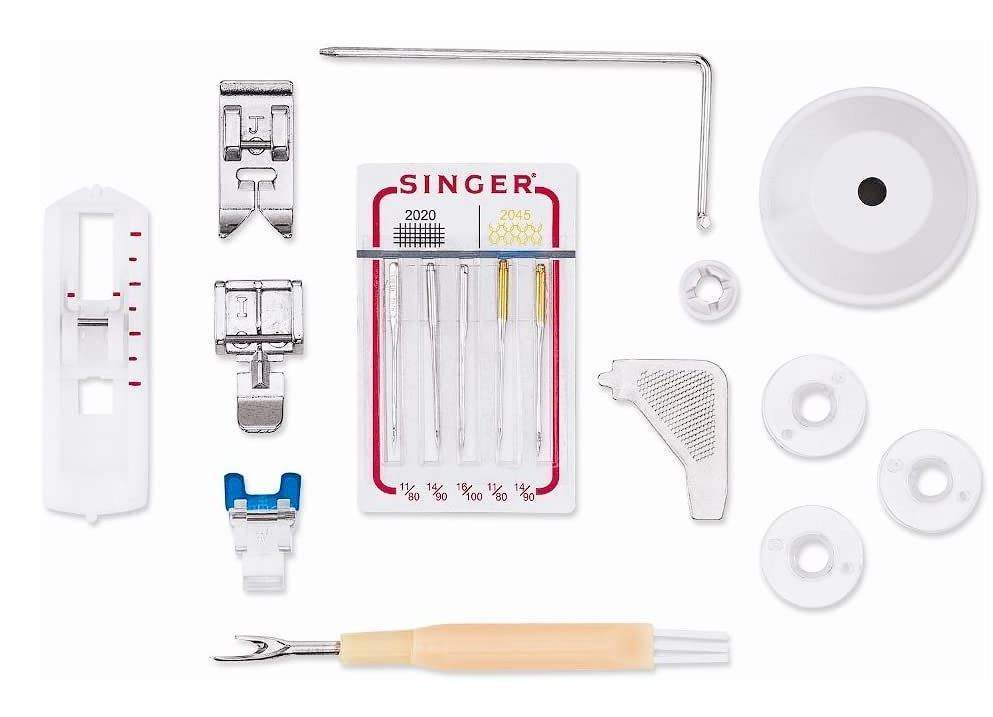 The Brand Name
The singer brand has been a popular brand name that has been around for a long time and has a good reputation for solid sewing machine products. They may have come out with some products that had some shortcomings but they have remained one of the top brands of the manufacturing sewing machine. If you want to learn more about the Singer brand, check out our post about the Best Sewing Machine Brands.
With the Singer 4411, they have stood up to the reputation in manufacturing a sturdy and tough sewing machine that can make it easy and pleasant sewing tough materials. The advantage of popular brands like the singer is that you enjoy good customer services, product guarantee, and easy repairs.
Conclusion
What else are you looking for in a sewing machine? For with the Singer 4411, you have covered all the bases and needs you will require from a heavy-duty sewing machine. The machine is designed to be tough and work on hard and rough material and ensuring neat and clean end products. It is affordable with adequate power to make work easier, and these make the sewing machine the perfect use for your sewing work.