The Janome J3-24 is one of three models in the J3 series and is the best of the bunch in terms of features. Along with the J3-18 and J3-20 it is a very easy to use basic sewing machine that is ideal for those that are new to sewing or for anyone looking for an affordable machine for completing simple sewing tasks. It comes with three dials with one each for stitch selection, adjusting stitch length and stitch width. It also has one automatic one-step buttonhole and a free arm for circular sewing. With 16 utility stitches and 8 decorative stitches it is quite a versatile machine, but is it worth your hard earned cash and are there entry level models that offer better value for money?
Let's take a closer look!
Janome J3-24
Main Features
24 stitches
1 auto one-step buttonhole
Automatic needle threader
Free arm for circular sewing
Drop feed for free hand embroidery
Thread cutter
£279.00
in stock
9 new from £279.00
1 used from £186.95
as of June 27, 2022 5:57 pm
Last updated on June 27, 2022 5:57 pm
Ease Of Use
As already mentioned the Janome J3 series of sewing machines are basic machines and very easy to use. With this in mind they are of course best suited to beginners. When compared to other beginner models they are typically less affordable but do have more to offer meaning they will last you a bit longer than say for example the Brother LS14, before you feel the need to upgrade to a different model. If there are any concerns about how to use or troubleshoot the machine, the manual can be found at the Janome homepage.
Stitches and Buttonholes
In total there are 24 stitches with the Janome J3-24 with 16 of them been decorative and 8 utility stitches. This is a very good amount for an entry level sewing machine. The utility stitches are great for finishing raw edges of fabric. For those that intend to work with synthetic materials that have a tendency to pucker the tricot stitch is a god send. The stretch stitch and knit stitch are two more favourites of mine giving the J3-24 plenty of versatility in terms of fabrics you can work with.
Another positive to this model is the ability to sew buttons straight on to the fabric you are working with as well being able to sew buttonholes in one-step with the buttonhole foot. For those occasions when a stronger buttonhole is needed the corded buttonhole is a great feature to have.
Key Features To Consider Before Buying
Motor
Surprisingly the Janome J3-24 comes with a powerful 70W motor. Considering this is technically classed as a beginner sewing machine and a budget one at that, the motor is far more powerful than you would expect it to be. This of course means you can sew through multiple layers of fabric without too much trouble that is providing you use the correct needle.
Adjustable Stitch Length and Width
With both adjustable stitch length and width the J3-24 has a wide range of applications. To adjust simply turn the dial to the required length or width. The higher the number the bigger the stitch is and in total both the stitch length and width can be adjusted from between 0.5 to 4mm.

Needle Threader
For many people threading the needle is one of the most complicated aspects of owning a sewing machine. Luckily this model features an automatic needle threader making it very beginner friendly and perfect for the experienced sewer that struggles to thread the needle.
to thread the needle all you have to do is raise the needle to the highest position and then pull down the needle threader as far as it will go. Turn the knob clockwise and insert the hook in tom the needle eye. Then turn the knob anti-clockwise which draws the thread loop through the needle.
The needle threader can be used with a #11 to #16 needle or a Janome Blue tipped needle. The recommended thread size is anything between 50 and 90.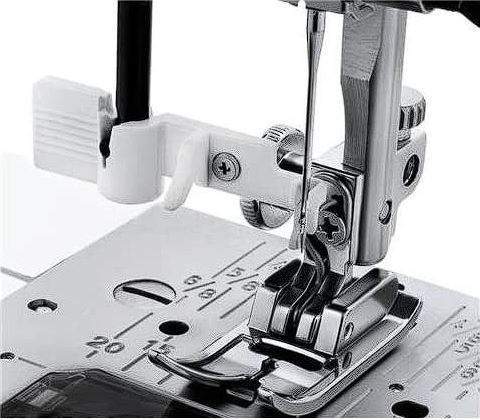 Janome J3-24 Sewing Machine
24 Built-in stitch choices
Quick foot conversion
Freearm for circular sewing / Built-in needle threader
Drop feed for freehand embroidery / Convenient thread cutter
Variable stitch width & length / Auto 1-step buttonhole
Bobbin
The bobbin system used on this machine is a front loading one and anybody that knows me well enough knows that I prefer a top loading bobbin. This isn't a factor that would stop me from buying this machine as it really isn't that much of a big deal.
The Feed Dogs
If you are interested in buying a machine that allows you to do free hand embroidery you will be happy to hear that the feed dogs can be lowered on the J3-24.
Presser Feet
The zipper foot simplifies sewing on zips – simply guide the zip teeth along the edge of the zipper foot to get a neat and tidy finish.
Standard Foot
Automatic Buttonhole Foot
Sliding Buttonhole Foot
Zipper Foot
Hemmer Foot 2mm
Blind Hem Foot
Satin Stitch Foot
Design
If there is one thing that I like about Janome sewing machines it is that they are designed to be very functional and are always made from the best materials. The Janome J3-24 is designed in a way that even a relative newbie to sewing can get to grips with all of its functions in no time at all. With a lot of the internal parts being made out of metal rather than cheap plastic you can be certain that you are getting a good quality machine with this model and one that will last for many years.
Accessories
In terms of accessories there isn't particularly anything to brag about but it does come with a hard cover which is always a bonus. Below you can find the rest of the accessories that comes with every purchase of this model.
Screwdriver
Needles
Seam Ripper
Bobbins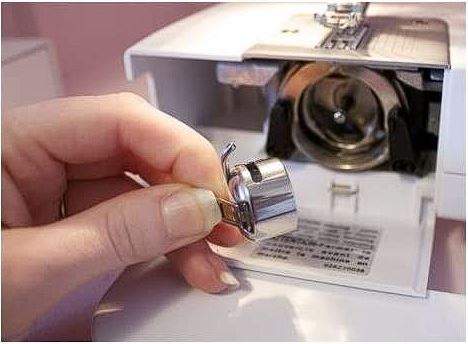 Warranty
With a 2 year warranty you can be safe in the knowledge that you are fully covered in the unlikely event that your machine does breakdown. If it can't be fixed Janome will simply replace it with a new one.
Conclusion
To sum up I would say the Janome J3-24 is more than just a beginner sewing machine as it has a bit more too it than many other beginner models.  In my opinion it is ideal for those that have been sewing for a while and who are looking to progress to the next level with their sewing ability. It even has an overlock stitch for those that fancy making there own garments. With a decent amount of stitches and ones that have a good range of applications it is well worth the money.  If you are looking for a similar sewing machine maybe something a bit more beginner friendly the J3-18 is worth taking a look at.
£279.00
in stock
9 new from £279.00
1 used from £186.95
as of June 27, 2022 5:57 pm
Last updated on June 27, 2022 5:57 pm