If you are searching for a home machine that can run cumbersome task such as furnishing items and making bags, well look no further the Janome HD2200 is the right pick for you. This machine can sew thick layers of fabrics even leather and other heavy fabrics. The machine's functionality is superb although noise can be a cause of little concern. It is a very user-friendly machine, with its operation easy to understand and covers what most of a primary user would want and look for in a machine.
Review Of The Janome HD2200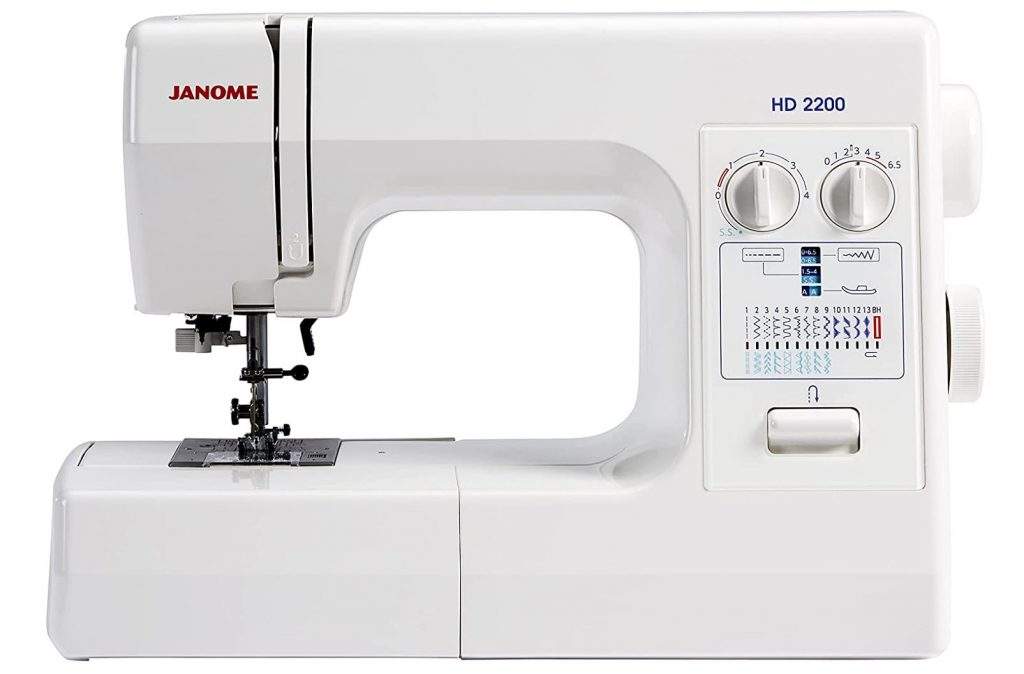 £419.00
in stock
8 new from £419.00
as of June 28, 2022 8:31 pm
Last updated on June 28, 2022 8:31 pm
Janome HD2200 Highlights
The Janome HD2200 sewing machine is robustly designed, making it perfect for more than regular use. It is well packaged making it ideal for sewing classes and schools. This machine is robust and reliable, a combination of power, simplicity and elegance. Cleverly created and the design makes it easy to use even for beginners, all the stitches needed for day-to-day sewing, soft furnishing, crafts and dressmaking are all provided. These stitches can be accessed through three dials: one to select the type of suture, one to choose an independent stitch width for added flexibility and the length.
The inbuilt information window tells you the most recommended and appropriate presser foot with the actual stitch width and length to use for what you want to sew which makes sewing so much easier and convenient.
The HD2200 sewing machine features a fully automatic one-step buttonhole and 23 stitches. You turn the selector dial and select from 23 decorative and practical stitches. The sewing foot pressure can be easily adjusted to adapt to varying fabric thickness-very efficient when you decide to sew bulky seams or the bottom of jeans.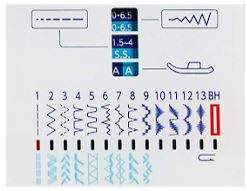 The machine also has a top loading jam proof bobbin system that gives excellent stitches and prevents jamming of thread, with this bobbin system, inserting a bobbin is fast, easy and trouble-free plus the see-through top plate which allows you to see how much your thread is remaining. You will also enjoy its quiet running, smooth and its mechanism does not require oiling. Changing the sewing foot is quite easy as the quick click of a button; just by lowering the lifter, another different foot is snapped into place.
Thanks to the built-in threader, threading the needle is easy and quick. This machine features a 'drop feed' for more accessible and more convenient free-motion sewing to the presser foot emboss your masterpiece with your personal creativity. The presser foot is designed to handle thick seams, and there is a sleeve arm to get around the bottoms of trousers, sleeves and other awkward parts to sew. The sturdy model has best range of features and stitches to cope with different types of sewing tasks. The very wide zigzag produces beautiful embroidery stitches while the automatic 1-step buttonhole makes perfect and nice-looking buttonholes in one easy step. The Janome HD2200 is also available with a 2-year warranty.
Janome HD2200 main features
Hard cover
Information window
Drop feed facility for freehand embroidery
23 stitch selection
Variable stitch width
Variable stitch length
Built-in needle threader
Free arm for circular sewing
Adjustable foot pressure
Quick foot conversion
Aluminum body and metal arm
One-step auto-sizing button hole
Convenient thread cutter
Top loading bobbin
Stretch stitches
Satin stitches
Keys Features To Consider Before Buying The Janome HD2200
Needle Threader
Fortunately, this machine comes with a needle threader, which is a great perk it possesses; it makes it very easy for beginners to use with ease and comfort.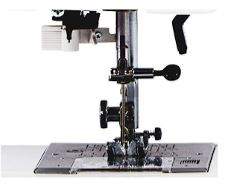 The Feed Dogs
For those users that derive joy in partaking in free hand embroidery, you would be glad to know that the Janome hd2200 has a feed dog that can be lowered. This might not, in the first instance, be of much excitement to beginners, but it is a fantastic extra feature to keep in handy in case you desire to acquire this great skill later.
Design
It is a well-known fact that Janome sewing machines are always high-quality and of an excellent standard. Janome machines have ever had a good reputation about bringing the best to the table, and have been equally recommended for producing robust, sturdy and durable sewing machines. The Janome HD200 is not excluded from these astounding qualities and functions and is designed for heavy use and not regular use. It contains metal parts, which makes it very durable.
Portability
The Janome machine itself weighs in at an approximately 10kg, which automatically makes it heavy enough to be considered as a well-built machine. It is barely portable because of its weight. It is excellent and convenient for house sewing or even sewing classes and schools.
Bobbin System
The system has a top loading bobbin system; personally, I have always loved this bobbin system and preferred this system to the likes of a front loading bobbin system because of its efficiency when it comes to changing the bobbin.
Accessories
The Janome HD2200 has a variety of accessories, which include the following.
Automatic buttonhole foot
Quilter bar
Lint brush
Zigzag foot
Seam ripper
Blind hem stitch foot
Spool cap
Screwdriver
Spool cap
Standard foot
Straight stitch foot
Spool pin[extra]
Bobbins[4]
Transparent button hole foot
Zipper foot
Instruction book
Foot speed controller
Set of needles with twin needles[4]
Summary
It is self-evident that the Janome HD2200 sewing machine is one of the best of its kind in the market within its price range. If you want to talk about what it features, it contains more features than higher price sewing machines. With its 23 stitches and automatic one-step buttonhole , this machine is most appropriate for both beginners as it can help to improve and develop their sewing skills; likewise it is suitable for professional use. It has numerous features that would be up to standard for an experienced user not to find it limited and inadequate. If you are searching for a decent price machine with high-quality that will serve you for a long time the Janome HD2200 is the perfect machine for you.
Janome HD2200 Sewing Machine
23 Stitch selections
1 Step auto sizing buttonhole
Adjustable foot pressure
Built-in needle threader
Horizontal Full Rotary Hook