The Brother FS40 is a popular computerised sewing machine with great affordability, you would struggle to find a cheaper model that retains the same high quality.  Due to the low price you would normally expect to be buying an average computerised sewing machine with limited features, however, that is not the case with this model.
The FS40 comes with an impressive 40 stitches, start/stop buttons (good for beginners), 15 needle positions, a very easy to use LCD screen and there is even the option of an extension table. Furthermore if you are in to doing a lot of free-motion sewing and embroidery the feed dogs can be dropped.
If you are thinking of investing in a computerised model the FS40 is a great option for both beginners and experienced users. The relatively cheap price of this model and ease of use makes it ideal for newbies. Furthermore the good range of sewing features make it an affordable choice for more experienced sewing enthusiasts that don't want to spend too much.
In this review we will be taking a closer look at each of the individual features and assessing just how good this sewing machine really is.
Brother FS40 Review
Main Features
The Brother FS40 sewing machine main features can be found below.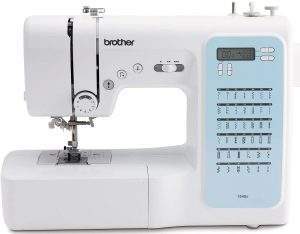 40 Stitches
Five 1-Step Buttonholes
Drop-in Bobbin
40 W Motor
Stop/Start Buttons
£208.83
£229.99
in stock
2 new from £208.83
4 used from £203.64
as of June 27, 2022 6:53 pm
Last updated on June 27, 2022 6:53 pm
The Stitches
The amount of stitches the Brother FS40 has is one of its main attractions. In total there are 40 stitches these include 5 buttonhole stitches, 16 decorative stitches and a good number of stretch/elastic stitches. All in all there is a good selection and more than enough for both beginners and the large majority of experienced sewers.
Below you can see all of the 40 stitches that you can do with this machine. If you are interested in this model but would like more stitches to choose from, I would recommend checking out the Brother FS100WT, which is an even more impressive sewing machine.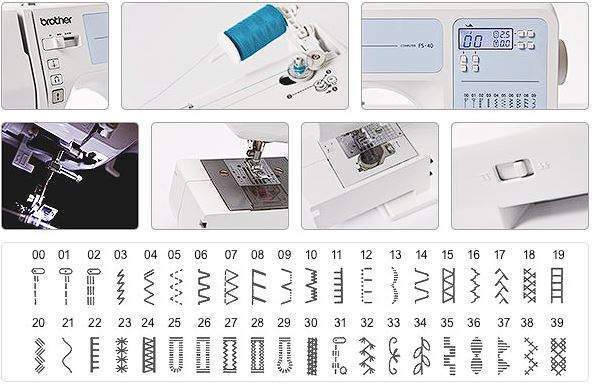 In terms of stitch length and width, the Brother FS40 has a maximum stitch length of 7mm and width of 4mm. This should be more than adequate for the majority of sewers needs.
Key Features To Consider Before Buying The Brother FS40
Before investing in any sewing machine I would recommend taking a serious look at the key features. It is only when you understand what a particular model can do that you know if it is suitable for your sewing needs.
If you already own or are thinking of investing in a Brother FS40, then please let me know what you think about this model in the comments below. Any useful information or input may help the next person to read this review come to a decision as to whether it is the right sewing machine for them.